Providing handy prep space and extra storage, as well as opportunities for relaxed dining and entertaining, we can see why an island is a must on most kitchen wishlists. However, if you want to truly maximize the benefits they have to offer, you'll need to know how to organize a kitchen, and the island in particular – properly.  
'Should space allow, kitchen islands offer the most creative storage solutions, they are designed to give you more workspace and all the storage options you could ever dream of – they are an extension to your existing cabinetry and then some!' says design expert Al Bruce, founder of Olive & Barr.
The most successful kitchen island ideas are those that include kitchen island storage ideas to suit not just the space, but the way you use and move around your kitchen. Is your island purely used for cooking, or are you entertaining, too? Will you use it as a base for home working? What about your children, how will they use it? 
Needs will vary from household to household, so there's really no 'right' way to organize a kitchen island, as such. However, there are some general strategies you can employ to ensure you're creating the best 'island life' for you and your family. We've quizzed the experts for their top tips…
How to organize a kitchen island 
Organizing a kitchen island should really be done in tandem with organizing a kitchen, as you'll need to establish what items are best placed there, as opposed to other prime storage areas:  in kitchen cabinets, or as part of organizing deep pantry shelves, for example.
To ensure you're not creating space for items unnecessarily, a good declutter is the best place to start. Clear everything from the island, including appliances. This will give you a much clearer idea of the space you have to work with. Next, go through each item one by one, and ask yourself whether it makes sense for it to be located in your kitchen island, or indeed, in your kitchen at all (refer to our kitchen decluttering list if you're not sure).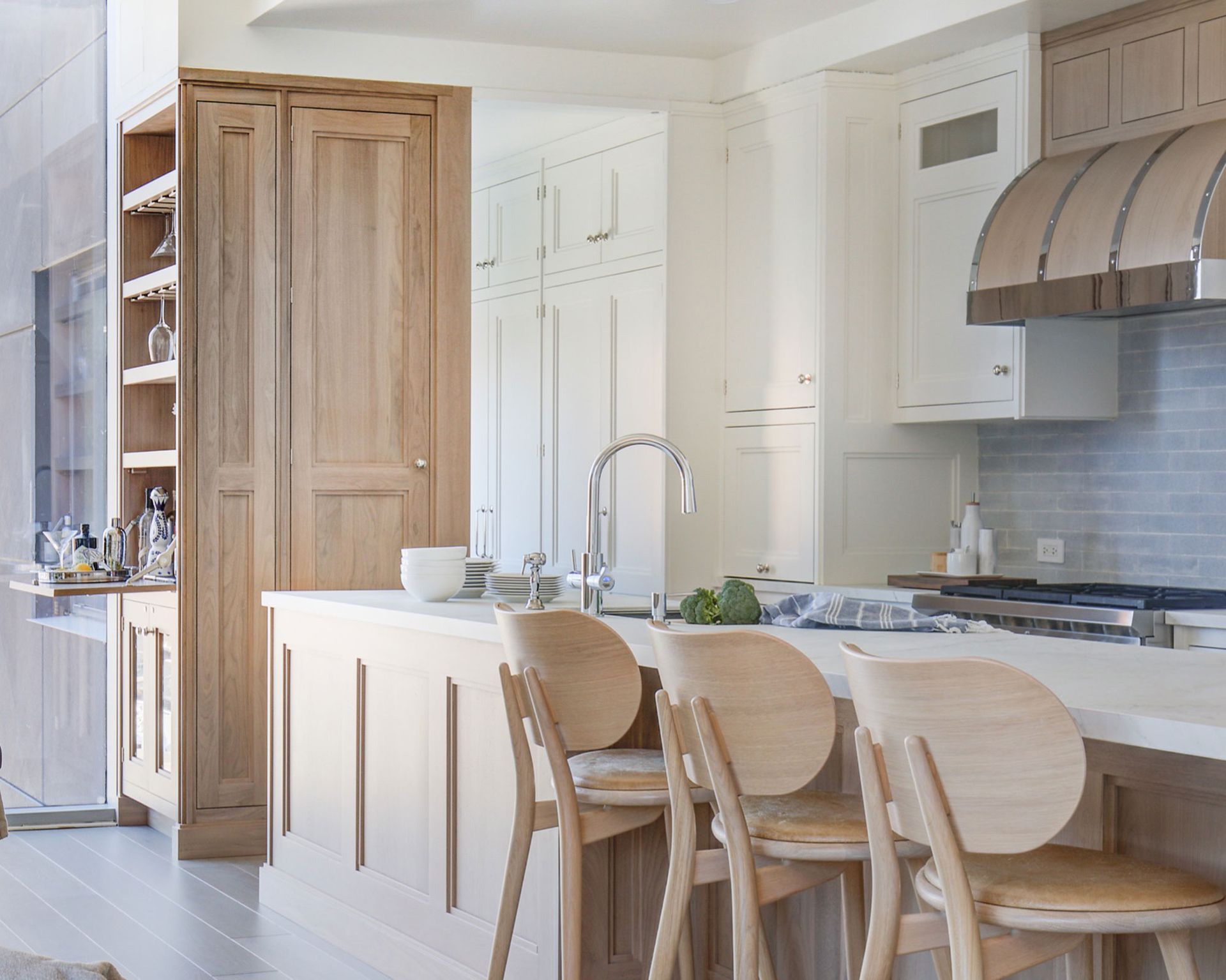 1. Think about what you want from your kitchen island
Before you start putting things back, it's a good idea to first decide on the purpose of your kitchen island, and how it can make your life easier. It might seem counterintuitive, but one of the best ways to do this is to think about what's actually not working for you in your current kitchen.
'Write a list of all the things you like and don't like about your existing layout. Do you have enough storage for plastic containers? Are the glasses in a place that's easily accessible? Knowing where the problem areas of your kitchen are and how a kitchen island might aid them is a great first step towards improving its efficiency,' says home organizer Laura Price, founder of The Home Organisation.
Laura Price's goal is to help others experience the benefits of living an organized life after discovering that organized homes brought her peace when raising three children in a hectic home. Hence the birth of The Home Organisation, a dedicated team of professional organizers.
2. Decide where to put appliances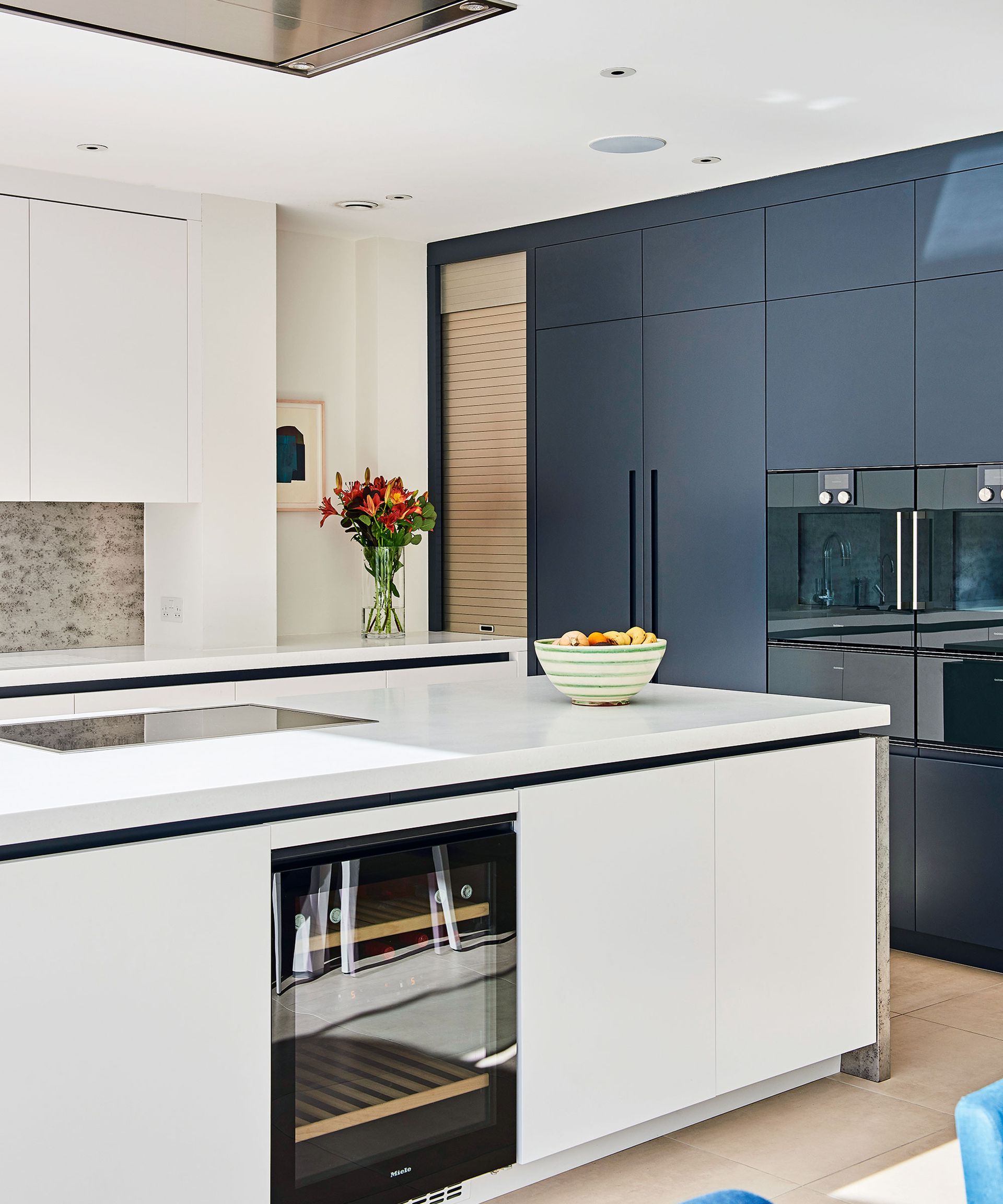 Depending on the type of cook you are, you might want to consider integrating appliances as part of designing a kitchen island – if you haven't done so already. That's fine, but be sure to think carefully about what and where. 
'While microwaves, dishwashers and wine fridges can be hidden neatly underneath countertops, sinks and stove tops might require a little more planning. While they are great for you social cooks who prefer to face guests rather than a bare wall, if the idea of splattering grease or water over your entertaining space bothers you, you might want to rethink!' says Millie Hurst, Section Editor, Homes & Gardens. 
Millie Hurst is Section Editor at Homes & Gardens, overseeing the Solved section, which provides readers with practical advice for their homes. Millie has written about and tried out countless cleaning and DIY hacks in the six years since she became a journalist, and has worked in both London and New York. 
3. Group items according to purpose
Once you've established how your kitchen island can benefit you, it's time to start grouping those items you want to store in/on it into categories; bakeware, serve ware, table linens, cookbooks, electronics, and so on. That way you'll always know where to find things, and you can plan your storage ideas – and your kitchen organizers – accordingly. 
4. Create sensible storage zones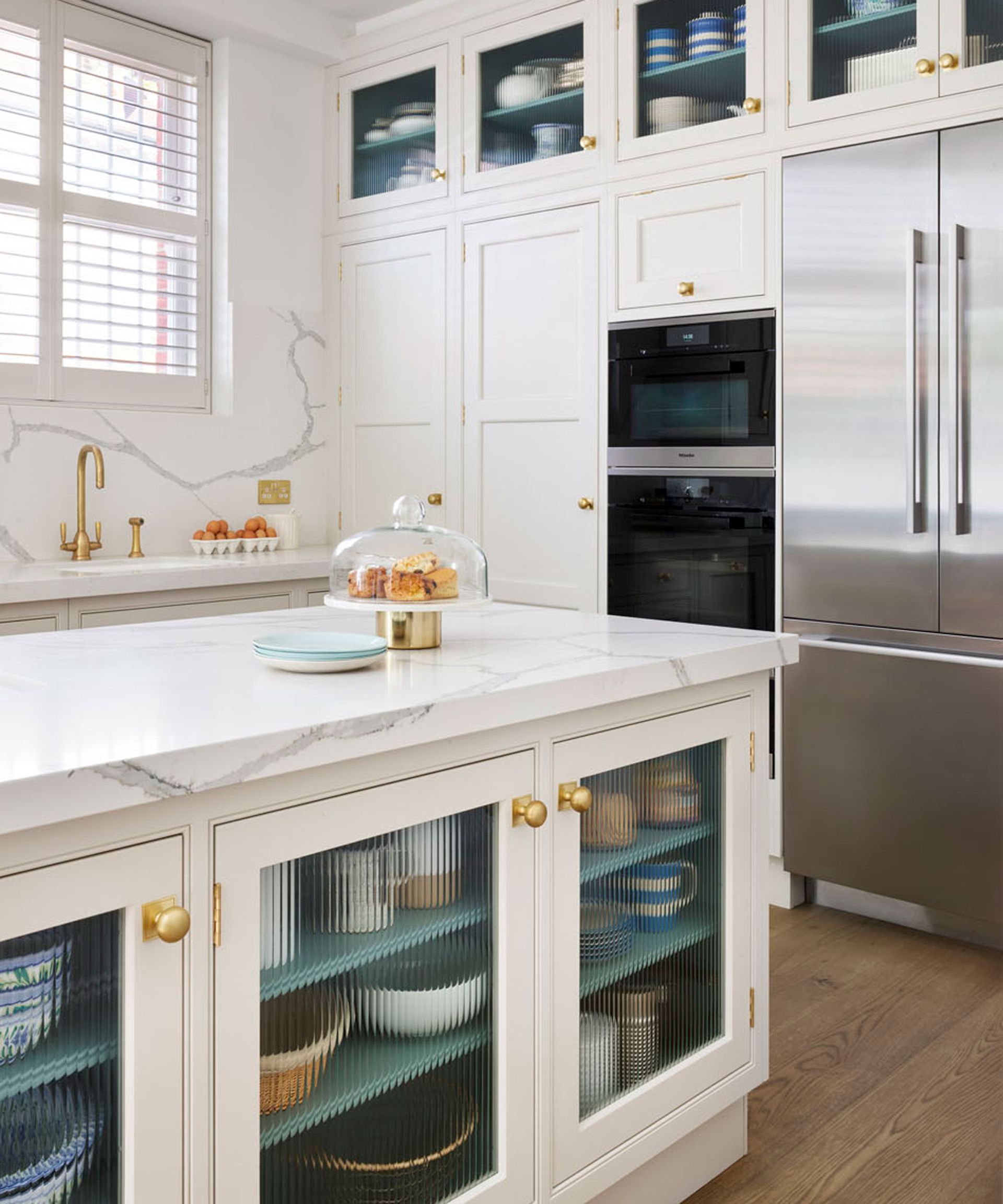 Think about organizing your kitchen island a bit like organizing a small kitchen and store similar items together to create distinct zones. What these zones are will depend on what you use your island for, and where it's positioned in relation to the rest of your kitchen 'zones'.
'If your dishwasher is located there, storing cutlery and crockery in a cabinet next to it will make unloading quick and easy. If there's a hob, pots and pans stored underneath makes cooking efficient and so on,' says Laura Price. 
When making decisions on what goes where, professional organizer Jan Arkwright, founder of Before & After Organizing by Jan, reminds you to factor in the rest of your kitchen layout, too. 'The side facing your refrigerator could hold a beverage or vegetable drawer so it's easy to unpack groceries, while the side facing the kitchen table could hold table linens and serveware', she explains.
5. Customize storage to suit your needs
Whether you're organizing a small kitchen island or not, maximizing storage space is always sensible. Look at what types of storage your kitchen island offers – drawers, cabinets, open shelving – and use kitchen organizers to utilize them to best effect. Drawer dividers for cutlery, shelf risers for ingredients, pull-out shelving for pots, pans and small appliances, and so on.
'Opting for multifunctional items like stackable containers or nesting bowls (like this colourful 9-piece set at Wayfair), can also make a difference space-wise. If you're short on square footage, look to install a drop-leaf or extendable countertop on the kitchen island, to provide additional workspace when needed, or consider a smaller, portable kitchen island idea that you can move out of the way as and when,' says organizational expert Joshua Haley of Moving Astute. 
6. Style open storage beautifully (and with practically in mind)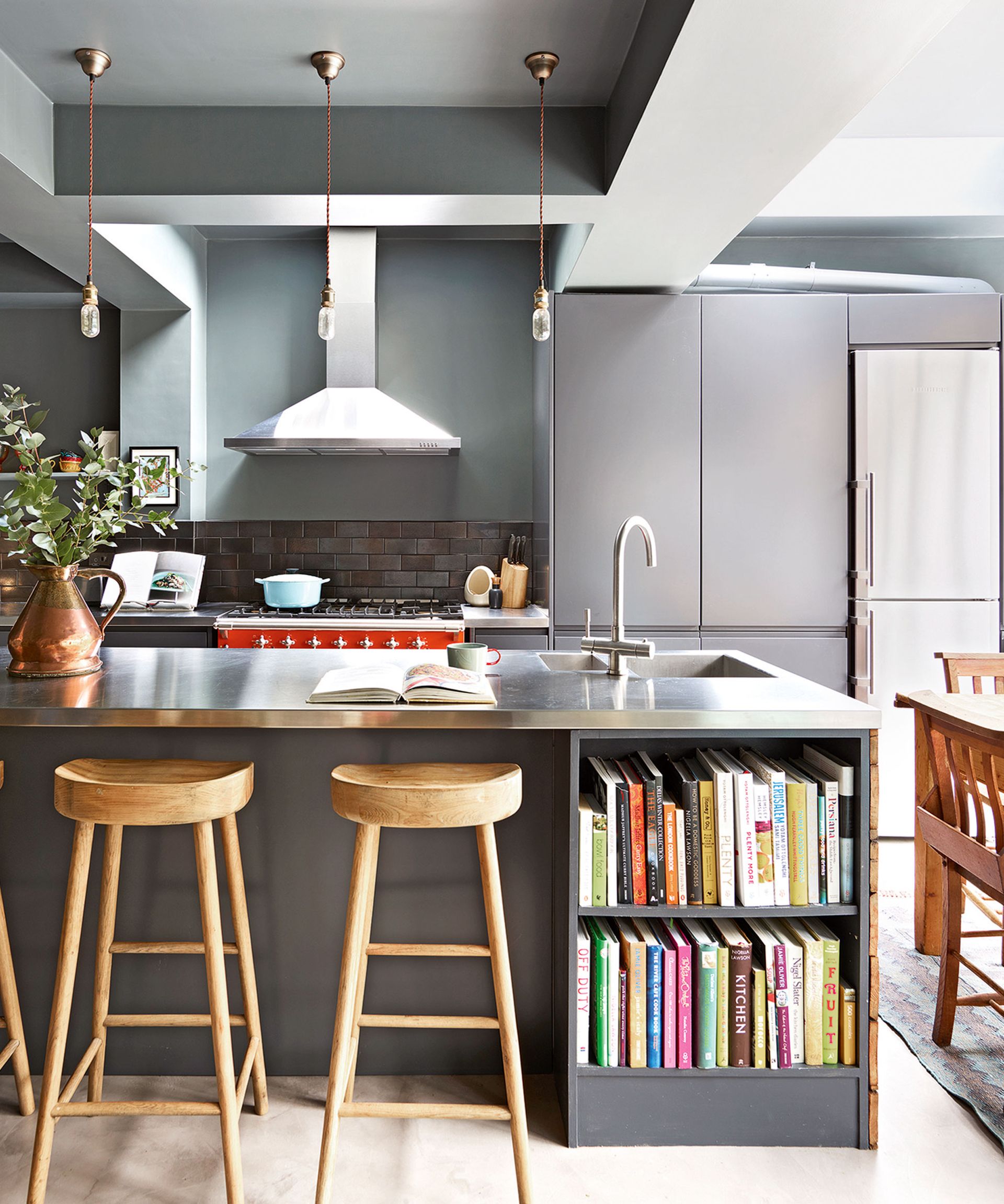 Open shelving on a kitchen island offers up a great styling opportunity, so reserve it for aesthetically pleasing kitchen items, such as beautiful glassware and ceramics to free up space inside cabinets and drawers to hide away more 'functional' essentials.
'You can add DIY elements too, such as hooks and rails under the counter edge for pretty mugs and kitchen linens. I'd also consider lining open shelves with good-looking baskets to store snacks and other miscellaneous cookware', advises Matthew Morris, founder of Go Cleaners London.  
If you've got little ones or pets in the house, steer clear of storing anything breakable down low, as well as any food items you don't want them to access – the biscuit tin, for example! 
7. Be sensible with seating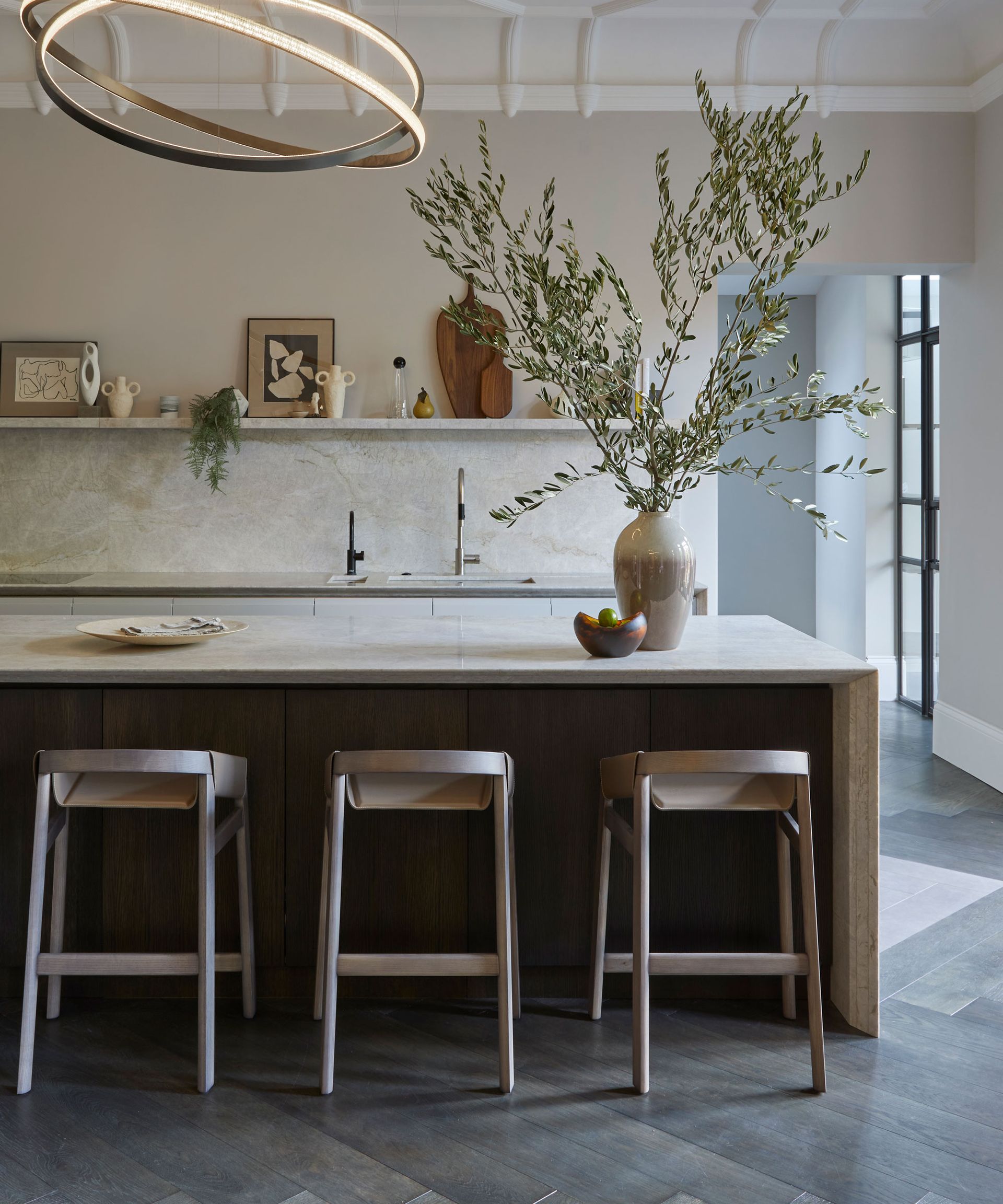 From quick breakfasts and tea-time snacks, to entertaining guests and keeping 'head chef' company, a kitchen island is more than just a cook prep zone for most. It's a social space that requires comfortable kitchen island seating to accommodate. Bar stools are a popular choice, but be sure to check not just the height, but the overhang of your kitchen island before you commit to a design. 
Comfortable seating requires a minimum of 15 inches of countertop overhang. This allows for guests to have ample space for their knees when seated at the island, as well as space to tuck stools away when not in use,' says designer Erika Jayne, owner of Erika Jayne Design.
'Keep in mind how you'll want to arrange the seating furniture too, you won't want to store items you use often right in front of a guest's feet, for example!' adds Matthew Morris.
Should a kitchen island have seating? Not necessarily. It really depends on how you plan to use your kitchen. Perhaps you'd prefer additional countertop space, or you'd rather not have guests watching you when you cook. Don't feel obliged to include it if it doesn't work for you.  
8. Create a 'functional' focal point
Usually the first thing you see when you walk into the kitchen, an island counter needs to look good. Just like when organizing kitchen countertops, keeping the top clutter free is, of course, important, but it's worth remembering that you don't live in a show-home – you'll want to inject a bit of personality, too. The key is to choose items that are both beautiful and functional. 
A statement centerpiece, such as a decorative fruit bowl, adds a touch of elegance while still having purpose, for example. Similarly with good-looking utensil canisters, rustic chopping boards and appliances – a stylish coffee machine or a Kitchen Aid mixer for example. Rather than a vase of flowers, you could create a display with potted herbs, too.
While there's a case for leaving a few things out, don't go overboard – the less you can leave out the better. 'This will free up space for you to work and entertain, plus it makes cleaning up afterward a lot easier, too,' says Chi Ip, owner of Tidy Here cleaning service in Boston.
9. Keep on top of tidiness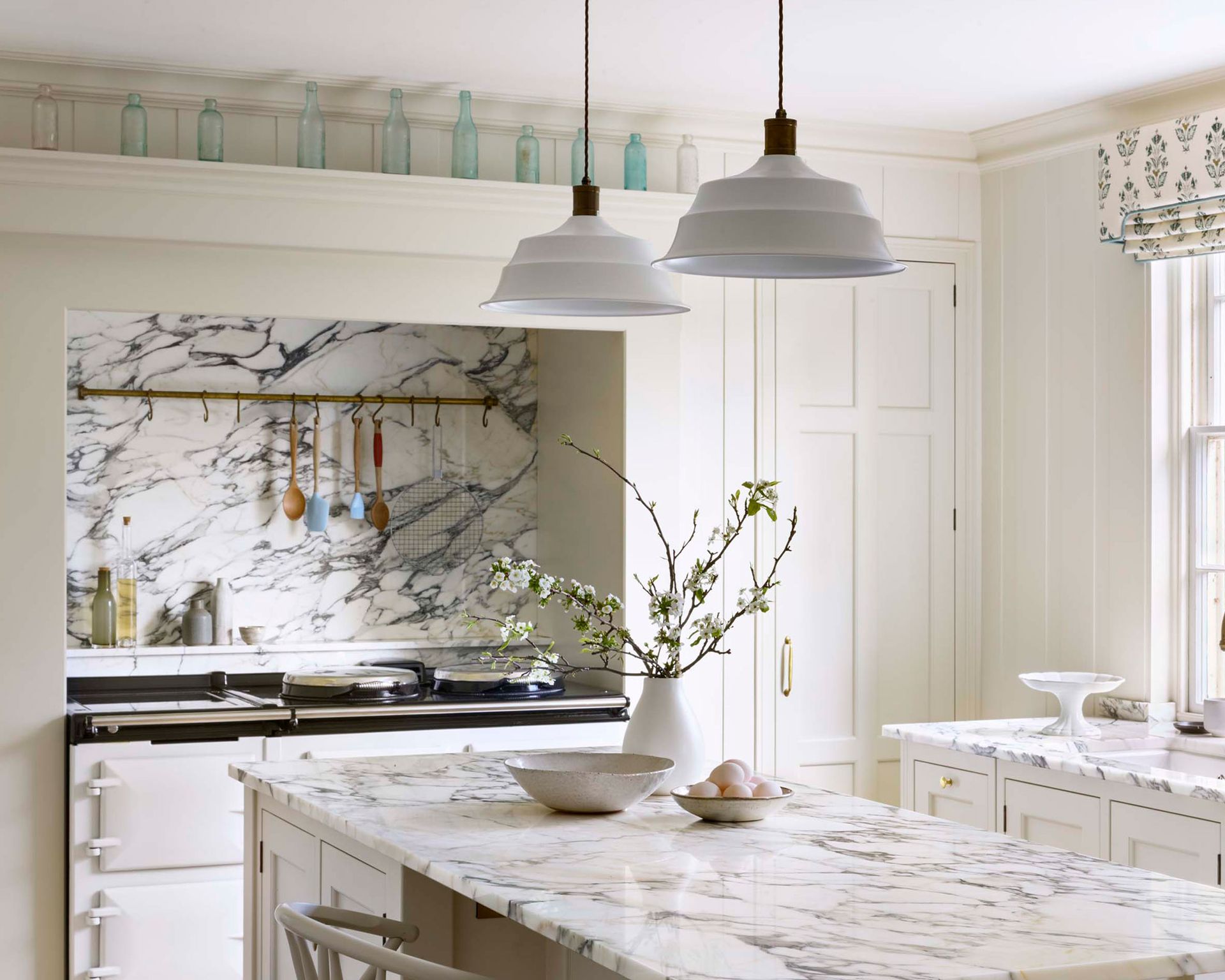 As the social hub of the kitchen, clutter can build up fast on a kitchen island, but clearing it quickly and wiping down surfaces on a daily basis can make all the difference to how organized your kitchen looks in general, so it's well worth doing. 
'I like to keep a decorative basket either on my kitchen island or underneath, where I put non-kitchen related items that accumulate throughout the day – think laptops, unread mail, keys, study books and the like. Before I head for bed, I'll put everything back where it belongs and wipe away spills, so it's clear and clean, ready for the morning', says Homes & Gardens' global editor Lucy Searle.
10. Don't be afraid to change things up
With so many things to think about, it's easy to feel overwhelmed with decision-making when organizing a kitchen island, but don't let this hold you back from completing the task.
'You will never truly know if your new kitchen island layout is working until you try it out. Live with it for a few days, then take stock of what you feel is working and what's not. Nothing is permanent, and any changes you make can always be reversed,' says Laura Price.
FAQs
What should go in the center of a kitchen island?
How to style a kitchen island is a bit of a tricky one. As the focal point of the kitchen, we want it to look nice of course, but keeping it as clear as possible is really the best thing, particularly if it's on the smaller side. Not only in terms of practicality, but also to avoid an untidy or cluttered feel in your kitchen. 
If you're blessed with a large countertop, experts recommend you opt for a single item that doubles up on function and style. 'A decorative fruit bowl or a small herb garden arranged on a tray are both decorative and useful, and can be moved out of the way easily enough for cleaning. For something more permanent, consider installing a good-looking sink or an additional cooktop', suggests Joshua Haley.
---
Organizing a kitchen island is no different to organizing a kitchen really. However you choose to use yours, whether for cooking, entertaining, or a mix of the two, prioritizing zoning, sensible storage solutions, and a clear, clutter-free countertop is the best way to ensure it transforms your lifestyle for the better… maybe even your cooking, too!