Upgrading your kitchen is always exciting. Not only do you get to enjoy the newer and better-looking space, but you are also adding value to your home. But when it comes to kitchen renovation, homeowners often find themselves stuck at the planning stage of the project. Where do I start? Where to get inspiration from? What comes first?
These are the questions that homeowners ask themselves before starting their kitchen remodeling project. But all the worries are gone when they have a well-thought-out kitchen upgrade plan in place. In this article, we will talk about four essential kitchen remodeling steps, but before that, let's first delve into the difference between kitchen renovation and kitchen remodeling.
What is the difference between kitchen renovation and kitchen remodelling?
If you ever looked into the idea of renovating your kitchen (and you reading this article means you did) you probably came across such common terms as "kitchen renovation" and "kitchen remodelling". While they are sometimes used interchangeably, in reality, they are quite different concepts.
Kitchen renovation suggests updating the look and feel of a kitchen without changing its intended purpose. Painting, laying new flooring, and replacing components like cabinet knobs and faucets are examples of what falls under the kitchen renovation category.
Kitchen remodelling involves altering the layout and purpose of a kitchen as well as implementing a new custom kitchen design. It can entail tearing down a wall to make a place for an island or moving the cabinets, refrigerator, sink, and exhaust fan around in the kitchen.
4 Basic Steps of Kitchen Remodeling
Now that we know the difference between the two concepts, and you have probably figured out what direction to take, let's dive into the essential steps involved in this challenging yet rewarding project.
1. Tear down and demolition
By the time you get to this step, you need to already have a clear idea of what your new kitchen will look like when it's completed. But when it comes to getting your hands dirty with the actual work, tearing down old cabinets is where you need to start. This particular aspect may be physically demanding, but it's normally manageable if you don't have to remove load-bearing walls.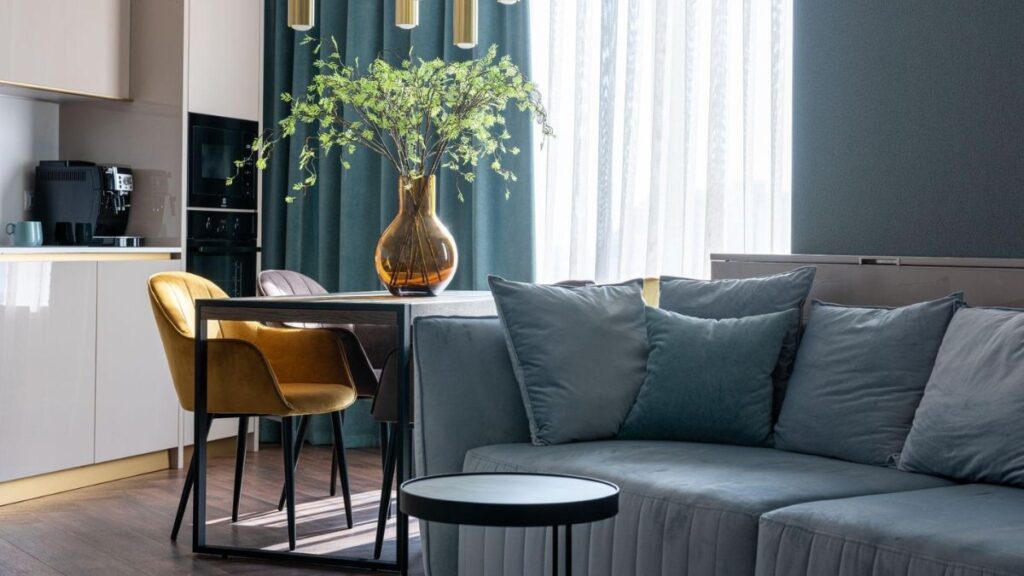 Tearing down an old kitchen is a project that can be easily DIYed. However, it is important to follow some basic safety tips. For example, asbestos and lead-based paint are frequently found in older homes, so remember to wear safety gear like a dust mask and gloves when handling old demolished materials.
Don't forget that you'll need to dispose of demolished cabinets (and sometimes appliances), so arrange for a garbage pickup service and appliance recycling in advance if necessary.
2. Plumbing, Wiring, and HVAC Rough-In
When the demolition part is done, it's time to get to structural work. As we mentioned earlier, kitchen remodelling involves changing the layout and purpose of the kitchen or a particular section of the kitchen. If you plan on changing the layout of your kitchen from the existing L-shape to a U-shape or adding an island to your kitchen, you will most likely need to move the plumbing to accommodate the new sink.
Some electrical wiring adjustments may also be required, if you want to add more lighting, install additional appliances or upgrade your home's power supply. If these steps are on your plan, you will most likely have to obtain the necessary permits and hire licensed contractors to do the actual work.
Your HVAC system may also need some adjustments to adapt to the new kitchen layout. Speak to your contractor or hire a professional to discuss your options.
3. Finishing the walls
The walls and ceilings can be sealed up when the plumbing, wiring, and HVAC rough-ins have been finished and approved by the inspector. Now that you have access to the inside of the wall, you can install good-quality fiberglass batt insulation to insulate your kitchen.
The next step is to install the drywall and taping and finish the seams. This is also the time when you can prime and paint the walls and ceilings.
Insulating the walls and installing the drywall is a relatively easy task that you can do yourself, given that you are confident in your abilities. However, you may have to obtain the necessary tools and spend some time getting the work done. Hiring a professional is an option to consider as they are relatively inexpensive and can do the work quickly and efficiently.
4. Install new flooring
Installing new flooring is often the last step in kitchen remodelling. This process is reserved for the end of the remodelling project due to the potential wear and tear damage that the flooring can sustain during plumbing and electrical works.
Just like cabinet demolishing, flooring can be DIYed, as long as you have the necessary tools and materials and enough confidence to get the job done. You can also hire a contractor to install the flooring. Contractors will be able to complete the installation faster so you can get to the most exciting part of the job – cabinet installation – faster!
It is important to dedicate some time to learning about different flooring types, their suitability, pros and cons. Laminate flooring is one of the most popular choices for kitchens for its relatively low cost and ease of installation. Ceramic tile is probably the most durable and suitable option for kitchens for its water resistance. If you are looking for the most economical yet durable option then sheet vinyl is your best bet. Solid hardwood may not be the best choice for the kitchen as it can warp after prolonged exposure to water.
Conclusion
One of the important parts before starting the kitchen remodelling project is to decide who you want to do the work. DIYing your kitchen remodelling project is a great way to save money and learn new skills. However, you will need to have the necessary tools and equipment as well as a good understanding of the entire renovation process.
You will also need to have enough time as well as patience to do the job. Kitchen remodelling alone is a lengthy process, but if you mix it with other home improvement endeavors or a full-time job, you risk the project extending way beyond the deadline and maybe even the budget.
If these aspects frighten you, consider hiring a contractor for the entire project. Contractors will have a trusted team of professionals that can help you realize your dream kitchen, while you get to spend more time on other important things.
To sum it up, kitchen remodelling is indeed as exciting as it is challenging. However, it is first of all a great way to refresh your kitchen, make it more functional and add value to your home. Even if the above steps seem a bit too overwhelming, with the right approach and spirit you can nail your kitchen remodelling project and get the kitchen you have always wanted.