AI programs can help visualize your home in different decor styles — some even connect with where specific items are sold.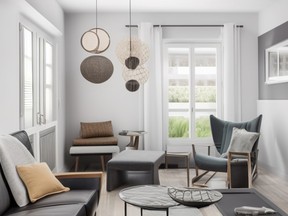 Reviews and recommendations are unbiased and products are independently selected. Postmedia may earn an affiliate commission from purchases made through links on this page.
Article content
Artificial intelligence has been disrupting interior design for several years now but the recent launch of ChatGPT has pushed generative AI into the mainstream and it is powering easy-to-follow online design tools. A quick look at the benefits of these tools show how AI is revolutionizing interior design and why it matters to homeowners.
Article content
First, interior design applications using artificial intelligence instantly turn anyone into an amateur designer. The tools change the way images are conceptualized and produced.
Article content
A basic function of these design tools shows the utility of AI as most programs allow users to upload a photo of any room in their house, select a designer theme (modern, traditional, minimalist) and the program will generate different images of how that room would look with each theme. Some allow you to instantly purchase the furniture in your generated images.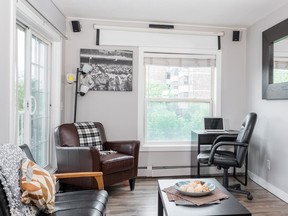 "One of our priorities is to make the designing as easy and accessible as possible. AI can be named among the best technologies for it, taking over complicated tasks or helping in generating more ideas," says Matt Kryvashein, chief marketing officer at Planner 5D, a global e-design platform.
Easy and accessible is where this mashup of art and technology gets interesting. Learning how the technology works explains why it is so useful in design. AI uses software to simulate human intelligence processes, including learning (collecting information and rules for using information), reasoning (using rules to create conclusions) and self-correction.
Article content
Most of interior design AI is based on machine learning, a subgroup of AI that learns patterns from large amounts of data using these patterns to make predictions and decision. Collov, one of the leaders in online provision of design tools, recently launched an updated version of its product CollovGPT. The GPT stands for Generative Pre-Trained Transformer, which is a type of language model that conducts natural languages processing tasks, like question-answering, and text generation.
Using a generative AI tool like CollovGPT enables users to experiment with different design styles by using humanlike conversations. It can respond to questions and compose visual content like design themes, floor plans, and full-blown renderings.
Prompts are used to "speak" with AI software to communicate what responses you are looking for. The best way to understand is to try it. Visit gpt.collov.com/chat, upload a photo of a room in your house and experiment.
Examples of prompts on this website include:
Ask AI for a specific interior design style rendering. "Please generate a modern style interior design rendering for my living room."
Article content
Customize the room layout or furniture based on preferences. "Can you move the sofa to the other side of the room?" or "Can you change the colour of the curtains to blue?"
Using the language prompts, the design tool then generates a new rendering of your room with an updated layout or furniture. Adjustments can be made with more prompts until you are satisfied with the design.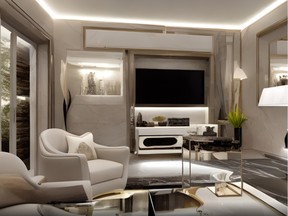 Other benefits of using AI-powered design tools are reducing time and increasing efficiency. Inputting specific parameters can save designers significant time as the software generates images quickly for optional use. It saves money on professional interior design by using AI to design spaces. It can provide designers, professional or amateur, with exact dimensions and structures of rooms to create multiple images before finalising a design.
An essential activity of interior design is selecting colours and materials, and AI can present customers with the ability to view interiors in the exact colour they want and see how they complement accessories in their homes. Experimentation is unlimited as designer and homeowner can create images quickly with different layouts, themes or colours.
Article content
Being able to virtually tour, a designed space in 3-D before making any decision provides a powerful visualization tool to back up human intelligence, much like the adage "measure twice cut once." Like Netflix or Spotify, these tools analyse individual tastes and behaviours to make informed recommendations. Driven by user input, the more detailed the input, the more personal the results. The more interaction with the tools, the more sophisticated the recommendations are.
Efficiencies are important, but there are some drawbacks. Designs based on algorithms do not always reflect the intuition and creativity of a human designer. In addition, misinterpretations of personal tastes happen as AI tools are not always accurate. Limitations may also be contingent on the options pre-programmed into the AI software.
While many of these tools are accessible and easy-to-use by amateur designers, the tools significantly improve the abilities of professional designers to lower costs. It is a good idea if selecting an interior designer to ask if they are currently using AI in their designs.
Article content
How much one wants to use AI for interior design is up to the individual. A deep dive and full 2-D and 3-D renderings and floor plans with measurements, costs and building codes are possible, but for many, the basic (and free) feature of quickly visualizing possibilities will be enough to inspire them to try AI design.
Samples of interior design tools and platforms that use artificial intelligence.
1. Planner 5D: an advanced and easy-to-use 2-D/3-D, AI-powered, home design platform that allows anyone to create floor plans and interior designs in minutes.
2. CollovGPT: enables users and designers to remodel spaces by uploading images and generating stylized versions. The furniture in its versions also come priced and ready to purchase.
3. Homestyler: popular with professionals, this tool also provides augmented reality to overlay virtual furniture and decorations onto real-world surroundings.
4. Havenly: An online platform that uses AI to match users with certified professional designers who suit their style preferences.
5. RoOomy: uses AI and virtual staging technology to help real estate agents and interior designers virtually furnish an interior space.