A kitchen island can be a real asset – or, if it doesn't fit the space, compromise it severely. That's why it's crucial to ask if there's room for a kitchen island when remodeling a kitchen, or adding the feature into an existing layout.
Kitchen island ideas can inspire the addition of one of these, but the dimensions of the space dictate whether an island is possible and, if it is, what the maximum size should be. An island should never interfere with circulation, nor the opening of cabinets and appliances.
To allow the perfect island fit, we've asked kitchen design experts to provide the vital statistics, and this is what they told us.
Do you have space for a kitchen island?
Follow the right steps and designing a kitchen island enhances a kitchen. However, it's key to know first that there is room for one otherwise it will cause issues with the kitchen's functionality as well as its appearance. Use these expert guidelines to get the right fit.
Minimum kitchen size for an island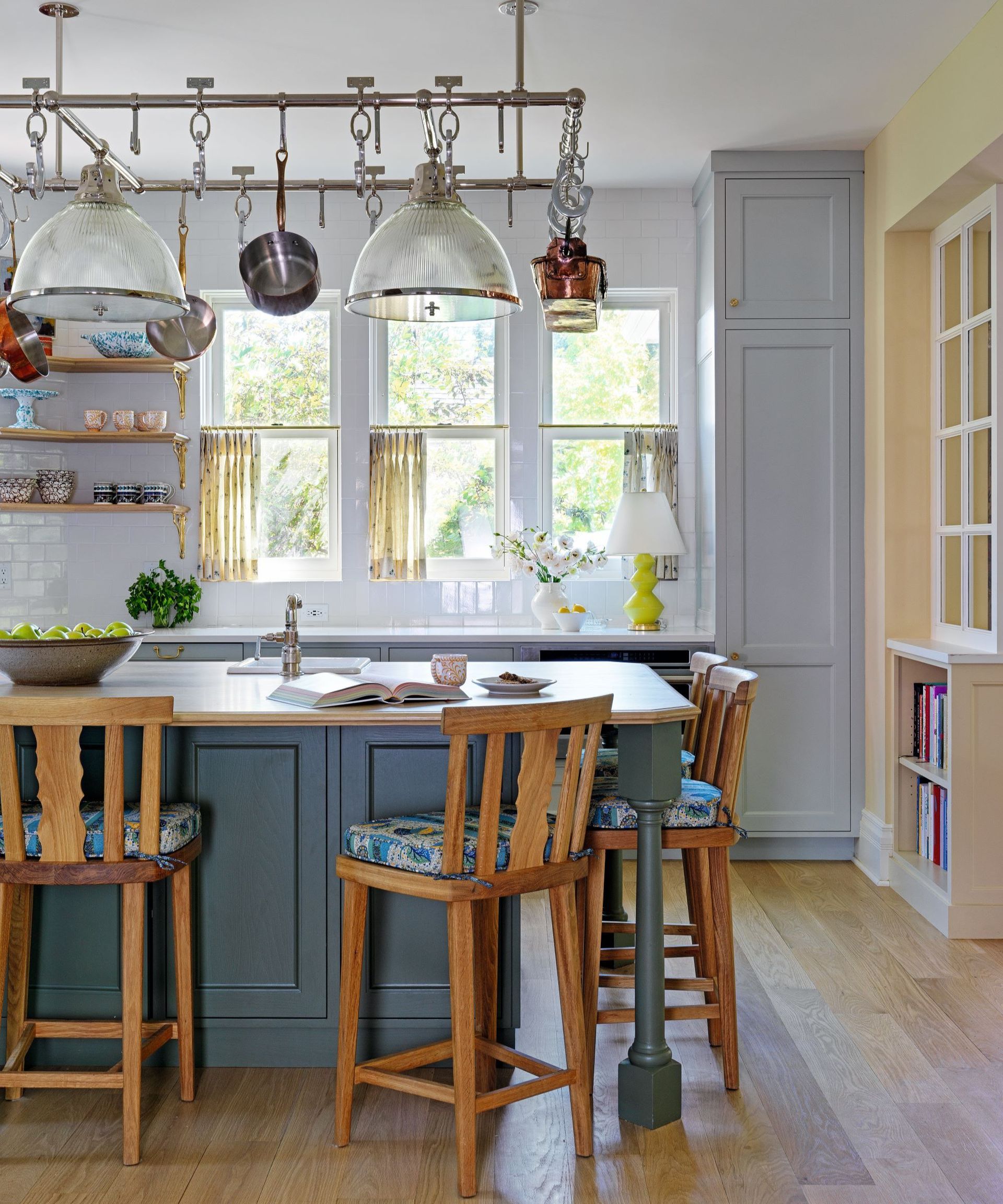 A kitchen with an island needs to be of sufficient size. 'A kitchen measuring at least 10 x 10 feet typically allows the inclusion of a modest kitchen island without causing congestion,' says interior designer Artem Kropovinsky.
Alexander Adducci, senior designer, 210 Design House, advocates a little more square footage if what you have in mind is a generous island. 'To incorporate a kitchen island, a minimum kitchen size of approximately 15 x 11 feet is recommended,' he says.
'This standard size allows for the accommodation of a substantial 9 x 3 foot island, complete with provisions for a sink and/or cooktop. This setup strikes a balance between functionality and space utilization, making it a versatile addition to modern kitchens.'
Based in New York, Artem Kropovinsky, founder of Arsight, has a decade of extensive and considerable global design experience. Prioritizing minimalism, sustainability, and authenticity, Artem, alongside his team of professionals, works on projects in the US and worldwide.
Importance of kitchen shape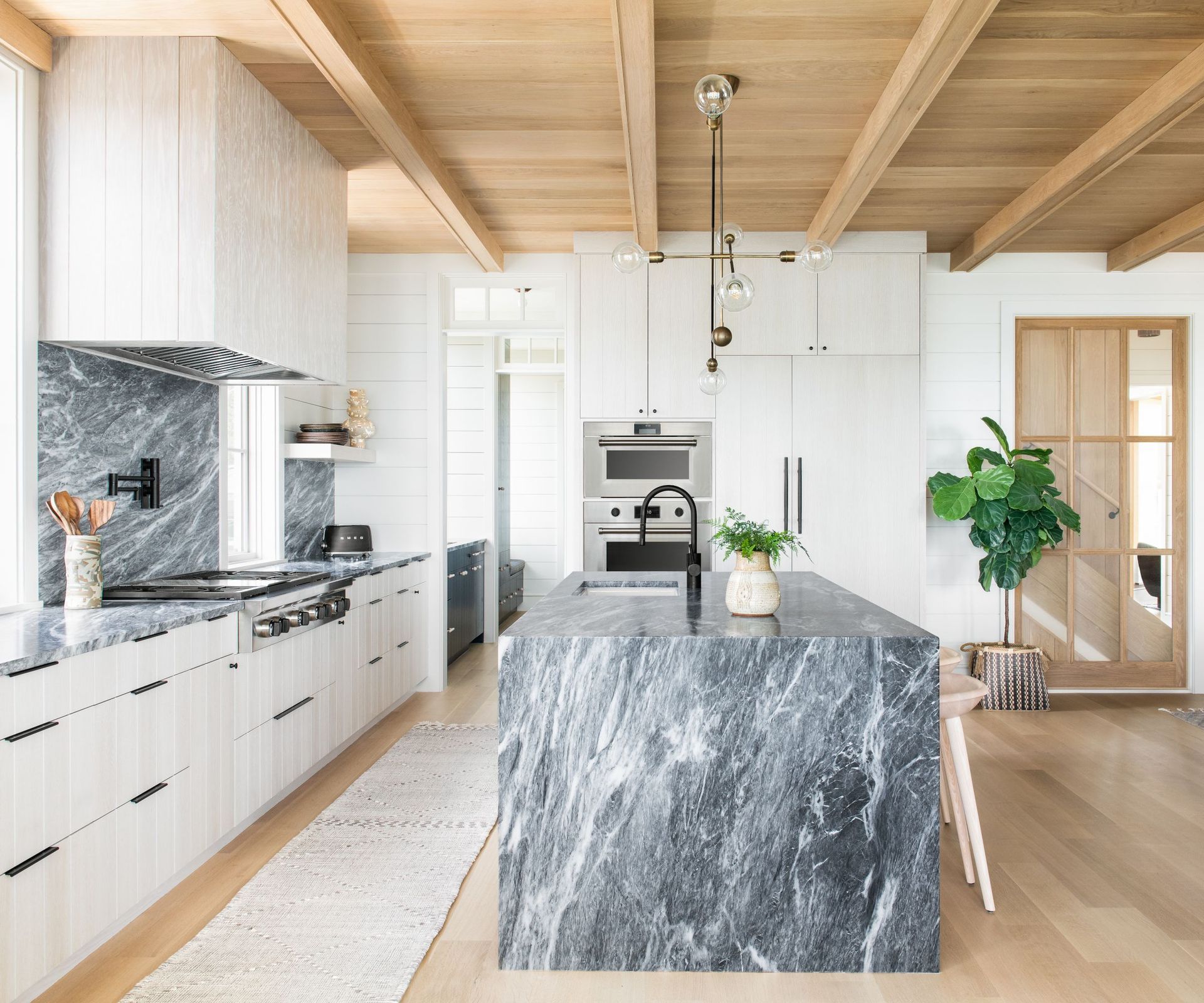 It isn't just the dimensions that matter, however. Kitchen shape also counts. 'The shape does play a role in whether there's room for an island,' says Artem Kropovinsky. 'A galley kitchen, due to its elongated shape, often isn't suitable for islands, while L-shaped kitchens or U-shaped kitchens naturally accommodate them.'
There are additional factors to bear in mind when it comes to the kitchen's shape. 'Particularly, in the case of an L-shaped layout with an island, considerations for passageways along the return wall become crucial,' says Alexander Adducci. 'When the island's length is kept at or below 6 feet to allow for a seamless flow of movement, it ensures both functionality and aesthetics are in perfect harmony, creating a space that's as practical as it is visually appealing.'
Leaving space around the island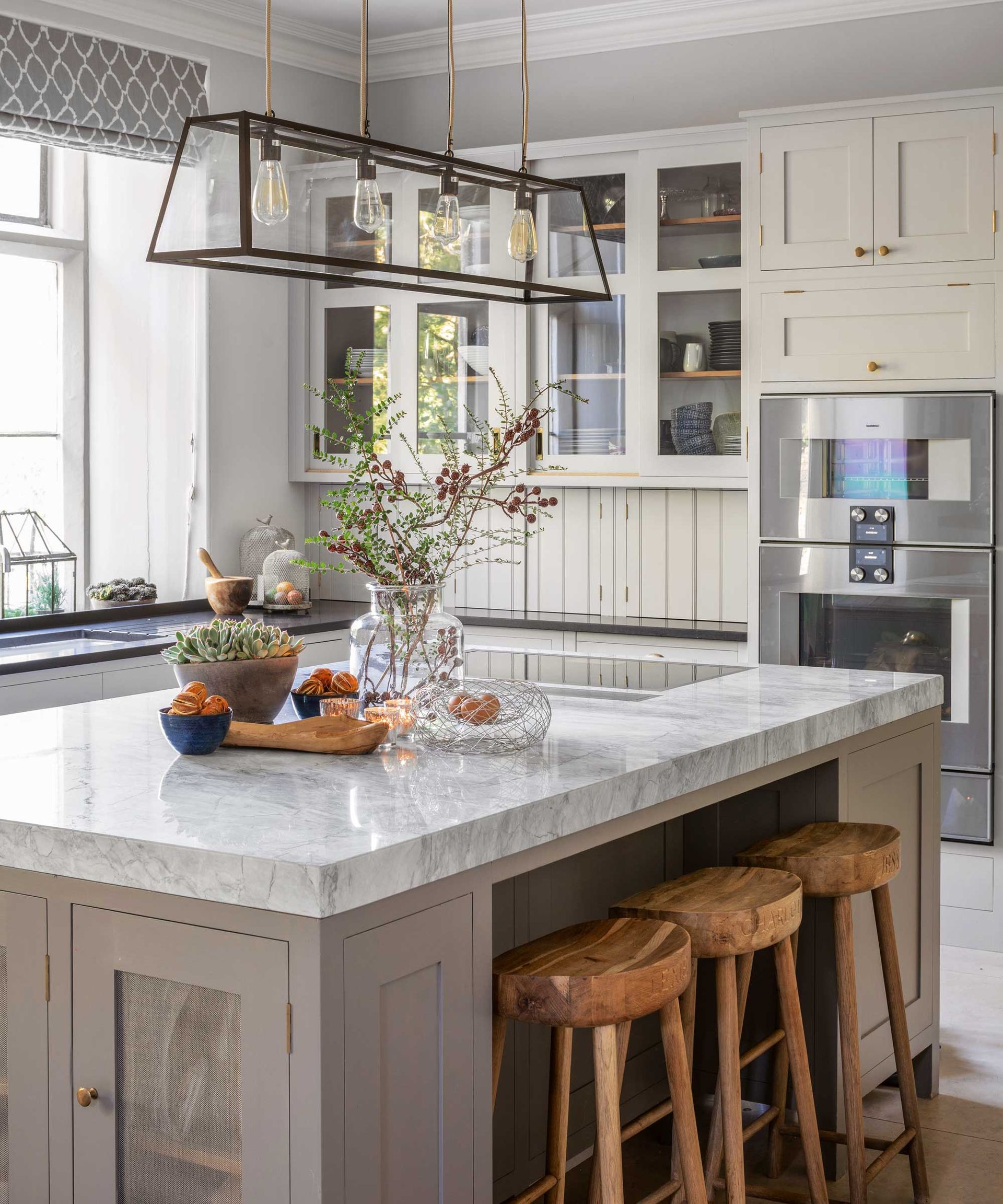 Sufficient space between the island and the counters is vital as well as whether there's the square footage for the island itself. There needs to be enough room to move around the kitchen and carry out all the tasks that go on there without hazard. Cabinet doors need space to open, as do appliance doors.
'Ensure a minimum of 3 feet between the island and surrounding counters,' says Artem Kropovinsky. 'This provides adequate space for opening cabinets, moving with ease, and avoiding collisions.'
'The spacing between the island and the counters is a critical consideration,' agrees Alexander Adducci. 'For the back run and general circulation, a range of 36 to 38 inches is recommended. This allows for seamless movement and comfortable access to all areas of the kitchen. 
'In cases where a cooktop is directly across from a sink, or when there are two sinks facing each other, it's crucial to provide ample space for individuals to stand back-to-back,' he continues. 'A minimum of 42 to 48 inches is advised to accommodate two elements effectively. This ensures that tasks like cooking and washing can be carried out simultaneously with ease and convenience.'
Why island seating matters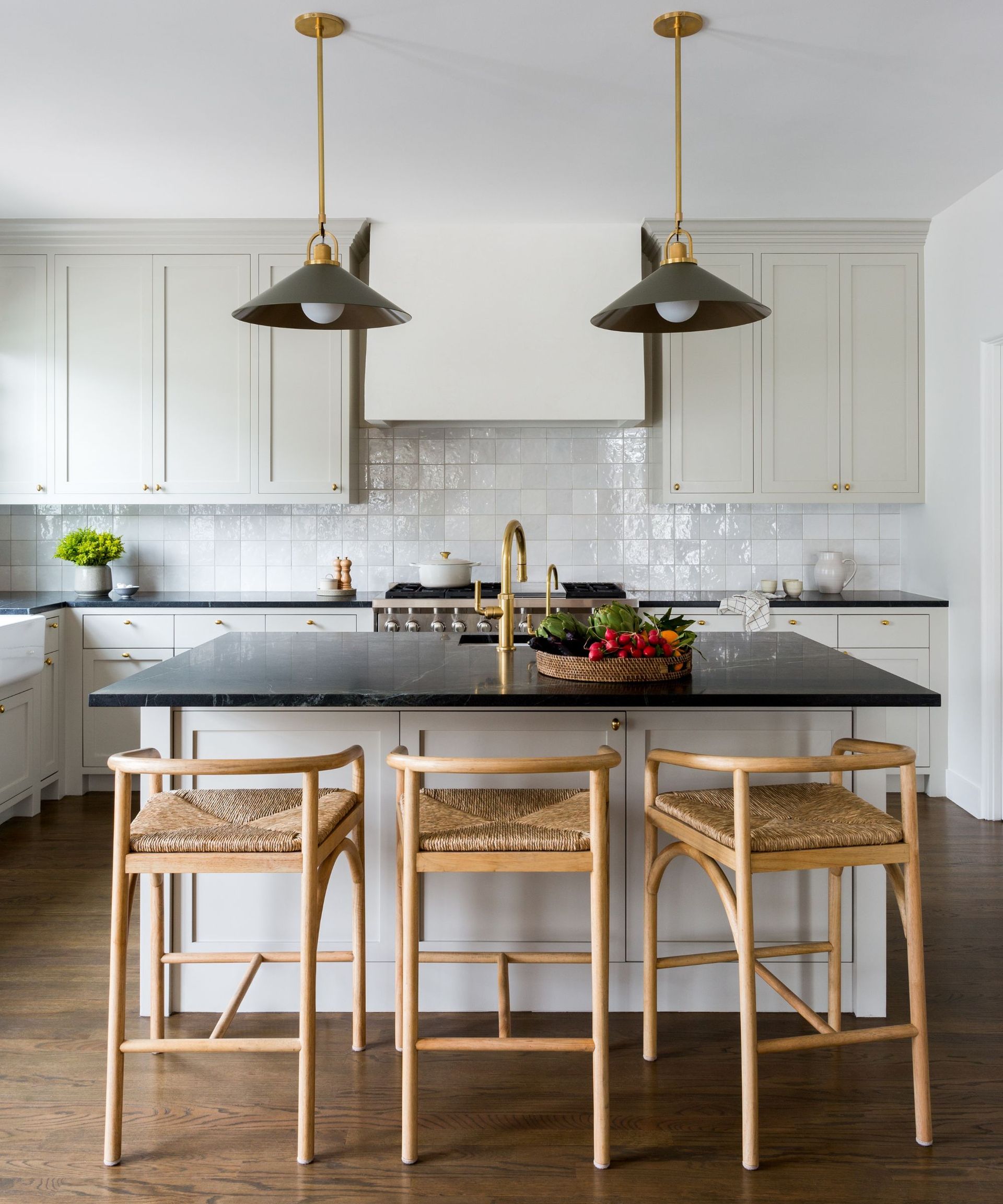 It's also important to think about island seating when addressing the question of whether there's room for an island. 'If your island is meant to host seating, an additional 1 to 2 feet of space is ideal, ensuring comfort for those seated and seamless movement for the cook,' says Artem Kropovinsky.
Consider seating from the start of planning an island in the kitchen. 'The decision regarding seating on the island has a significant impact on the space required,' says Alexander Adducci. 'If seating is desired, additional room is needed for chairs to be comfortably tucked in and out. This consideration affects the overall depth of the island and its feasibility.'
Be aware that you may need to give up the idea of seating in some circumstances. 'In cases where space constraints are a factor, prioritizing the island's functionality may take precedence over accommodating seating,' advises Alexander. 'It's crucial to strike a balance that ensures both the island and any desired seating arrangements can coexist harmoniously in the kitchen layout.'
Alternatives if there isn't room for an island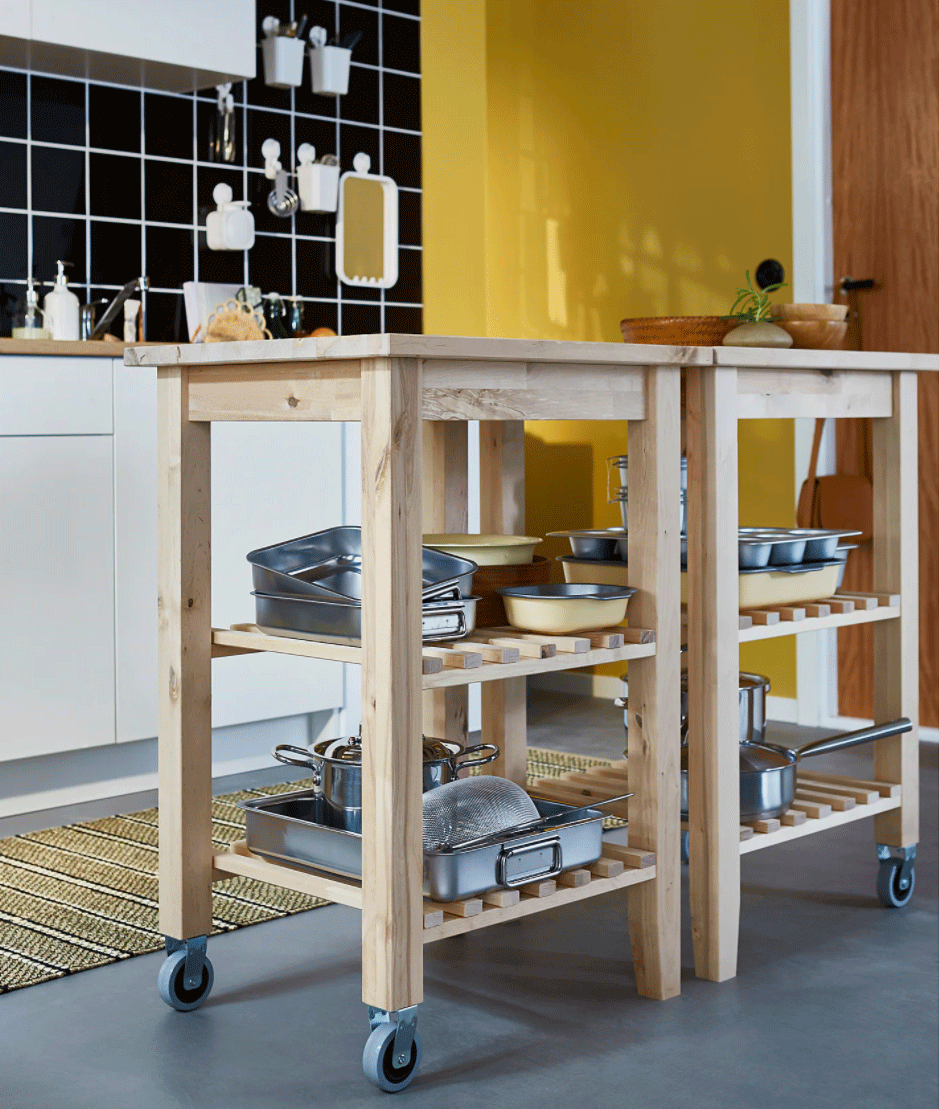 If the advice from the professionals has revealed that there isn't room for an island in your kitchen, there are alternative strategies you can adopt.
'If space constraints hinder an island, consider alternatives like a peninsula, which extends from a wall, or a mobile kitchen cart,' says Artem Kropovinsky. 'The goal is a balance between functionality and free movement,' he explains. 'Sometimes, foregoing an island in favor of open space benefits the overall flow and efficiency of a kitchen.'
Alexander Adducci agrees. 'If space doesn't permit a traditional kitchen island, there are several practical alternatives to consider,' he says. 'Rolling carts provide mobility and extra storage. Another option is to extend a peninsula from the existing counter, creating a similar effect. Additionally, a butcher block top on wheels with convenient wire racks offers a flexible solution that can be easily moved in and out as needed. These alternatives maintain functionality without the need for a dedicated island.'
FAQs
How small is too small for a kitchen island?
Sizing down might hold appeal in order to fit an island into a kitchen, but there is such a thing as an island that is too small. 'The minimum size for a kitchen island to be truly functional and aesthetically pleasing is typically around 6 feet x 3 feet,' says Alexander Adducci, senior designer, 210 Design House. 'This dimension allows for ample surface area and ensures the island doesn't appear too cramped or disproportionately small in relation to the surrounding space. It strikes a balance that combines utility with a visually appealing presence in the kitchen.'
---
While an island is ultra-desirable, kitchens without islands can be functional and aesthetically pleasing, too. If an island is your preference, and there's room, do look at the alternatives when it comes to kitchen island shape for maximum style. And don't forget the kitchen island lighting that will make it both functional and fabulous.