There are so many decisions to be made when designing a kitchen and mistakes can be disappointing and costly. That's why we've called in the experts to help with one particularly tricky and frequently asked question: should kitchen islands be darker than cabinets? 
Why does it matter whether the kitchen island is darker than the cabinets? Surely each kitchen is different and requires an individual approach to get the best finish. Interior designer Tancred Vilucchi agrees and says: 'I don't believe in an exact recipe for kitchen island and cabinets being lighter, darker or matching each other, as each design scheme is different and interpreted in different ways in order to reach high-level visual unity.'
True, but there are a few key design and color principles worth knowing before you choose a new kitchen island and the interior designers we spoke to are keen to share their expert insights to help us create our dream kitchens. They also offer plenty of inspiration for kitchen island ideas along the way. 
Should kitchen islands be darker than cabinets? 
The simple answer is: it depends. In a room as complex as a kitchen, there are many factors at play, all feeding in to our kitchen ideas. The size of the kitchen, style of the cabinets, and the room's – and even the home's – overall aesthetic should all be taken into account when designing a kitchen island. 
Read the advice from the design experts, below, to discover what is likely to work best in any given situation. These are by no means hard and fast rules, but rather guiding principles to help create a successful scheme. 
Yes, to create impact in a larger space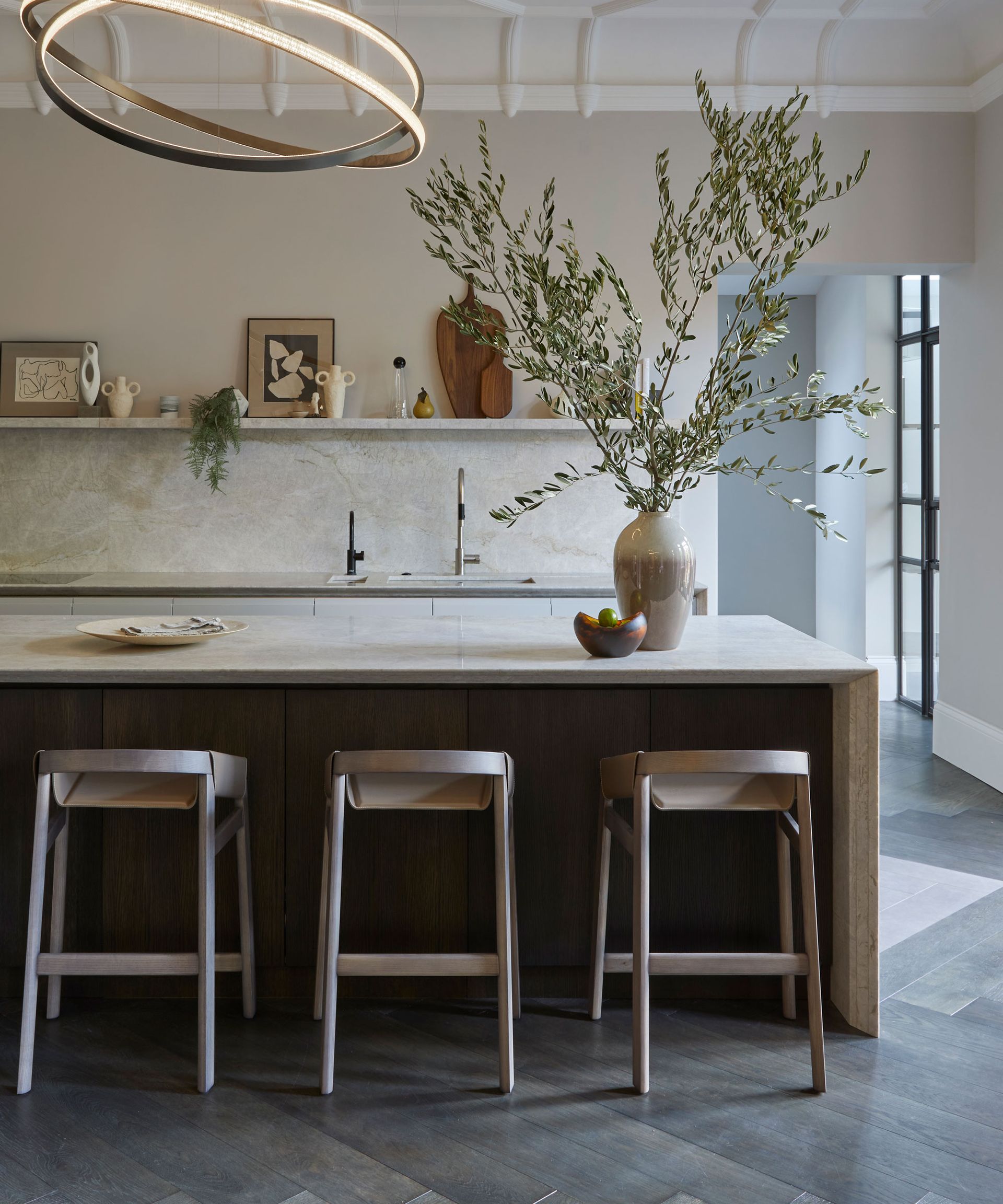 When considering kitchen layout ideas, it's not always clear what are the best design decisions. However, as the saying goes, if you don't know what to do, do something. And that's definitely the case when thinking about kitchen island versus kitchen cabinet ideas. It's good to make some kind of differentiation between the two, even if you're not sure of the best way to make them different. 
A kitchen island that's darker than the kitchen cabinets will stand out and make a strong contrast. Here's what the interior designers have to say on the subject, and their thoughts on where this approach will work best. 
Boston interior designer Gary McBournie says: 'With respect to matching or contrasting cabinet and island colors, the size of the space is a big consideration. In a large kitchen, a contrasting darker color on the island may help fill the space and be more visually appealing.'
Elizabeth Metcalfe, the Toronto-based interior designer, agrees, adding: 'Darker islands add interest and visual weight in larger kitchens. Depending on the size of the island, you can incorporate a painted finish and a wood stain to add additional interest. In a more traditional home, a bolder color, such as Farrow & Ball's Pelt or De Nimes, could be matched with a lighter neutral tone.' 
And interior designer and artist Kathy Taslitz, says 'I find it interesting to mix things up a bit among the kitchen cabinetry and island by introducing a new color. A darker color provides a weightiness that can anchor all the upper and lower lightness around it. It's also a chance to add some inspiration to avoid the room looking too matchy and ordinary.'
No, if your kitchen is small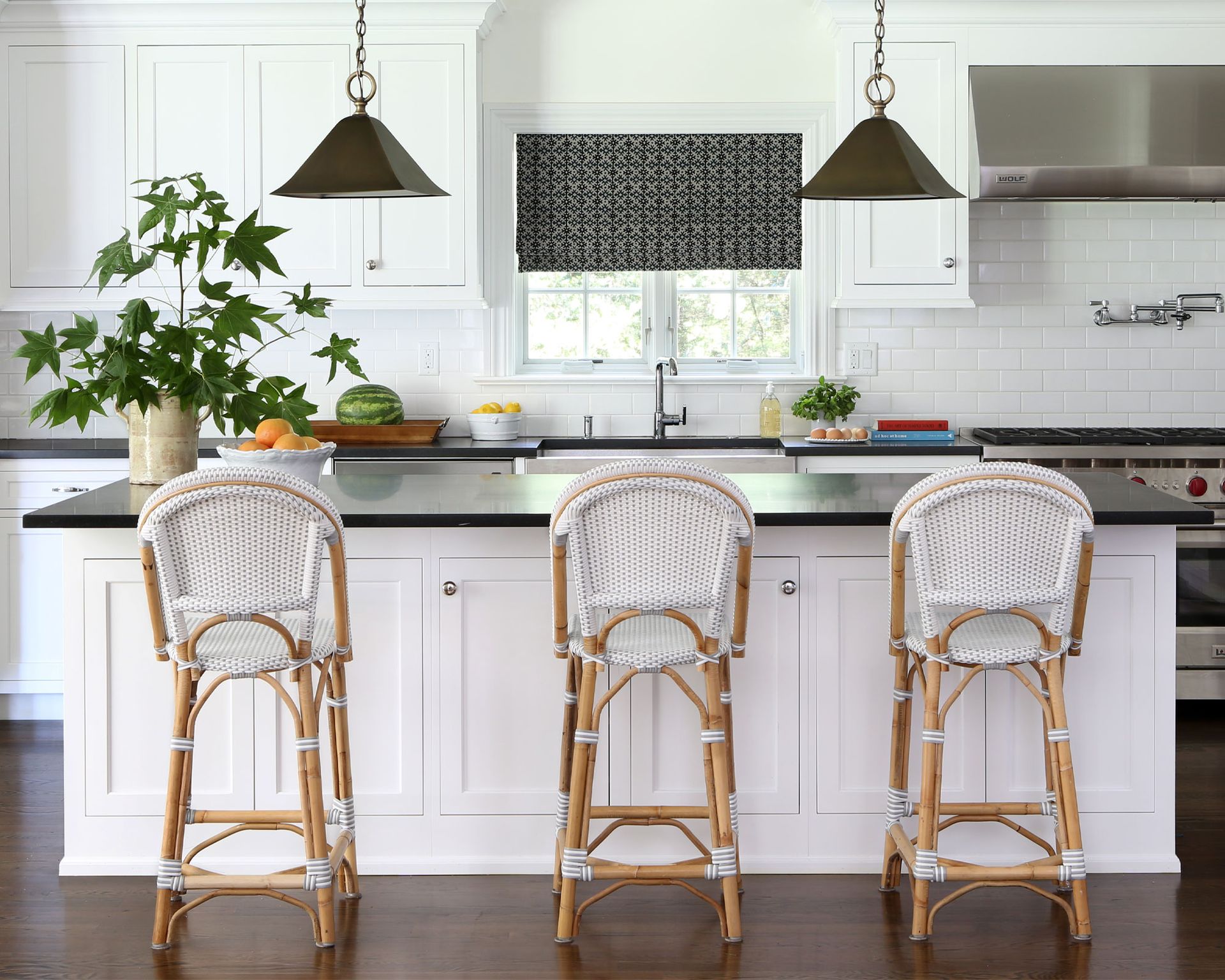 This is the obvious choice for a kitchen where space is tight, as designer Gary McBournie explains: 'A smaller kitchen may appear larger if island and cabinets are the same, and the color should be on the lighter side.' 
It's an optical illusion created with color but if the island and cabinets merge as one, the effect is of a more open space, as in the kitchen above, which showcases white kitchen ideas to perfection. 
For Amy Knerr, from Of Place Studio, this is the natural approach for any kitchen, large or small. 'I usually design a kitchen with the perimeter cabinets and the island cabinets in the same color or tone,' she says. 'I gravitate towards wood kitchen cabinetry. The kitchen is one of the main spaces that you spend time together in a home, and natural wood cabinetry adds to the warmth of the space, which I really love. I always advise clients to go with a natural stone in a kitchen as well. It's like installing permanent art in your kitchen that will patina beautifully over time.'
As a subtle variation on a theme for smaller kitchens, interior designer Florence Livingston recalls one of her recent projects, 'We wanted the island to be visually discreet as space was limited so we opted to have it be made of white oak in a similar finish to the white oak floors so that it wouldn't feel too massive in the room.' 
No, if you pick a different finish for your island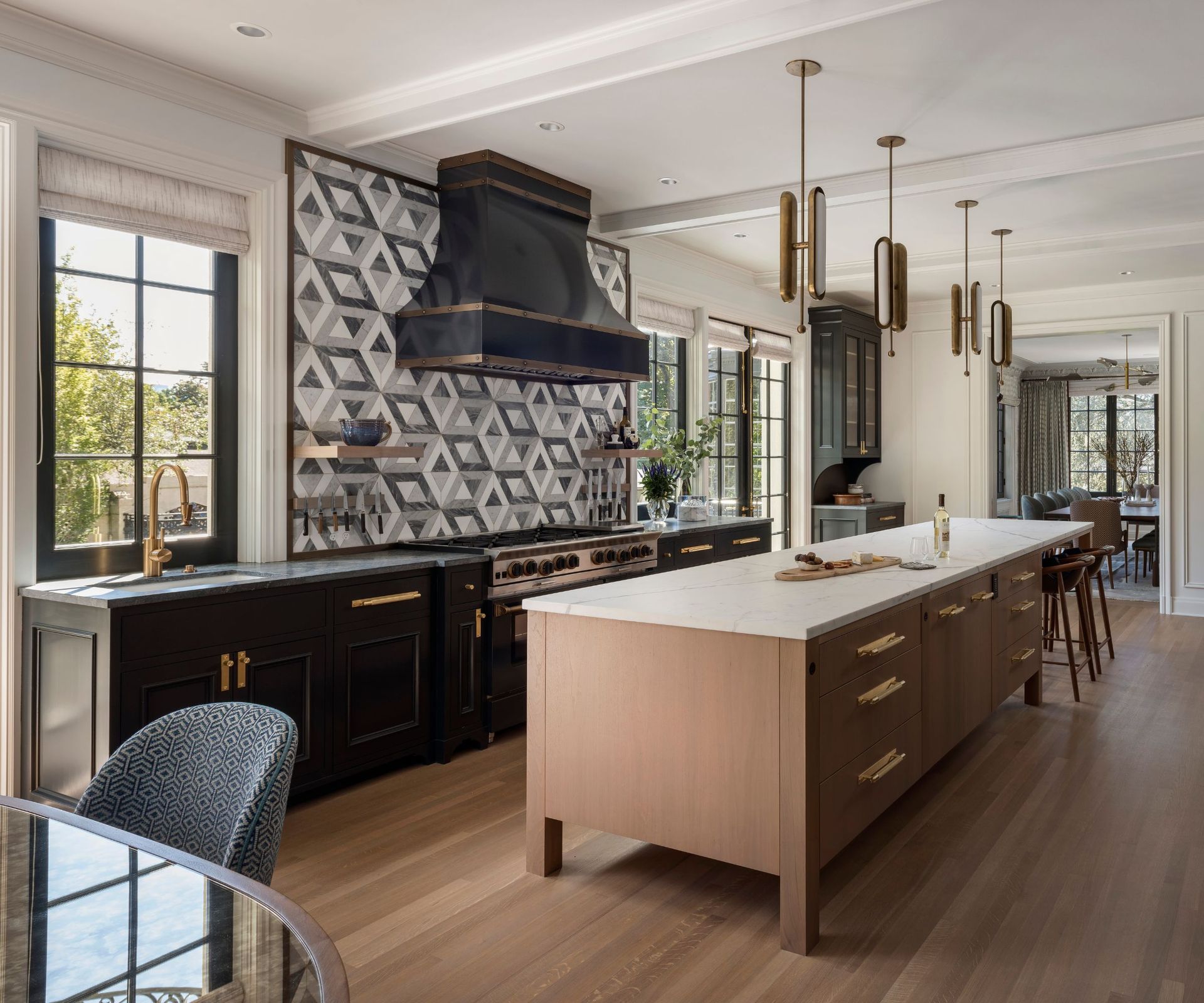 It's not all about color – there are other ways to set an island apart, as Tancred Vilucchi, founder of Maison Vilucchi explains. 'My advice would be to have the kitchen island fabricated with a different type of material than the cabinets, rather than being darker or lighter. 
'For example, if kitchen cabinets are made of wood, either wood finish or spray painted, the island shall be designed and covered by natural stone or by metal, such as brass or aluminum, or even wrapped with leather; so then the kitchen island stands out and becomes the focal point and piece of art.'
This approach of using different materials within the kitchen can produce an interesting multi-layered effect, with some pleasing and tactile finishes. 
No, if you choose different countertops for islands and cabinets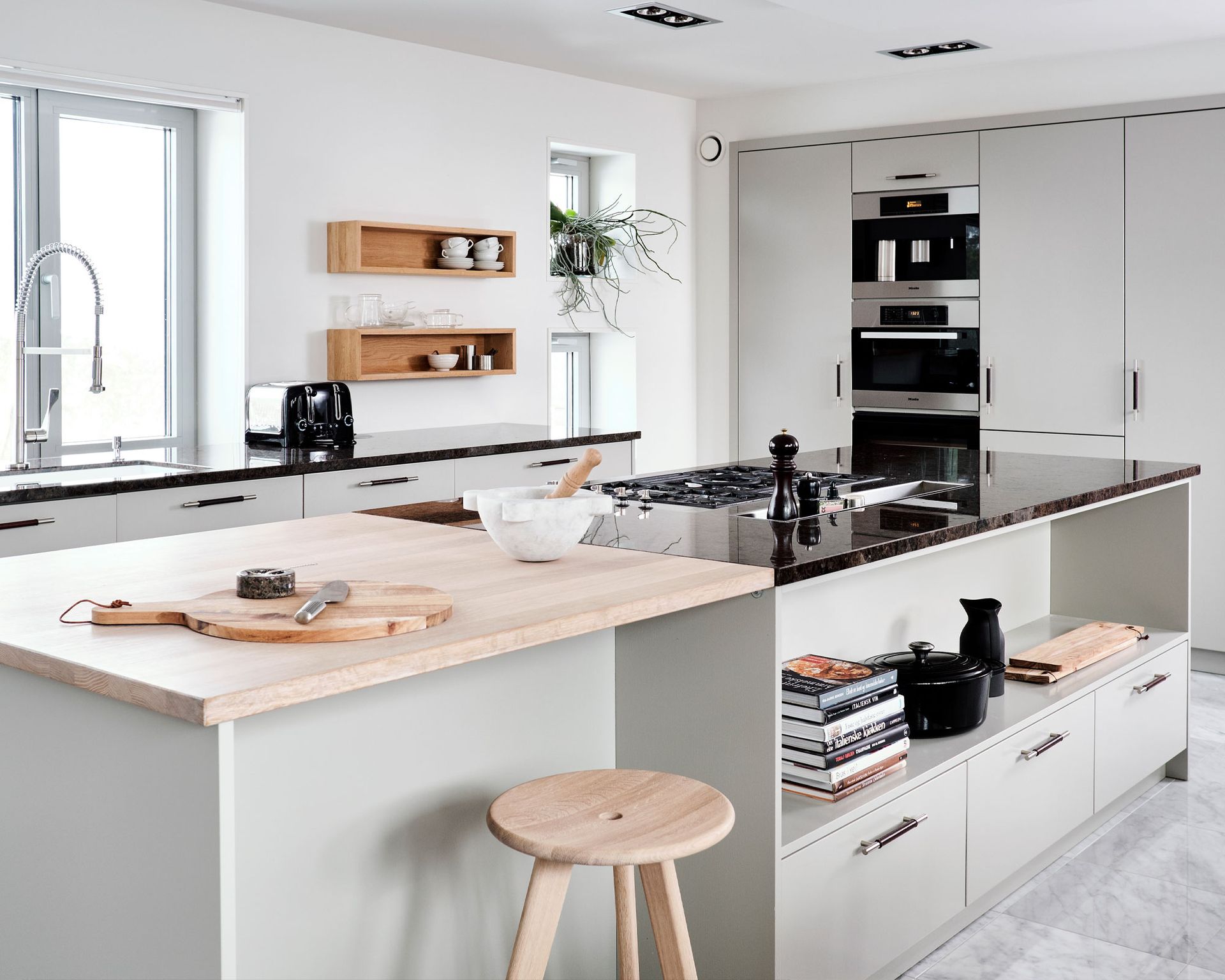 For kitchens where you prefer to keep the cabinetry and island finish the same, add a note of differentiation by mixing and matching the countertops. The choice for the best countertop will depend on what purpose the island serves, perhaps introducing a stainless steel countertop if there's an inbuilt hob or sink. If the island is more of a food prep area, a natural wood countertop might serve you well for pastry or bread making and prove the best kitchen countertop for cooking. 
Vancouver-based designer Chad Falkenberg says: We will often use different counter materials. In a recent beach house project, the island counter is stainless steel, contrasting with a grey quartz on the counter around the cooktop.'
Kathy Taslitz adds: 'Metals like brass, copper, or stainless steel are great countertop or cabinetry options and have the added advantage of being antibacterial. Unlacquered brass takes on a beautiful patina.' 
No, if your kitchen island is freestanding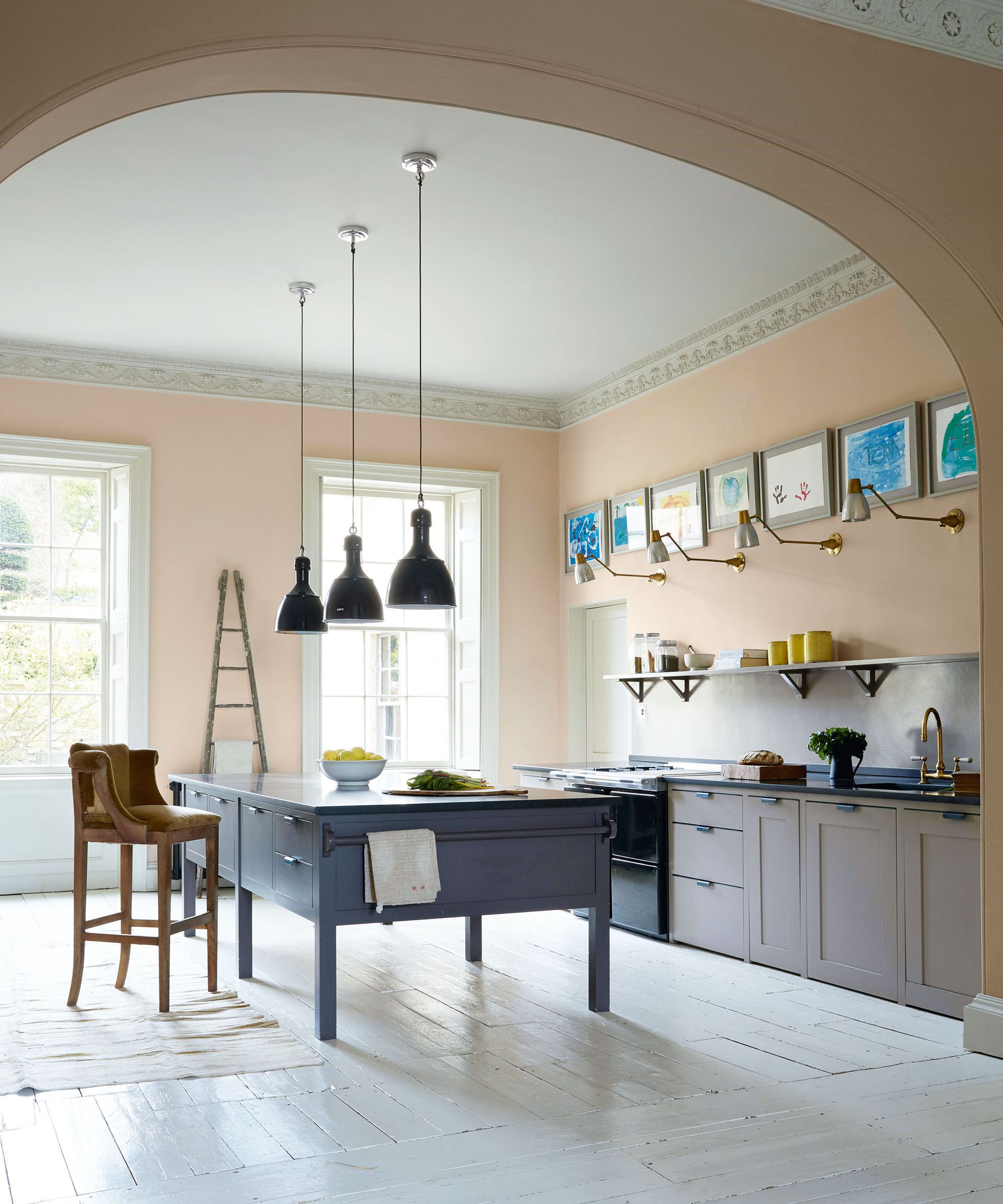 Borrowing from European style, one kitchen island trend that seems here to stay is to incorporate a piece of freestanding furniture as an island. Freestanding kitchen ideas work well when they include a vintage piece, such as an old farmhouse table, shop counter, or haberdasher's display cabinet. These may be dark wood or painted so might provide a color and material contrast, and bring with them all the interest and patina of their previous lives. 
Designer Florence Livingston says; 'I love incorporating more of an antique or vintage kitchen table that can act as an island, for a more lived-in and European aesthetic.'
FAQs
Does an island need to match cabinets?
An island absolutely does not need to match kitchen cabinets, though keeping it in a similar style or toning color can help your space to feel more cohesive, and therefore larger and more streamlined.
---
The choice of whether or not to have a kitchen island that's darker than kitchen cabinets isn't the only design dilemma you will come across; this decision will need to be made in conjunction with working out whether your kitchen cabinets should be lighter or darker than walls, too.