Kitchen islands are for food prep, dining, and act as spatial dividers. Often they bridge the design gap between living, dining, and kitchen spaces, which means that they should also complement your home's design style and layout while matching your lifestyle, habits, and budget. Here are some modern kitchen island ideas to help bring things together while maintaining functionality for your home. 
1. Try drawers instead of cabinet doors
This kitchen island provides lots of options for hidden storage. "We chose to have a very big kitchen," says homeowner Egelund. "I love it when people cook together."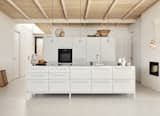 3. Try solid wood
This solid wood island with an inset stove and sink brings expands the natural wood floors upward adding a bit of rustic warmth to the space.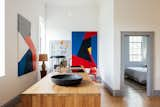 4. Install outlets
When you have a small kitchen, a functional dining island is important. Outlets on the side of the island increase functionality for food prep as well.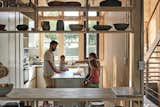 5. Buy an island separate
Outsourcing your kitchen island allows for additional aesthetic and functional flexibility.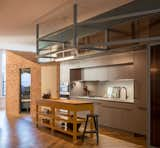 6. Mix and match colors
This earth-tone kitchen is complimented with an island with a white marble top and matte black base. The island also features side shelving for extra convenience.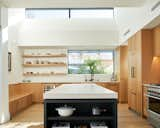 7. Make the island your centerpiece
This kitchen is anchored by an expansive black island, which pops against the crisp white walls and polished concrete floors.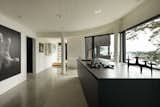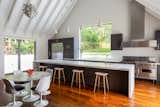 9. Blend textures
This island combines the marbled surface with a finished wood texture; keeping the identity of both materials. Giving space for materiality creates dynamism for an otherwise plain  white room.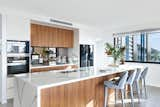 10. Inset the dishwasher
Let's face it, sometimes—most times—dishwashers are an eyesore. Insetting the dishwasher into the kitchen island is a great way to hide this clunky appliance while maintaining a crisp clean feel in the kitchen.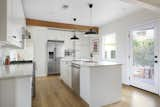 11. Stick to a basic white
Sometimes, a clean white kitchen is all you need! This island top spans across storage cabinetry and two coarse blocks of pitted travertine.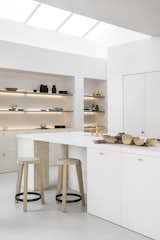 12. Try pink marble
Use of colored marble in the home is always a great way to pop a space. In this case, the pink marble kitchen island compliments the peachy walls and wood to bring everything together in this warm and inviting space.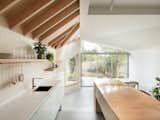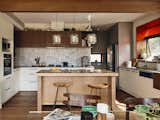 14. Islands can store more than kitchen items
When using an island to separate spaces, feel free to display items in the built in shelving to identify what room you would like your guests to identify with. These homeowners have stored their children's toys in the potion of the steel island facing the living area.