Did you know that redecorating your child's room can add significant value to your home? Plus recreating the cool designs you find as inspiration doesn't have to be expensive. It's a win-win!
There are so many great bedroom on a budget ideas. Repaint existing furniture, recycle used materials or use stencils to make creating new patterns and designs easy. For value-adding children's bedroom ideas on a budget, colour blocking and painted arches were found to add up to almost £5000 of value to a home in our latest trend report.
If you're struggling with finding the time to set this room transformation in motion, hiring professional help might not be as expensive as you think. Find a tradesperson that fits within your project budget today.
To get the results you want within the budget you set, we've got two top tips for making your children's bedroom redecoration project a success.
Use Multi-Functional Storage And Furniture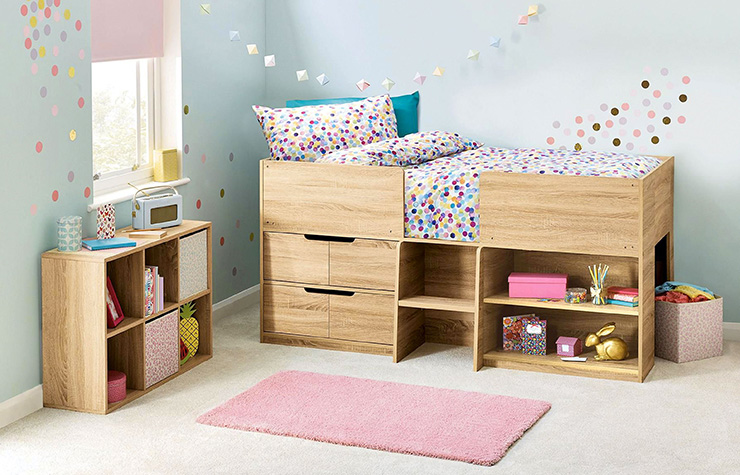 The importance of functionality can't be forgotten in the excitement of fun ideas for your kid's bedroom. When it comes to storing their mountain of toys and clothes that they keep growing out of in a limited space, multi-functional furniture is a lifesaver! Even more so if multiple children are sharing a room.
Some great examples of multi-functional furniture for small spaces are underbed storage and ottoman boxes. These storage spaces are easy to access and have a super sleek modern design so you don't have to compromise on style.
Small space multi-functional furniture you might not have heard of include headboard storage and beds with pull-out desks. You can give kids a quiet space to do their homework without sacrificing play space. Find a professional carpenter to create your perfect multi-functional piece today.
Choose An Exciting Theme
Have you ever considered choosing a theme for your kid's bedroom? It helps you to create a cohesive space and narrow down options when picking colours, furniture and other decorative items. Although children do change their interests often, especially when they're little, this could reduce the longevity of the transformation and up the expenses due to looking for specific items to fit the theme.
If you think theming could be useful for your project, here are a few children's bedroom theme ideas. A princess or pirate-themed room will delight kids who love to dress up and get lost in stories. Why not bring awe and wonder with a jungle or space-themed bedroom? You could use their hobby as inspiration like dance or sport. Every kid has their favourite superhero which would be a great theme too.
Once you've picked a theme for your kid's bedroom, you can really imagine what the results of your project will look like.
So those are a few children's bedroom ideas on a budget. Let your imagination and craftiness run wild as you decide on a theme or colour scheme and find nifty ways to make the most of the space. Redecorating your kid's room can be simple, budget-friendly and transformative.
If you're ready to get started, find a decorator to deal with the painting for you or a handyperson to help you put together new furniture.