Minimalism and coziness are interior design styles that don't always go hand in hand. Minimalism has a reputation for stark, often sparse interiors, void of decor and color, meanwhile, cozy interiors conjure up images of rooms with a deep, rich color palette and plenty of texture.
So how can we make our minimalist living rooms feel like calming, cozy spaces this fall? I've spoken to the experts in minimalism in interior design to find out the top ways to bring coziness to our minimalist living rooms – and how you can easily replicate the look at home.
1. Embrace texture
Rule number one of adopting a cozy minimalist feel to your living room all comes down to texture. Minimalists typically keep color to a minimum, relying instead on material to bring interest. Textures play a pivotal role in bringing depth and warmth to the otherwise clean and sleek aesthetics of minimalism.
'To create a cozy atmosphere in minimalist living rooms, it's crucial to focus on warm shades and layering textures,' says Kashi Shikunova of minimalist interiors studio, Yam Studios. 
'I often opt for similar shades in both paint and fabric, but introduce different textures that add layers and complexity,' says Kashi. 'Additionally, I frequently incorporate wood elements as they not only infuse warmth but also provide another dimension of texture.'
When shopping for texture, think natural. From jute rugs to wicker lampshades, to boucle armchairs to high pile upholstery and mohair throws, building up a layered scheme of texture can bring coziness to your living room in abundance. The trick with minimalism is to keep a cohesive color palette. If your minimalist living room uses white on the walls, build dimension with a neutral, earth tone living room. 
2. Use lighting to your advantage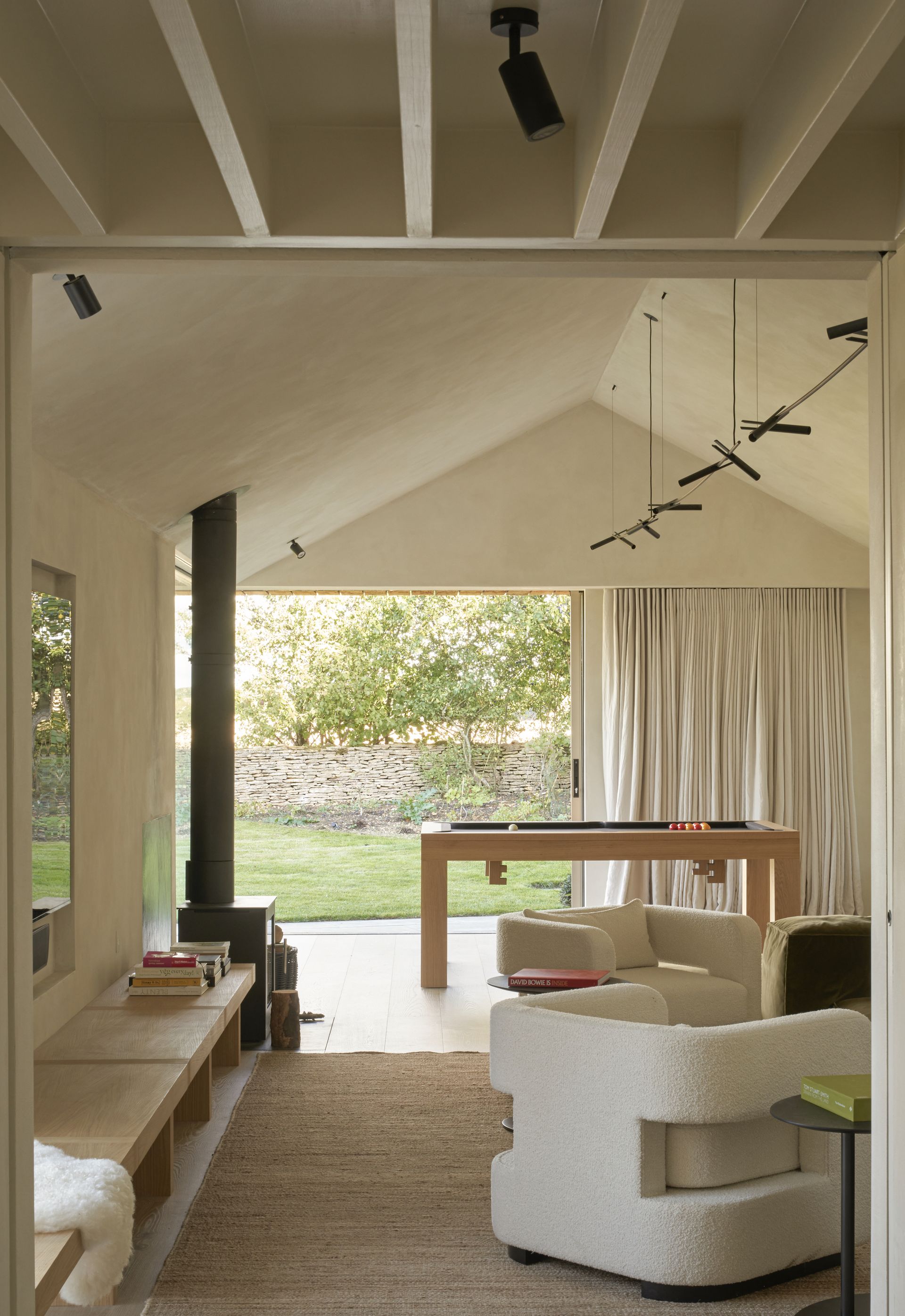 'Ensuring you have the right lighting is essential for cozy minimalist living rooms, with a focus on mood lighting to add warmth,' says Jessica Tricarico, interior designer at Melbourne-based residential studio, Heartly.
Brightening up your home and flooding the space with a natural feel, natural light should be harnessed where possible, helping you to embrace the great outdoors in your interiors. Encourage natural light during the design stage of your home with floor-to-ceiling windows, skylights and window seat ideas that offer a space to sit and enjoy the view of the outdoors. It's all about the balance of natural and artificial lighting though, so remember to supplement with your lamps, wall lights and ceiling lights.
In this incredible minimalist home, designed by interior and architecture practice, TR Studios, a soft level of lighting was intentional 'so that it feels protective and cozy rather than exposed.'
'This balance of natural and artificial lighting uses fittings that add both architectural and visual interest,' says architect and founder, Tom Rutt, 'as well as functional light help to layer the space and make it a great example of how to do lighting – well.'
3. Bring the space together with a high pile area rug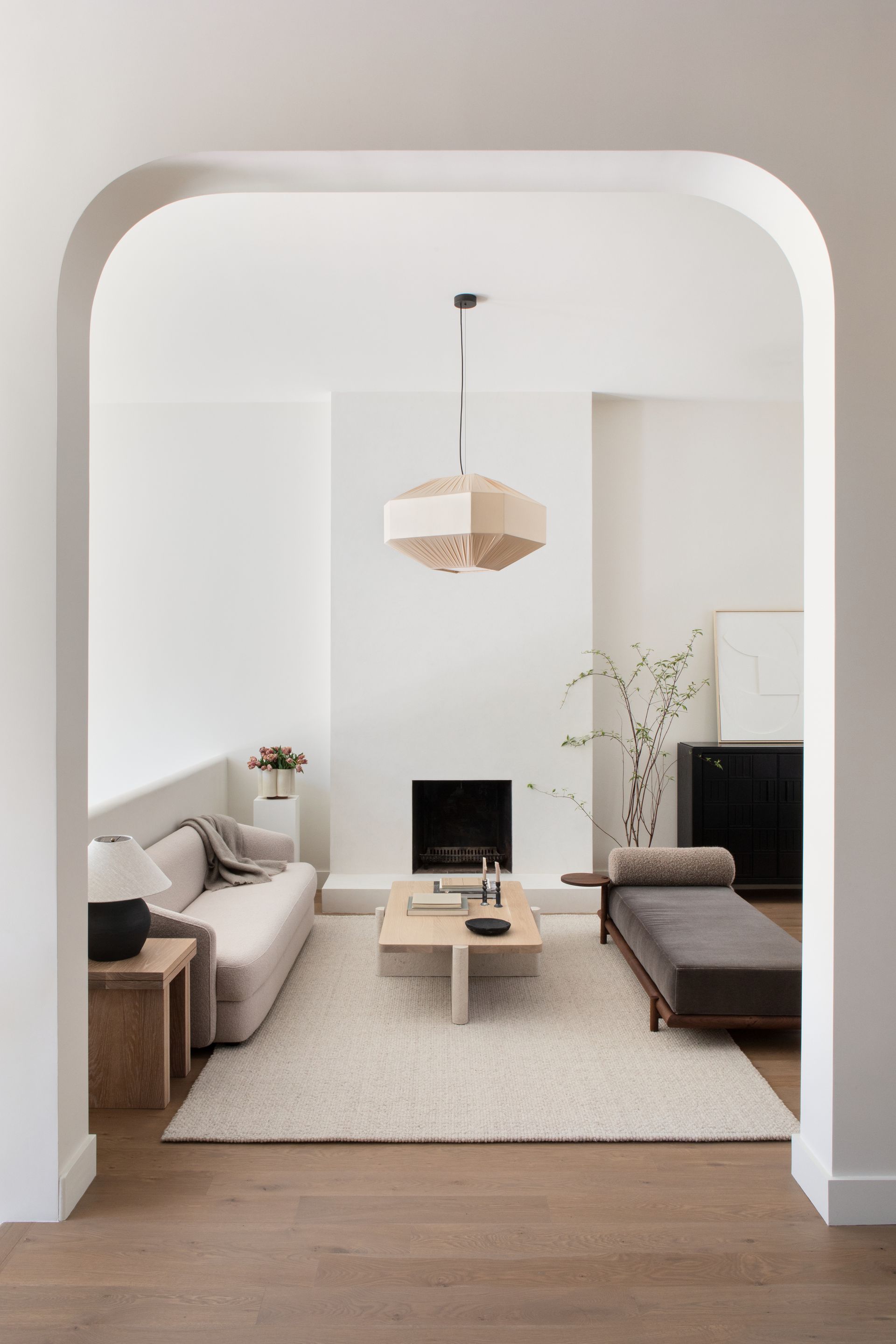 'To create a cozy minimal space, prioritize comfort by finding the perfect sofa and style it with an oversized, high pile rug to soften the space further,' says Jessica. A soft and high pile living room rug goes far to elevate your minimalist scheme, bringing coziness underfoot that softens the hardness of the floor. 
Area rugs are great tools to help demarcate zones in your living room and perfect for those stark, minimalist spaces by helping pull the furniture together to bring a harmonious and cozy feel, like this example from London and New York-based minimalist interior design firm, Nune.
4. Don't underestimate the importance of window treatments
Given that light is such an important tool in minimalist interior design, the way we control and block out light in our minimalist living rooms is also of crucial importance. Diffuse the natural light that comes into your room with soft, sheer floor-length living room curtains that bring a beautiful softness to the walls and allow an ethereal quality of light. Remember to keep the color scheme neutral or white, avoid bright or bold color and allow the light that filters through to be the star of the show.
'In many living rooms, curtains and a bigger rug alone sets the tone and add the softness and texture you need for minimalist living room,' says minimalist interior designer, Pella Hedeby. 'Both for the tactile sensation and to get a more subdued atmosphere.'
'I find much inspiration in the simple Japanese style, with a plain fabric hanging like a sheer screen in front of the window.'
5. Bring warm colors to your minimalist scheme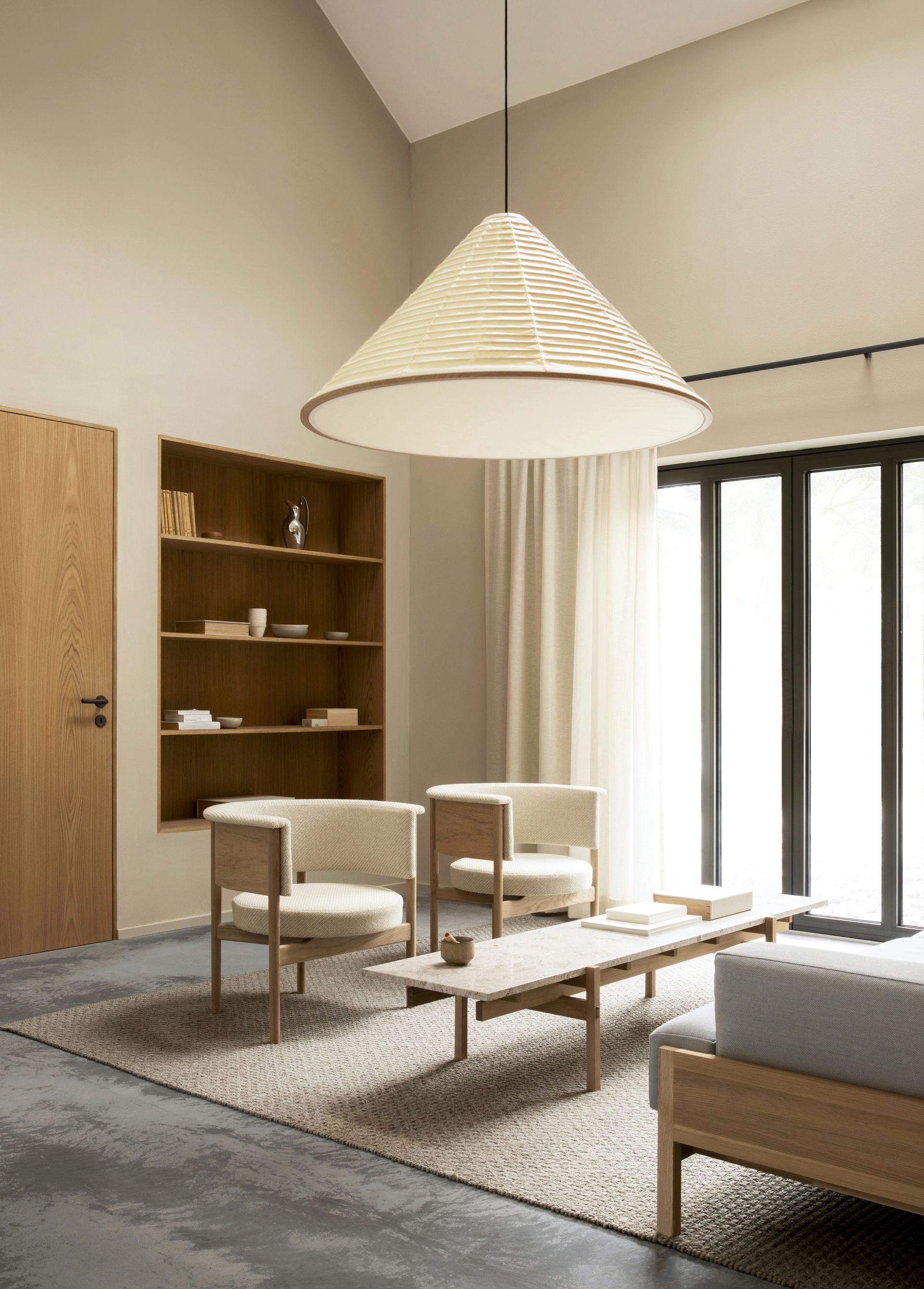 Minimalism is so much more than just white interiors, and more and more, as minimalism blends with a more luxurious look, we're noticing designers experimenting with other richer and earthy tones. 
For your minimalist living room to work come fall, it's all about introducing other colors that have a natural warmth to them. For minimalism, avoid anything too saturated, but introduce earthy, subtle tones. I love mushroom in a minimalist living room, bringing a brown tinge to grey, and tones of brown from across the spectrum. Avoid anything that carries too much color and energy.
It's not just about paint either, bring in texture in a range of colors for a cozy and cohesive scheme.