We've identified top 10 modern tile design ideas for bathrooms that are trending right now. If you're currently remodeling or planning to soon and need to make decisions about your bathroom design, you'll find this article handy.
Reflective Tiles are Trendy
Now this is a beautiful tile idea. Reflective walls make the bathroom look bigger and brighter, even with the dark tile, and the overall look is really glamor. Archello.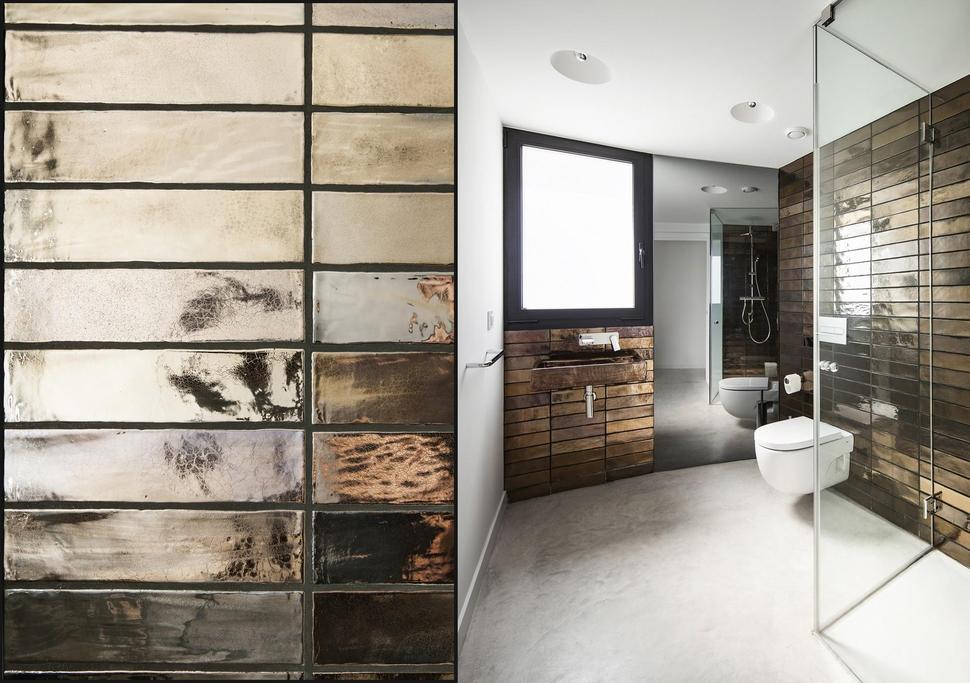 Ocean Color Tiles are Hot
Tiles in turquoise, aqua, seafoam or blue green (whichever name you prefer) would work. Here's another bathroom design with reflective tile but this time it's turquoise. It produces a very festive look. Archello.


Turquoise tiles make this tiny bathroom look awesome. It makes you want to go for a swim, and a pool is right outside. Notice how the color of the water in the pool is matching the color of the tile. Photos: Ricardo Oliveira Alves


These blue green 'fish scale' tiles with the ocean motif are definitely in. Style-files.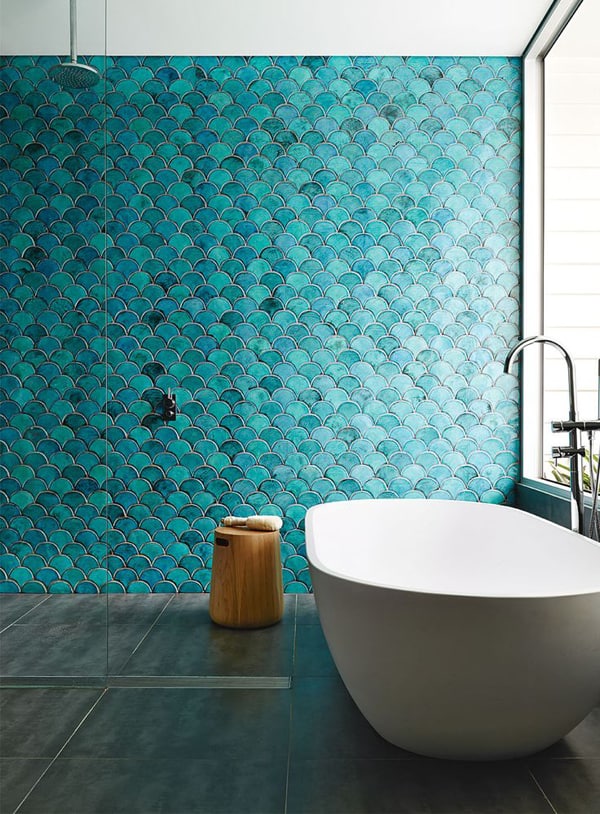 Your Artistic Ideas Expressed in Tile
Designed by Marcel Wanders, even a bathroom is an art creation in this patterned and textured space. The tiny tile mosaics let you create art on walls but such designs need to be meticulously planned and most likely purchased with the pictorial layout already pre-arranged.

Bright Tile Colors for Bold Designs
Love the bright red tile and the beautiful accent it adds to the bathroom. Red works perfectly with natural wood color. Taking a relaxing hot shower after a long day of work never looked better. You got to be brave to go with this idea, it's not for everyone. Most people prefer subtle colors in the bathroom. Still, we're seeing more and more of this type of bold statements in modern homes. Balance Associates Architects.

Make Dramatic Statement with Monochromatic Tile Designs
Opposite to bright is black and white monochromatic design ideas. For a modern urban European look, go with just black or just white subway tiles or even a combination of the two colors. Here's a few ideas that really deserve your attention.


More beautiful tile ideas that add visual interest to your bathroom floor. A more striking effect is achieved when tile colors are NOT coordinated with the overall decor.


Image via Apartment Therapy.
Image via From Moon To Moon.
Horizontal Tile Designs Are All the Rave
What if you take subway tiles and stretch them long and skinny – you get a very different idea that actually works great for small bathrooms. Such elongated horizontal tile pattern is quite trendy these days. Even Home Depot carries similar tile now. It makes room look wider. And with the small space living becoming more common, the horizontal designs are getting handy.