When it comes to expert interior design advice, we can always rely on Nate Berkus. The celebrated interior designer, who is known for his clean and modern design style, regularly takes to Instagram to share interior inspiration and practical styling advice for rooms throughout the home. 
A recent post by the designer, shown below, has led us to kitchen tile ideas, and more specifically the use of subway tiles.
In the post's caption, Berkus praises the use of subway tiles in the kitchen, noting that it's a 'timeless material' as well as a highly practical choice by being 'really easy to keep clean.'
Whether you opt to use the tiles throughout the kitchen, or solely as backsplash ideas, they're a classic option that provide an understated and clean look to the home, whilst suiting a wide range of design styles, from farmhouse decor ideas to minimalist decor. 
As shown by Berkus, we're also seeing more creative ways of incorporating the classic tiles into the kitchen, such as by using them as kitchen ceiling ideas, which you can see in the third slide of Berkus's post. 
We spoke to the design experts to get their take on the use of subway tiles in the kitchen. Interior designer Jessica Bagwell explains: 'Subway tiles are a popular and timeless choice in kitchens because of their versatility, affordability and durability. They can be installed in various patterns and work in both traditional and contemporary designs.'
Hudson Rose Interiors is an Atlanta-based interior design company, creating functional and visually creative design solutions for homeowners that reflect the personalities of clients. 
If you do choose to opt for subway tiles in your kitchen, it's also important to consider the installation. There are a range of ways you can experiment with the layout of the tiles, as interior designer Debbie DeMarais explains: 'Opting for a vertical stacked position in your installation introduces a subtle contemporary twist. This approach not only adds visual depth, but also heightens the appeal of an under cabinet placement because it's particularly effective in making smaller spaces appear taller.'
You can also experiment with using different colors of subway tiles, making a change from classic white, such as the rich green shade pictured above. Opting for variations to the texture also taps into key tile trends for 2023. 
DeMarais also suggests opting for a contrasting grout color for added visual interest: 'Don't underestimate the impact of grout color when working with subway tiles. Choosing a contrasting color can create a striking geometric pattern, while selecting a tone that matches the tile results in a more harmonious, seamless look.'
Debbie DeMarais is the owner of DeMarais Home Staging & Design, a New Mexico-based interior design company. From model home styling to historic property remodels, Debbie creates elevated living spaces for a range of clients. 
Elevate your kitchen with subway tiles
We've rounded up some subway tile options for you to shop below to bring the classic and timeless design style into your own kitchen.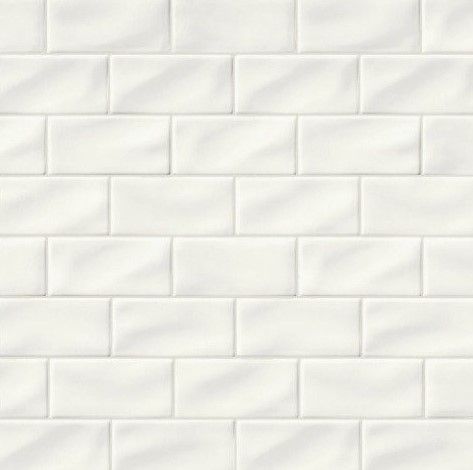 Walmart MSI Whisper Ceramic White Subway Tile
Opt for the classic and clean look with these white ceramic subway tiles. With a glossy finish, these are perfect for modern kitchens. 
---
If you're looking for more inspiration, we've rounded up some of the best kitchen floor tile ideas to help you on your way.