Though we all know that the humble island is an intrinsic part of the kitchen, working out the perfect dimensions for this feature isn't such common knowledge. 
The beating heart of every kitchen, an island serves both practically and aesthetically; offering an extra surface for coffee, canapé, and cocktail preparation, all as it adds design dimension and an abundance of opportunity for a convivial atmosphere. 
There is more to consider when looking at how to choose the right-sized kitchen island, and getting it wrong is something we would all rather avoid. So to help understand how we should work out the optimum island size for a kitchen, experts have recommended some concrete guidelines that will stand for every household, alongside more flexible approaches that will depend mostly on your home's unique needs.
How to find the kitchen island size best suited to your space
There is no denying the excitement that comes with planning a kitchen island, and to ensure that this feature meets your expectations, you will want to pay attention to all of the finer details. Keeping the intended purpose of your island at the forefront of your design decisions is key. Here is the first 'rule of thumb' plus, other key dos, don'ts, and outright mistakes to avoid when working out the kitchen island size best suited to your space:
1. Maintain at least 36 inches of clearance space around the island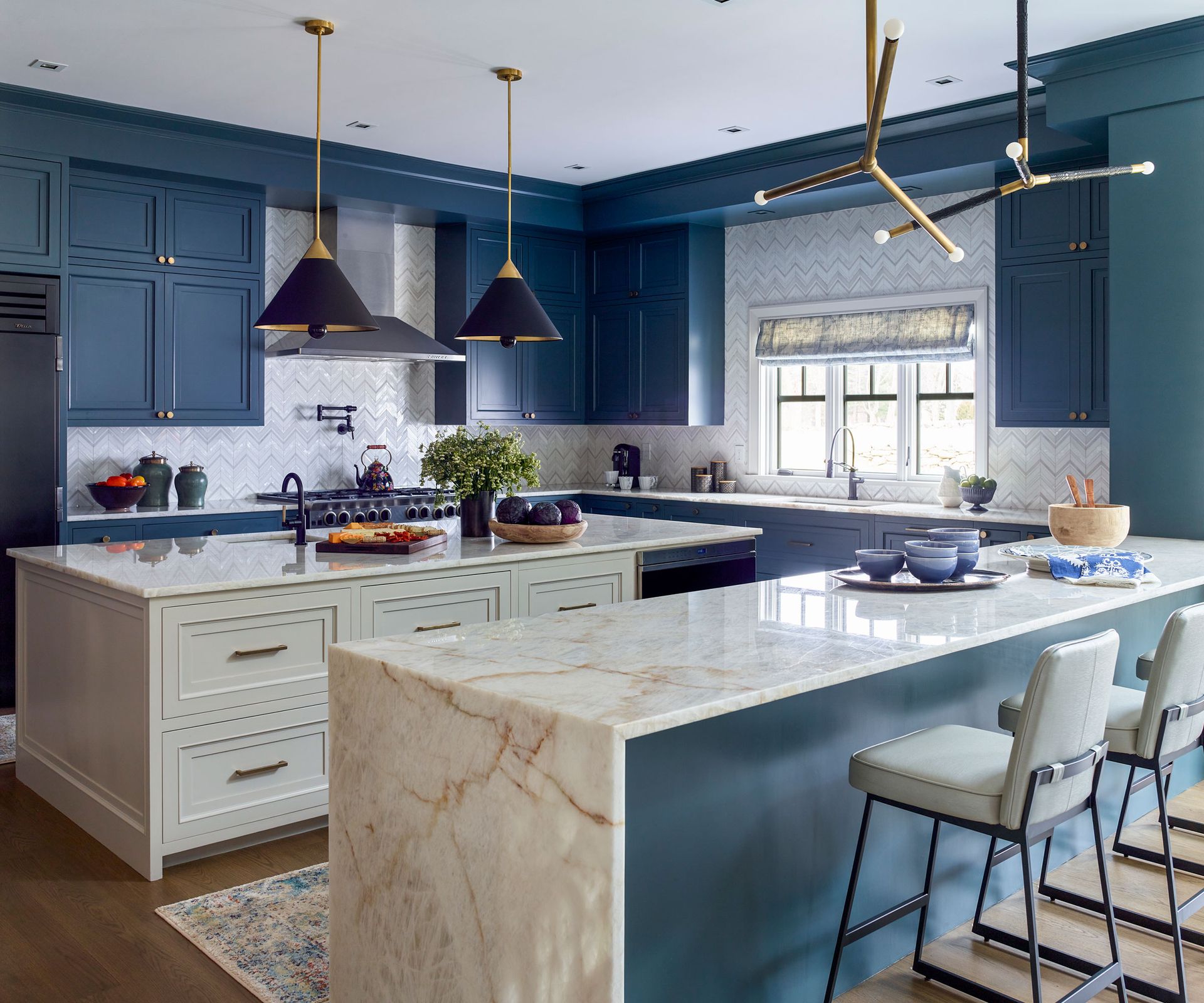 When picking from the different island types, you will have considered your kitchen's layout and dimensions first, and this goes hand in hand with finding the best size for your island too, as clearance space is of utmost importance.  
'Determining the optimal size for a kitchen island depends on the overall layout and dimensions of your kitchen area,' says Kati Curtis, Principle of Interior Design Firm Kati Curtis Design.
'To guarantee functionality and ease of movement, a rule of thumb is to maintain at least 36-48 inches of clear space around all sides of the island,' continues Curtis.
Kati energizes spaces with a fearless commitment to pattern and texture, color and motif. That commitment is invigorated by friends, mentors, and clients who share her design passions and passion for design. It's reinvigorated by Kati's chronic and incurable travel-bug, which has taken her around the world.  Kati's work has been featured in Architectural Digest, The Wall Street Journal, The New York Times, and Interior Design Magazine, among many others.
This is also interior designer Olivia Erwin Rosenthal's, specific formula to follow when finding a kitchen island best suited to your space: 'Yes, the rule of thumb is no less than 36" of clearance around the island.'
Erwin Rosenthal then recommends working from the inside out to determine the best kitchen island size to suit your unique space. Consider, 'how much seating, how much storage, appliances and so on.' This leads us to our next point.
Olivia Erwin is an award-winning interior design firm based in Los Angeles & New Orleans. Founded by Olivia, it stands at the forefront of the interior design industry, crafting exquisite, high-end residential and commercial projects that transcend borders worldwide.
Over the years, Olivia has honed her skills to a razor's edge, developing a distinctive style that marries luxury with functionality. Olivia's designs are characterized by a keen attention to detail, an impeccable sense of proportion, and a deep understanding of her clients' unique needs and aspirations.
2. Always accommodate for comfortable seating and workflow
An island deserves to be designed with seating in mind. So be sure to allow for comfortably positioned barstools, as well as for adequate space atop the counter for dining itself and/or food preparation.
Lukas Berezowiec, the CEO of No Triangle Studio says: 'Consider your desired workflow. Islands between 40-80 inches wide will allow you accessible circulation and anything wider risks bottlenecks. I prefer a 72-inch span which gives you ample room for cooking tasks without cramping the room,' adds Berezowiec. 
When it comes to seating and dining space, Berezowiec recommends specific measurements. 'An overhang of 10-12 inches will comfortably accommodate barstools. Allow 24-30 inches per diner. But don't over-seat as islands are also needed for preparation too.'
Lukas Berezowiec, is the CEO of No Triangle Studio. Lukas has a Masters Degree in Architecture and a background in design and design communication fields. No Triangle Studio is an L.A.-based professional 3D rendering studio that offers a range of services to help real estate developers, architects, and other clients visualize their projects in 3D.
3. Don't make it too big, or too small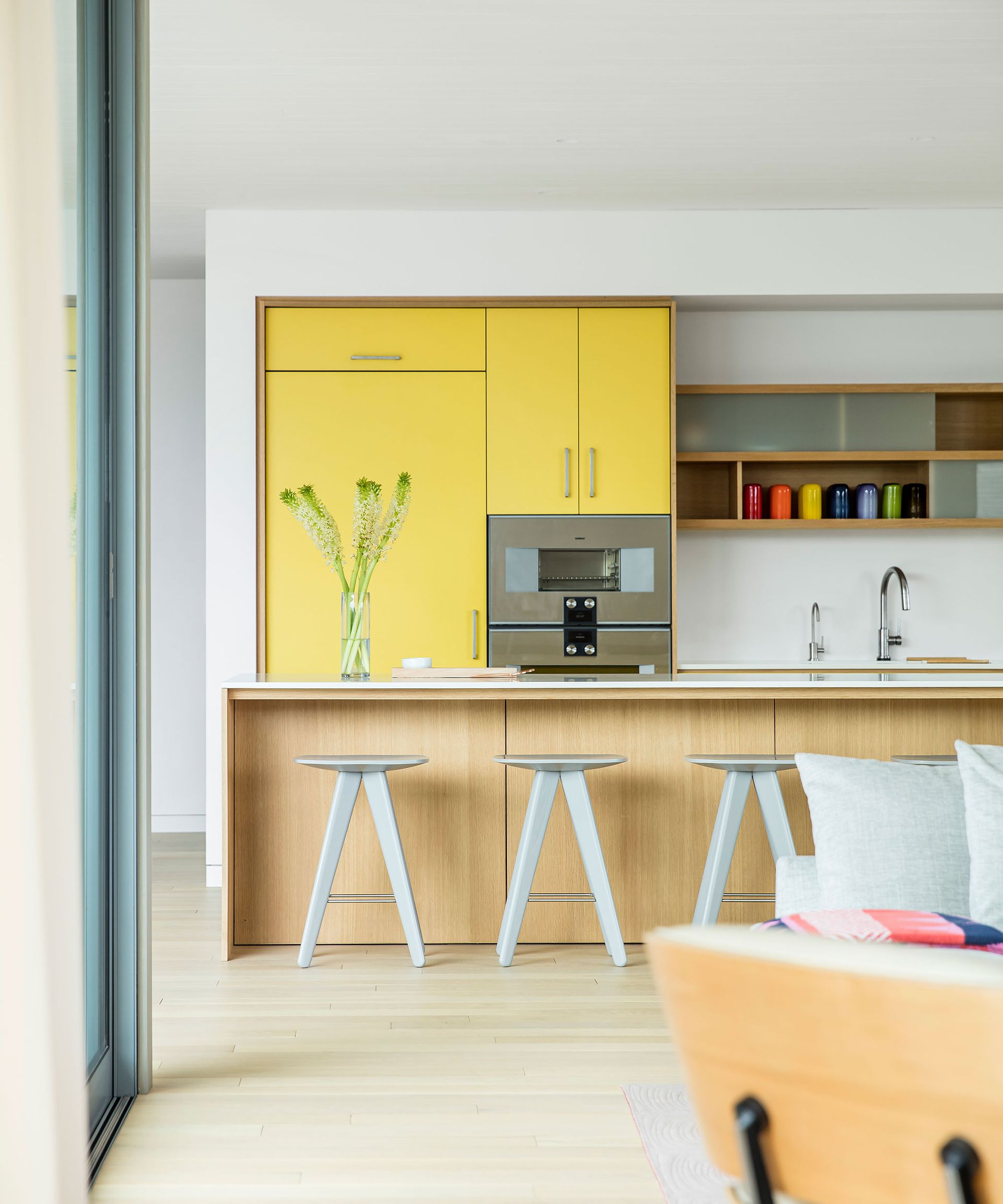 There is a fine balance to strike when determining the right kitchen island size for your space. You will know when your kitchen island is too big, as it will feel overwhelming and be more stressful to use – quite the contrary to the seamless cooking and hosting environment you had hoped it would create.
'Finding an island that is too big is a matter of judgment,' says Jay Kallos, SVP of Architecture at Ashton Woods Homes. It truly is a case of finding one that suits your household's needs. Should your island be so deep that it proves difficult to clean and access, it might in fact be too large, he says.
Jay joined Ashton Woods in 2006 as the Vice President of Architecture. Before this, he was the Director of New Project Development at John Wieland Homes and Neighborhoods, based in Atlanta, GA. In his 14 years with John Wieland, Jay was involved in every aspect of single-family developments, townhomes, and condominiums. Jay is a graduate of the Southern Polytechnic State University.
'Once the island gets so deep that someone needs to climb up on the countertop to clean it, you have an island that is too big,' adds Kallos.
'The size of the actual island should not overpower the room, yet it should be large enough to serve its intended purpose,' says Curtis. 'If you have a larger kitchen, an island of 3 by 10 feet can work well, offering more space for food preparation, dining, and storage.
'Regardless, always remember to take into account appliance door clearances and workspace needs when determining the most suitable kitchen island size,' adds Curtis.
It is not easy to fit an island into a small kitchen space as Kallos notes, but there is still hope: 'Finding a solution to an island in a small space is often a harder problem to solve. In some instances where space is at a premium, a kitchen without an island lets someone add a bar cart that can easily be moved out of the way for parties. 
'In most instances, we should at least be able to fit the sink and dishwasher on the island, which should dictate the size of the island.' The key is to listen and work with your surroundings to ensure a fine result.
4. Ensure sightlines are not obstructed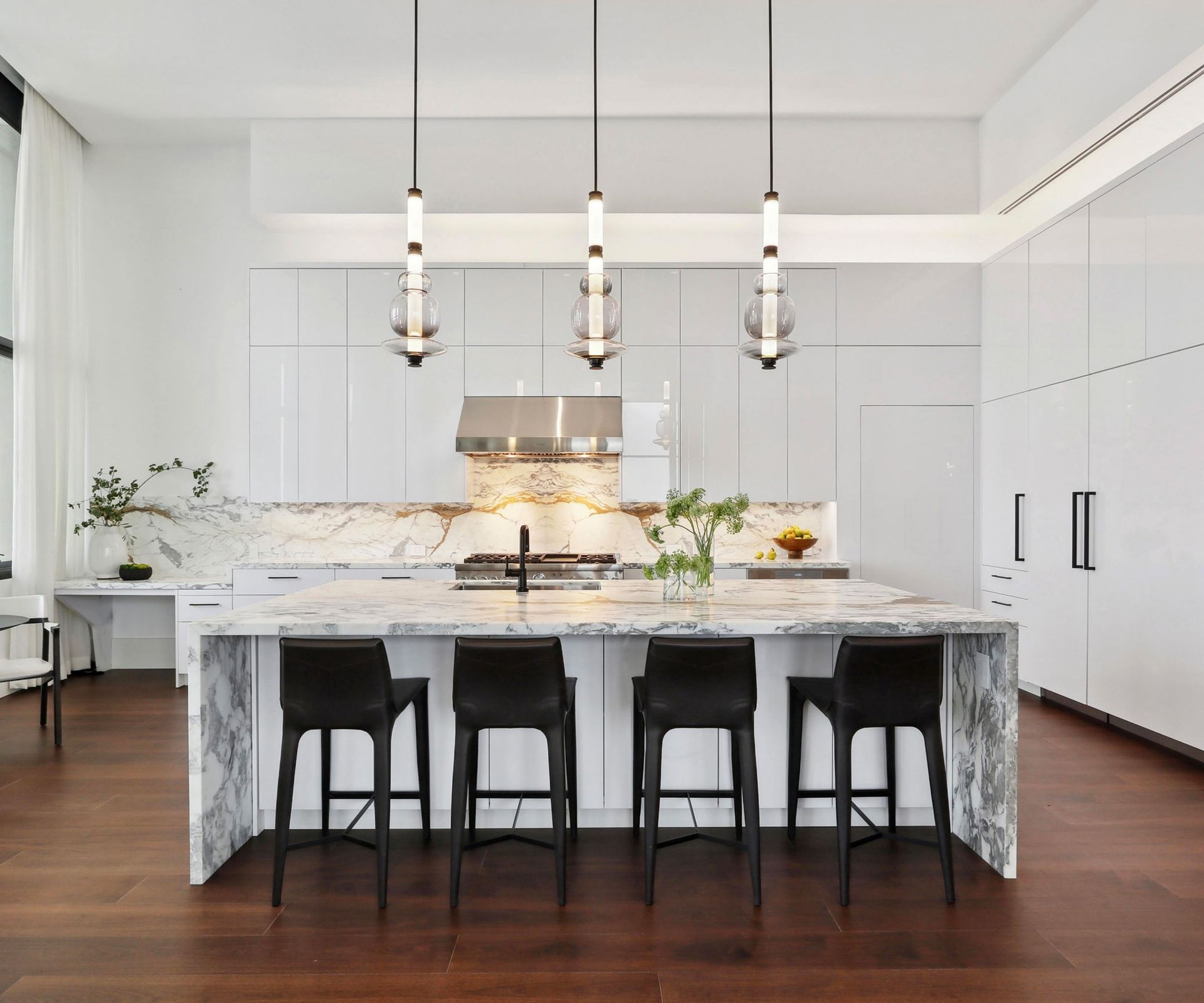 Finding the best kitchen island shape will go hand in hand with determining the best size for your space. Don't be overzealous in your approach, the results may not be worth it, and an island that is too imposing because of its shape may be more detrimental to your space than you might imagine.
'Visual appeal is key to your kitchen design design so view your island from multiple angles, ensuring sightlines to your doorways or windows aren't obstructed,' says
Berezowiec. 'Floating shapes really work wonders,' he adds.
5. Give your island room to grow
A final thought when working out the best kitchen island size to suit your space is to consider how your needs might change. Berezowiec highlights that we should plan for the future and whether kitchen island storage and other adjustments will be possible. 'Can you expand later with extensions?
'I would suggest leaving room to grow,' says Berezowiec. 'Storage and outlets will also boost utility down the road. Most importantly, your island should fit your lifestyle. Maximize usable square footage based on how you cook, entertain, and live day to day.'
Erwin Rosenthal speaks of getting the best use out of your island, too. 'We always like to line our islands up with something on the perimeter. For example, the end of the cabinets or countertops on the wall,' she recommends.
'This makes the size of the island and the footprint purposeful. Kitchen islands are magnetics for socializing and gathering,' highlights Erwin Rosenthal. 'No matter what, everyone tends to end up at the island so make sure to accommodate for seating!'
What is the most common mistake people make when sizing up for a kitchen island?
You want to get your dimensions right when sizing up for an island. Curtis tells us, 'The most common mistake homeowners make is sizing their island too small.' So make sure you've factored in how you will need to use the island day to day.
Furthermore, do not ignore a small kitchen that might not be able to accommodate a classic kitchen island easily. 
If you are working with a particularly small kitchen layout and find the space isn't large enough to comfortably keep an island, consider a small trolley as an additional surface instead.
How will you know your kitchen island is the right size?
A kitchen island that suits the size of your space will feel comfortable and bring a sense of balance to the room. Cooking will be more enjoyable and it will bring a new, sociable atmosphere to your kitchen, and home. 
'The best kitchen island is one that works for the family,' Kallos adds. So be sure to size up your island in a way that will enhance your home life in the kitchen and beyond.
---
First and foremost, consider the intention of your kitchen island and how this addition can work to your home's advantage. Style, positioning, and size all work together when introducing a kitchen island into the home. Once you have established the ideal size to suit your space, be sure to measure twice and cut once for brilliant results.