More tropical storms churning across the globe
In the Caribbean, Tropical Storm Franklin churned today near Haiti and the Dominican Republic, while forecasters at the National Hurricane Center said another storm could develop and reach the Gulf of Mexico coastline tomorrow.
Idaho gets ready for rain
The storm system that created headaches in Southern California and areas of Nevada continues to make its way inland.
Idaho could get thunderstorms and localized torrential rain tomorrow from what's left of Hilary, said Jackson Macfarlane, a meteorologist with the National Weather Service in Boise, Idaho.
No flooding for Oregon, just much-needed rain
Remnants from Tropical Storm Hilary will bring much-needed rain to parts of Oregon tonight and tomorrow, according to the National Weather Service.
Central Oregon and eastern Oregon, east of the Cascade Range, could get up to a half-inch of rain during scattered rainfall and thunderstorms tomorrow, said Tyler Kranz, a meteorologist with the National Weather Service in Portland.
The area got up to an inch of rain from 5 p.m. yesterday to 5 p.m. today, Kranz said.
Tomorrow's predicted rain will not be enough to cause major flooding, Kranz said.
"This is nothing more than a beneficial rain," he said. "Pretty much all of Oregon can certainly use some rain right now."
How a mix of natural and human-caused factors cooked up Tropical Storm Hilary's soggy mess
A natural El Niño, human-caused climate change, a stubborn heat dome over the country's midsection and other factors cooked up Tropical Storm Hilary's record-breaking slosh into California and Nevada, scientists figure.
"Cooked up" is the key phrase, because hot water and hot air were crucial in rapidly growing Hilary and then steering the storm on an unusual path that dumped 10 months' rain in a single weekend in normally bone-dry places. Nearly a foot of rain fell along a couple of Southern California mountains, while cities smashed summertime records.
"It was a combination of sort of a perfect situation of everything coming together in a way that made the storm possible," said University of Albany atmospheric scientist Kristen Corbosiero, an expert on Pacific hurricanes.
Before and after: A look at Palm Springs flooding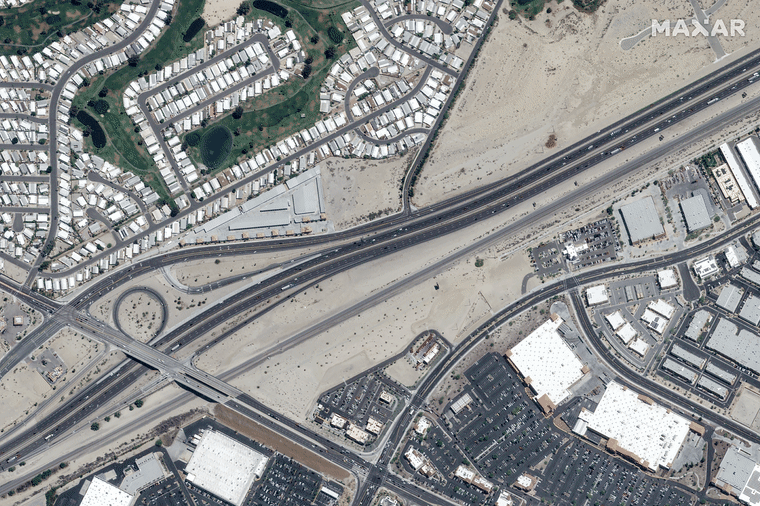 Farmworkers who rely on daily jobs have been without work three days
Martina Zacarias, a farmworker in the Eastern Coachella Valley, called for help evacuating late Sunday when the wind turned fierce, the streets began flooding and the trees outside her mobile home bent deeply under the power of Tropical Storm Hilary.
"It seemed like a tornado, because the air went everywhere. There's a giant tree on the corner, and it bent it, it bent it horribly," she said.
Hilary was the first tropical storm to hit Southern California in 84 years. In the hours after the storm swept through the area, calls to TODEC Legal Center, which serves farmworkers of the Coachella Valley, changed from pleas for rescue to entreaties about finding work. Now, the questions for many farmworkers center on how they will pay for rent and food — all without the day-by-day income they earn because the fields where they normally harvest, plant or till are inaccessible or may be flooded.
The Eastern Coachella Valley — which is made up of the unincorporated rural communities of Thermal, Oasis, Mecca and North Shore — is home to many farmworkers, a population that often lacks legal status and isn't eligible for unemployment or federal disaster aid. The area also lacks adequate infrastructure, making the population more vulnerable.
Riverside County, where the Coachella Valley is located, declared a state of emergency this afternoon after officials assessed the damage, KTLA-TV of Los Angeles reported. The proclamation requires approval from the county Board of Supervisors, the station reported.
Read the full story here.
Parked train cars float away from track in flooding
Flooding from Tropical Storm Hilary moved about eight rail cars from their parking spots on tracks north of Cathedral City, railway operator Union Pacific said.
The dislodging happened earlier today at a rail yard or a storage area, the company said in a statement. No injuries were reported.
"The trains, which were empty, derailed in an upright position," Union Pacific said.
The company located the incident 4 miles north of Cathedral City, a municipality just east of Palm Springs. Area first responders did not provide additional details about the incident.
The power of debris flow
Cathedral City crews rely on heavy equipment to move patients
Firefighters in Cathedral City, California, worked overnight and into this morning to rescue people.
Fire Chief Michael Contreras said his firefighters "responded better than I could ever imagine."
The department rescued 14 patients from a care home near an emerging sinkhole. Eight people were unable to walk, and, after trial and error, rescuers used the bucket of a bulldozer to transport them to safety, Contreras said.
"It's not something that I've ever done in my 34 years as a firefighter," he said.
Contreras chief detailed the following storm rescues:
A mother and her daughter were pulled from a home where water and mud began rushing in.
Four people were rescued from a mobile home park where floodwater was rising rapidly.
Seven people were plucked from vehicles that were stuck in mud.
Four people were rescued from a train that stopped just ahead of floodwater rushing across tracks.
No injuries were reported.
One person at a nearby gas station experienced a medical emergency and was hospitalized, Contreras said. It wasn't clear whether weather triggered the emergency.
L.A. students to head back to campus tomorrow as cleanup continues
The Los Angeles Unified School District will reopen tomorrow, city officials said this afternoon in an update on the storm.
Eight emergency temporary shelters for the homeless, with about 400 shelter units, remain open, the city said.
The city said 10,462 customers of the Los Angeles Department of Water and Power were without power.
The city fielded calls about potholes and downed trees and wires.
The city had cleared 179 of 1,089 tree-related issues. Seven of 61 potholes had been repaired, and 15 reports of mudflows had been cleared out of 38, the city said.
Palm Springs surveys damage from above
Entire city of San Fernando suffers power outage
An entire city near Los Angeles experienced a power outage Monday, authorities said.
The outage blanketed San Fernando, city officials announced on its website and Facebook page. Officials said they expected power to be restored about 1 p.m. PT.
The city did not state the cause of the outage. It was unknown whether the outage was related to Tropical Storm Hilary.
San Fernando is about 25 miles north of Los Angeles.
The city said in a statement: "The entire City of San Fernando is experiencing a power outage. Southern California Edison is working on restoring power. Updates will be provided as soon as additional information is received. Drivers are reminded to stop at all intersections that do not have working traffic signals — they should be treated like a four-way stop."
No one with the city could immediately be reached today for an update.
'Never seen it like that': Flooding in Nevada mountains worst in 15 years, official says
No deaths or injuries have been reported following flooding on Mount Charleston in Clark County, Nevada, officials said.
The flooding started overnight after Spring Mountains National Recreation Area got a large amount of rain, Mount Charleston Fire Chief Jorge Gonzalez said today at a news briefing.
Gonzalez said the flooding is the worst he has seen since 2008, when he became fire chief.
"I couldn't describe it. I've never seen it like that," he said. "The amount of water we got last night, it's huge."
Officials are working to evacuate visitors who are staying in cabins and lodges in Mount Charleston but are having a hard time accessing the different subdivisions, Gonzalez said.
There had been no reports that structures were affected as of this afternoon.
Gonzalez said there are about 150 to 200 residents on Mount Charleston, none of whom been made service requests, Gonzalez said.
Power and water have been shut off in the area, and propane tanks, which some residents rely to power their homes, have also been affected, Gonzalez said. It's not clear how long residents will be without power and water.
Around 14 Nevada National Guard personnel have been deployed to Mount Charleston for assistance.
Aerial video shows flooded parking lot surrounding Dodger Stadium
A video shot from a helicopter shows a flooded parking lot surrounding Dodger Stadium in Los Angeles.
The video, posted by dodgeraerial on Instagram, an account that describes itself as the "official Dodger Stadium Aerial page," captures the aftermath of Tropical Storm Hilary's impact near the iconic stadium yesterday morning.
The stadium does not look flooded in the video.
But all seems well for the professional baseball team.
The Los Angeles Dodgers responded to the attention the aerial video was garnering on social media, posting today on the platform X, formerly Twitter: "Dodger Stadium trending? We get it. It looks beautiful this morning."
The post was accompanied by two pictures of a pristine aerial view of the inside of the stadium, along with a photo of the stadium's dry parking lot.
Waist-deep mud 'like quicksand' traps Palm Springs residents in homes
Video shows flooded streets in Coachella
Videos posted on X, the platform formerly known as Twitter, shows cars wading through the flooded streets of Coachella, a Riverside County city about 135 miles southeast of L.A.
In one of the videos, posted by X user @kangspace589, cars drive through an intersection as several inches of water floods the steret.
"Yeah, we got battle damage," someone says in the background of the video, as what appears to be a piece of metal floats in the middle of the road. "It's pretty hectic."
In another video posted by the same user, a car drives through flooded, desolate streets.
"Just boatin' around — yup, boatin'," someone says in the background.
San Diego mayor: 'The worst that we feared never came to pass'
San Diego Mayor Todd Gloria said the city managed to avoid the worst possible outcomes of the storm thanks to effective preparation.
"The worst that we feared never came to pass," he said at a news conference this afternoon.
Officials credited a combination of effective drainage, communication and sheltering practices.
"We made sure that we best positioned our personnel and our assets to avoid catastrophic loss of life and property," Gloria said.
Gloria said that while 118 homeless people spent the night in city shelters, the shelters had only a 72% use rate overall, noting that officials hope they can manage to shelter a greater proportion of that population.
"Even when a hurricane is amongst us, it can be difficult to get folks to accept offers of shelter," he said.
San Diego got a historic 1.82 inches of rainfall yesterday, surpassing the previous Aug. 17, 1977, record of 1.80 inches, the National Weather Service said. Officials saved 13 people who were stranded on a section of high ground near a riverbank, Gloria said.
More than 1,000 customers in San Diego County remained without power as of noon local time today, according to PowerOutage.us.
Video shows car being pulled out of flooded L.A. river
A video posted to TikTok shows a car being pulled out of a flooded Los Angeles river in the Highland Park neighborhood near Interstate 110 and Avenue 43.
L.A. County sheriff 'cautiously optimistic' about Hilary damage
Los Angeles County Sheriff Robert Luna is "cautiously optimistic" that damage from Tropical Storm Hilary will be minimal, he said on NBC News NOW.
"I believe, from what I see now, and I'm cautiously optimistic, as I've said, that our team did very well," he said, adding that authorities are still evaluating the extent of potential damages.
"From our perspective, we're at the tail end of the storm," Luna added, noting that significant rainfall, flooding and wind occurred overnight. NBC News' Dylan Dreyer reported in her forecast on NBC's "TODAY" show that the storm was weakening across Southern California and that heavy rains were scheduled to hit eastern Oregon and Idaho as the day went on.
Luna said there were no injuries and "very little damage" from the 5.1-magnitude earthquake that struck north of Los Angeles yesterday.
Local emergency declared in Palm Springs as video shows flooding in the streets
The Palm Springs city manager has declared a local state of emergency as a result of Tropical Storm Hilary.
Video shows flash flooding in the streets. The floods contain tree branches and other debris.
Around 18,000 customers still without power in Los Angeles
Around 18,000 utility customers were still without power in Los Angeles this morning, said Martin Adams, the Water and Power Department's general manager and chief engineer.
At one point, 41,000 of agency's 1.5 million utility customers didn't have power, he said at a news briefing. A little more than 22,000 customers' power had been restored, and 43 crews were working to bring power back to more customers.
A majority of those without power live in the metro area, with the largest outage being in Beverly Grove, where just under 6,000 were in the dark as a result of an underground outage, Adams said.
Other notable cluster outages included a little more than 2,600 customers in East Hollywood, 2,100 in Hyde Park and just under 1,500 in Hollywood. More than 45,500 utility customers were without power across California this morning, according to Poweroutage.us.
Hilary no longer meets threshold for tropical cyclone; warnings canceled for Southern California counties
Hilary no longer meets the threshold for a tropical cyclone, meaning all tropical storm warnings issued for Southern California counties have been canceled, according to the National Weather Service.
A tropical cyclone is "a rotating, organized system of clouds and thunderstorms that originates over tropical or subtropical waters and has a closed low-level circulation." Tropical storms are cyclones with maximum sustained winds of 39 to 73 mph, according to the agency.
There have been more than 100 reports of severe weather and damage resulting from the storm, including tropical storm winds, downed trees and power lines, mudslides, flash flooding and debris flows, Ariel Cohen, meteorologist in charge, said today at a news briefing.
"It's no coincidence that we did not end up having significant casualties. This came from preparedness," he said.
Parts of Southern California can still expect water on roadways, mudslides and light rain showers, but the region is "past the brunt of the impact," Cohen said.
"Just take it easy; take precautions," he said.
Video on social media shows pickup truck stuck in floodwaters in Thousand Palms, California
L.A. Metro helps more than 150 homeless people find temporary shelter during Tropical Storm Hilary
The Los Angeles County Metropolitan Transportation Authority helped more than 100 homeless people find temporary shelter yesterday as Tropical Storm Hilary took aim at Southern California.
L.A. Metro's homeless outreach teams assisted 158 people with finding temporary shelter for the evening, Chief Customer Experience Officer Jennifer Vides said today at a news briefing.
LAFD chief: No reports of significant injuries or damage related to the storm yet
There have been no reports or calls of significant injuries or damage related to Hilary in Los Angeles yet, Fire Chief Kristin Crowley said today in a briefing.
The fire department responded to 1,833 emergency incidents and got 4,105 calls to its 911 dispatch center, which is over 1,000 more than average, Crowley said. The city's information center also got more than 500 storm-related requests for service.
Notable incidents include five vehicles stranded at a flooded intersection in Sun Valley last night. One person was rescued from a vehicle, but no one was injured, Crowley said.
Overnight, 30 firefighters battled a fire at an auto wrecking yard in Wilmington that involved several semi-trucks and cars. The fire was contained, and no injuries were reported.
The fire department was also dispatched to 97 traffic accidents.
Downed power lines and uprooted trees were reported in the city, said Crowley, who warned residents to steer clear of them.
Boil water notice issued in Nevada following 'severe, overnight flooding'
Kyle Canyon Water System customers in Nevada should boil their water before they use or consume it after an emergency water system outage, according to a notice issued today.
"Severe, overnight flooding on Mt. Charleston — and specifically within Kyle Canyon — caused a severe leak in the Kyle Canyon Water System, resulting in major reservoir tanks losing water pressure," the notice says.
"To help protect public health, the Las Vegas Valley Water District (operator of the Kyle Canyon Water District) is advising all Kyle Canyon customers to boil tap water before using it for drinking, food preparation, brushing teeth, washing dishes and making ice until further notice."
The notice says that three minutes is long enough to boil water and that it's not necessary for showering or any other "external uses."
Floods can contaminate well water and potentially cause illness, according to the Centers for Disease Control and Prevention.
Officials called the move "a precautionary measure" and said there is not yet a timeline for when it will be lifted, adding that it will remain in effect until bacteriological results show its safety.
Kyle Canyon customers should also shut off their irrigation systems, according to the notice, which said doing so "will reduce demand on the water system."
The Las Vegas Valley Water District operates the Kyle Canyon Water District, which supplies water to the Clark County neighborhood.
No injuries or damage reported in Los Angeles from the earthquake
No injuries or damage were reported in Los Angeles as a result of the 5.1-magnitude earthquake that shook Southern California yesterday, Mayor Karen Bass said.
"I want to again start by thanking our first responders," Bass said at a news briefing this morning.
"This was a coordinated collaborative approach, and reports thus far indicate that as of right now, there have not been any deaths or significant risk of injury," she said.
The city is still assessing the damage from Tropical Storm Hilary.
Videos show flooding in San Bernardino County
Videos show flooding in San Bernardino County, an area just east of Los Angeles, which the National Weather Service said was getting the heaviest rain in the region.
A video posted on Facebook by San Bernardino County Public Works shows streams of water rushing parallel to muddy roads in Oak Glen, a census-designated place about 26 miles southeast of the city of San Bernardino; at one point, a pickup truck barrels down one of the muddy roads and appears to briefly swerve onto the side of it.
Another video shows waves of muddy water rushing into the parking lot of an Oak Glen steakhouse.
In Phelan, a census-designated place about 40 miles northwest of San Bernardino, mud and debris flow caused the closing of a roadway depicted on video filled with rushing brown waters.
911 resumes in Palm Springs; mayor asks residents to 'please stay home'
The 911 emergency-call service is back up in Palm Springs after an outage last night caused by the storm, Mayor Grace Garner told MSNBC's Ana Cabrera this morning.
Garner said that it's a "temporary fix," that the system is still down in other parts of the Coachella Valley and that residents of other cities may still not be able to access it.
Palm Springs officials previously said people could text 911 or contact their police or fire stations directly in case of emergencies.
Garner said no deaths from the storm have been reported in the city, where officials declared an emergency yesterday after heavy rain caused road closings. All but one entryway into the city remains closed, she added.
"Today is all about assessing the damage," Garner said. "This is going to be really all-hands-on-deck."
Palm Springs residents should continue to shelter in place today to keep the roads clear, Garner said earlier on NBC News NOW.
"Please stay home," she said. "Yes, there's going to be sun today, and that's fantastic. However, we have a lot of cleanup to do, we need to assess the damage, and if the roads are clear that makes our job that much easier and we're able to get those roads open much faster if people just stay in place."
As Hilary weakens, three tropical storms brew in the Atlantic
Hilary has weakened into a post-tropical storm as it moves over Nevada today, but in the Atlantic basin, activity appears to be ramping up.
Three named storms have formed in the Atlantic, with the National Hurricane Center monitoring two other areas that are likely to turn into tropical depressions over the next 48 hours — one in the far east tropical Atlantic and the other in the eastern Gulf of Mexico.
Tropical Storm Emily is roaming the central Atlantic but is expected to stay out at sea. Tropical Storm Franklin is south of the Dominican Republic and Haiti. Forecasts show that Franklin could strengthen into a hurricane and cross the island tomorrow evening. Tropical Storm Gert, meanwhile, is expected to be a short-lived storm that is likely to dissipate tomorrow, the center said.
Sunday was wettest August day on record for San Diego area
Sunday was the wettest August day on record for San Diego and surrounding areas, the National Weather Service tweeted.
San Diego got 1.82 inches of rain, surpassing the previous Aug. 17, 1977, record of 1.80 inches, the agency tweeted.
Cuyamaca, a region of eastern San Diego County, got the most rainfall in the area, 4.11 inches, compared to 2.61 on that day in August 1977.
Palm Springs got 3.18 inches of rain, more than an inch higher than on the previous highest day, on Aug. 1, 1930.
Several areas in and around L.A. have also gotten historic rainfall, the weather service said.
Storm to wind down in Southern California; heavy rains to move north to Idaho and Oregon
The storm is weakening across Southern California, and the heavy rains it brought will move north throughout the day, NBC News' Dylan Dreyer reported in her forecast on the "TODAY" show.
Heavy rains will hit Idaho and eastern Oregon, which could get 3 to 4 inches of rain.
But California is not entirely in the clear. Flash flood risks remain across southern Nevada and parts of Southern California, and 26 million people are under flood watches or flash flood warnings.
'Virtually all rainfall daily records have been broken' in and around L.A.
At 3 a.m. PT, several areas in and around Los Angeles had experienced historic rainfall, according to the National Weather Service, which tweeted that "virtually all rainfall daily records have been broken thus far."
Lake Palmdale, about 60 miles north of L.A., got almost 6 inches of rain. The city of Thousand Oaks, about 45 miles west of L.A., got 3.29 inches.
Meanwhile, the UCLA campus got 4.26 inches, and downtown L.A. got 2.38 inches, the weather service said.
Hilary's impact on Oak Glen
Storm causes 911 outage in Palm Springs
The 911 emergency call system was down last night in Palm Springs, California, because of the storm.
Residents can text 911 or go to the nearest police and fire stations to ask for help, officials said in a news release at 11:28 p.m.
The city declared a local emergency yesterday after the heavy rain led roads to be closed.
Schools in California and Nevada closed Monday
A number of school districts and colleges in Southern California and Nevada announced closings for today in response to Hilary's arrival.
"We are expecting winds which may adversely impact our transportation network and system, putting students and employees at risk," the Los Angeles Unified School District wrote in a statement on X, previously known as Twitter, announcing the closure. Other districts, such as the San Diego Unified School District and the Nye County School District in south Nevada, announced they would close schools today.
Colleges also announced closings, including California State University, Fullerton, and Pasadena City College.
Schools with closings are expected to resume classes tomorrow, but plans could change based on updates.
Residents of Los Angeles and Ventura counties told to 'stay home'
Storm floods roadways in Southern California
The deluge from the storm has swamped roads in Southern California, partly submerging vehicles in floodwaters.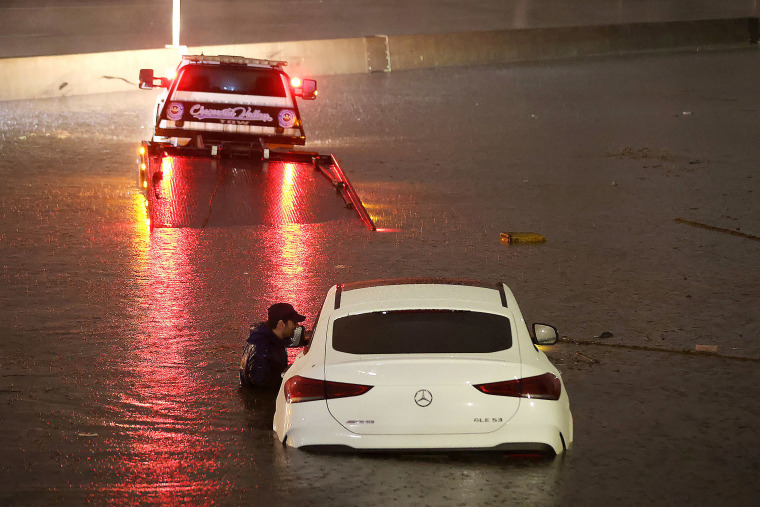 In the photo below, a tow truck driver can be seen trying to pull a stranded car out of floodwaters on the Golden State Freeway as Hilary moved through the area yesterday in Sun Valley, a neighborhood in Los Angeles.
Hilary brings flash floods to California with historic arrival
Tropical Storm Hilary has brought a deluge of heavy rain to California, sparking flash floods east and west of Los Angeles with its historic arrival.
It is the first tropical storm to hit Southern California since 1939.
Gov. Gavin Newsom declared a state of emergency for much of the region, with flash flood warnings in place until at least 2 a.m. local time (5 a.m. ET).