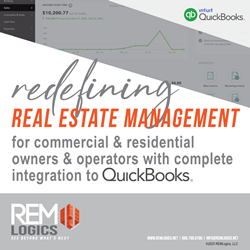 "Our modern technology platform provides clients with future-proof software investment protection so they can scale and grow their business years into the future and always be able to adopt new technologies as they come along." – Donnie Law, CEO at REMLogics

PARAGOULD, Ark. (PRWEB)
April 18, 2023
REMLogics, LLC (REMLogics), a leader in modern, cloud-native real estate property management solutions, announced today that their commercial and residential suite of applications are now completely integrated to Intuit's (NASDAQ: INTU) QuickBooks financial and accounting platform.
"We're very excited to partner with small real estate property owners and operators to help them better serve their tenants and residents", shared Donnie Law, CEO and Chief Software Architect at REMLogics. "These organizations can now immediately take advantage of the same modern technology platform and applications that medium to large real estate companies use to manage and grow their businesses."
REMLogics is best known for providing an eco-system of modern, cloud-native real estate management applications that are built on the industry's only enterprise no-code development platform. REMLogics clients benefit from robust applications that manage CRM, deal flow, properties, leases, tenants and residents, and billing.
"Our clients are confident their business is running on a modern technology platform that provides them with future-proof software investment protection. We architected our platform and applications to ensure that our clients could scale and grow their business years into the future and always be able to adopt new technologies as they come along." Law said.
REMLogics is an open platform that can be integrated to other open systems through industry standard REST-based API endpoints. This enables their clients to take advantage of other proptech innovations, such as property marketing, smart building, smart device, utility monitoring, and property maintenance systems. The platform is also built with mobility in mind. All REMLogics applications can be accessed 24/7 from anywhere, at any time, and from any device.
About REMLogics

REMLogics is redefining real estate management for commercial and residential owners and operators. Clients benefit from a modern, cloud-native solution built on the industry's only enterprise no-code development platform. REMLogics is designed for mobility and integration so clients can respond faster to the ever-changing technology and real estate landscape. Learn how you can drive innovation, embrace new technologies, outpace the competition, and future-proof your real estate management investment by visiting http://www.remlogics.net.
Share article on social media or email: