Flooring is a critical part of any home. Besides aesthetics, research suggests that the flooring you select dictates important factors like your health and comfort.  Durability and performance are also major characteristics when it comes to choosing a floor finish.
As most people may know, a floor is composed of several layers. Below is all there is to know about flooring, from the different layers of flooring to their purpose, types of subflooring, types of underlayment, types of flooring coverings, and more.
Different Types of Flooring Layers
How Many Layers Does a Floor Have?
Floors are composed of multiple layers to make them sturdy, safe, and resilient. All floors will have a top layer that can be made of many materials. Beneath this layer is the underlayment, subfloor, and joist. Here's more on the different layers of flooring and their corresponding purpose.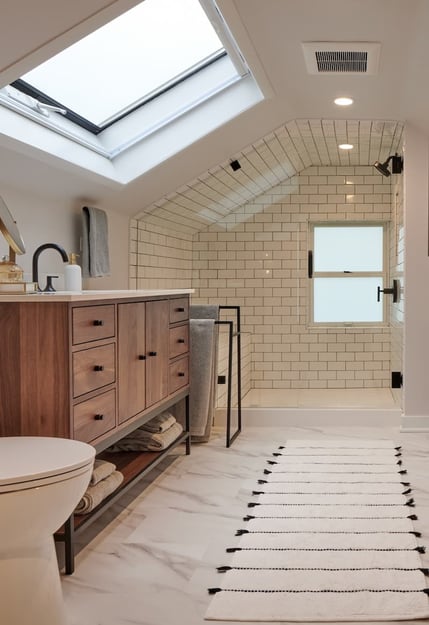 1. Floor Finish
Every floor has a topmost layer or floor finish that you step on. Common examples of floor finish include laminate, vinyl (LVP or LVT), hardwood, stone, tile (see bathroom refresh to the right for a stunning example), and carpet. Since this is what everyone sees, the floor finish is critical for aesthetic purposes. The finish should also be durable, comfortable, safe, and easy to maintain.
As an example of the above-mentioned floor covering requirements: wood flooring is fairly durable if finished and maintained properly. Solid hardwood flooring that was top-nailed can however pose a threat if you live in an older home. Some older Seattle homes have moved a lot over the years from humidity and temperature changes that come and go with the seasons. This can lead to nails popping up from the wood floor that would need to be hammered back in occasionally.
2. Underlayment
Beneath the floor finish is underlayment. The main purpose of underlayment is to provide a perfect surface for the finish to be laid on. Underlayment should be smooth and level to allow installation of laminate flooring, hardwood flooring, vinyl flooring, or other types of flooring. Underlayment is placed over the subfloor or over existing flooring if you are covering older hardwood or porcelain tile floors with new laminate floors.
Underlayment serves several different purposes. It sits between the subfloor and flooring finish so, it's important that your underlayment is chosen based on the finish you're going with. While underlayment may be made from different materials depending on the underlying purpose, most will either be made of foam, fiberboard, cement, or plywood. Each of the previously mentioned materials will offer a different level of sound insulation, moisture protection, or comfort for your feet.
3. Subfloor
This layer sits below the underlayment and offers structural support. Subfloor can be made using many materials such as oriented strand board and plywood. Materials like concrete are used to make subfloors for basements and single-story buildings with slab on grade.
This layer makes any flooring structurally sound and stable. For this reason, subflooring must be made of high-quality materials and installed properly by professionals. Every floor needs a subfloor because underlayment and finish alone are not sturdy enough to sit on joists and support the weight of people walking.
4. Joists
This is the innermost layer of a floor. Joists are structural components and act as support beams, and in residential homes, are usually made of wood and support the subfloor. They also help evenly distribute any amount of weight being put on the floor.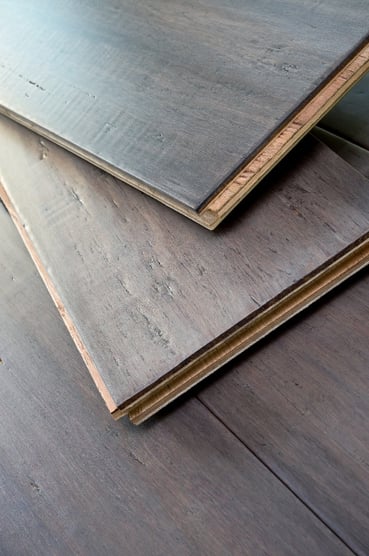 Types of Floor Finish
As mentioned, the topmost layer of the floor can be made of many different materials. The most common include;
Hardwood flooring
As the name suggests, hardwood flooring originates from hardwood trees. This type of wood is much denser than softwood boards because it comes from trees that have a slightly slower growth time which gives the wood opportunity so condense. Examples of hardwoods that make flooring include oak, cherry, walnut, and maple. Hardwood can be installed nail-down or as a floating floor.
Engineered wood flooring
If you want hardwood floors but you have a limited budget then you might opt for engineered hardwood flooring. This flooring material is made of multiple layers like: hardwood, pressed plywood, and sometimes another layer of hardwood. If you use this material then your entire floor will look like it's covered with real hardwood but in reality, it is engineered. The downside of this is that because the top layer of hardwood isn't super thick, you won't be able to refinish it often. This will require you and your family to be easy on the floor to avoid extensive damage that naturally accumulates over the years. This way you can really space out the amount of time between refinishing your floors. This is almost always installed as a floating floor.
Laminate flooring
This type of flooring is made of composite materials in multiple layers, with the bottom layer composed of a stabilizing material. Middle layers are usually made of vinyl or HDF (high-density fiberboard). Laminate is generally preferred for being budget-friendly and offers a decorative layer that gives laminate flooring a distinctive appearance when compared to other floors at this price level. This finish is almost always a floating floor but can also be glued down or installed over concrete.
Tile flooring
Your flooring could also be made of tiles that come in many styles and colors. Floor tiles are commonly made using porcelain or ceramic and they are usually laid on a binding agent (mortar). Wall-to-wall tile floors are the best flooring options for kitchens among other areas like bathrooms, laundry rooms, or entryways. Try elevating your tile flooring with underfloor heating to bring comfort to an otherwise cold surface. This finish can be installed over concrete. Below you can see a custom tile bathroom design we did in Ballard years ago.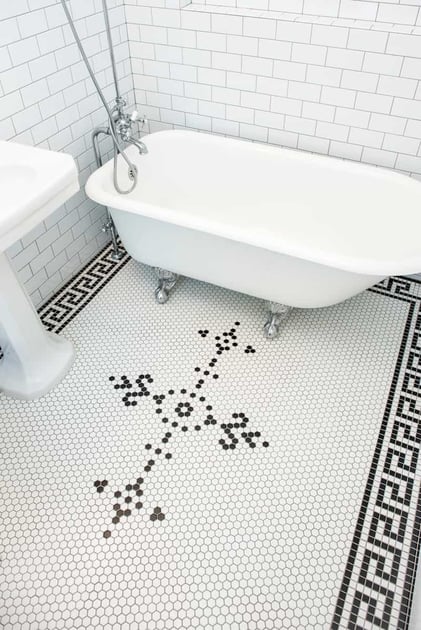 Stone
Stone is another popular option for a floor finish. Popular natural stone options include marble, granite, and slate. However, engineered and laminate stones (made using man-made materials) are also used as cheaper alternatives for stone floors.
Vinyl
Vinyl floor covering is composed of a clear wear layer, a printed design, and a backing layer. The clear wear layer protects the floor from foot traffic. The design layer gives the floor aesthetic appeal (color and patterns), while the backing layer supports. Vinyl flooring can either be composite vinyl (a mixture of PVC and a foam layer) or solid vinyl. Composite vinyl is more affordable but less durable than solid vinyl. Keep in mind that vinyl tile and planks are not resilient flooring options and cannot be repaired once damaged. Any damaged planks or tiles must be replaced which may not be ideal if you have young kids or pets at home that may increase the risk of surface scratches. This is also a floating floor or a glue-down.
Carpeting
Your floor system could also be a carpet made of nylon, polyester, wool, polypropylene, or other materials. Carpeting, while typically not a natural material, is aesthetically pleasing and comfortable to walk on. Carpet will not feel cold on your feet and usually ends up being lower in cost per square foot than heated tile flooring or luxury hardwood planks. With carpet, however, there is little to no stain resistance, and with heavy foot traffic can get matted down over just a couple of years. This cannot be a floating floor.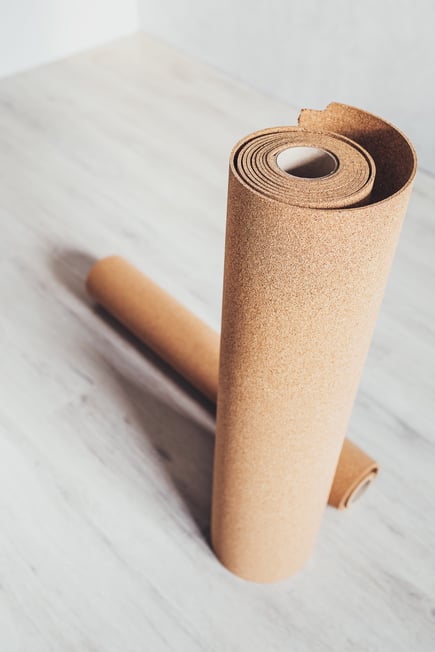 Types of Underlayment
There are several types of underlayment: the top 3 types include foam, polyethylene, and cork. Different types of underlayment will work for different purposes.
Cork – Floating underlayment
Cork is the best if you want softness coupled with sound absorption benefits critical for floating floors. Cork is also a great underlayment for preventing the growth of mold and mildew. This material is also common for heated floors or solid wood flooring.
Polyethylene
If you want underlayment that adds a superior moisture barrier, consider polyethylene. This works best under tile because you can get this underlayment with a grid-like texture for the mortar to settle into.
Foam – Floating underlayment
This underlayment is great for offering sound dampening, moisture protection, and other benefits like smoothing subfloor imperfections at a competitive price. This option is best for luxury vinyl plank or laminate flooring.
Cement board
This underlayment is common when installing floor tiles. Cement board is necessary because it doesn't warp, expand or break when wet.
Types of Subfloor
Below the underlayment the subfloor is usually characterized based on material, the most notable being:
Plywood
This subfloor is affordable, durable, and readily available. Plywood is also easy to handle.
Orientated strand board (OSB)
This subfloor is like plywood in ranking but much more cost-effective. OSB is made of engineered wood or particle board.
Types of Joists
As mentioned, joists make up the innermost structural layer of flooring. Joists are crucial for offering structural integrity. They keep floors sturdy and level. Floor joists differ in material and structure. However, most are made using metal or wood.
Common ways to install joists include top-hung brackets or face nailed.
Your typical joist material is parallel-strand lumber, laminated-strand lumber, I-joists, or regular grain framing lumber. PSL and LSL joists are made with the same process and materials as OSB mentioned above.
Open-web truss joists are great for longer spans, varying depths, and a high load-carrying capacity. They also shrink less due to their low moisture capacity.
Professional Installation
A lot goes into choosing the right flooring type and making sure it's installed properly in your living space. Thoughtful design also plays a huge role in your long-term satisfaction. If you are contemplating a Seattle cosmetic remodel, please feel free to reach out. My interior designer colleagues and I would be happy to answer your questions and share our ideas.