Despite the thunderstorms and concert-ruining hailstorms that Denver has experienced this summer, there have been plenty of hot and sunny days to sweat through. And if you're like most residents in the metro, chances are you don't have a private pool for swimming laps. But that's okay, because there are a surprising number of pools around the city to cool off in, and the only thing standing between you and sweet, sweet relief is a quick walk or drive. Make it a weekend staycation at one of Denver's coolest hotels or go just for a few hours of bliss while getting your tan on—from the thrill and excitement of a water park to quiet neighborhood oases, here are Denver's best pools to cool off in this summer.
Cherry Creek
This rooftop pool, bar, and light-bite restaurant—which recently got a total makeover and is now known to the world as Rare Bird—offers views of both the Rockies and the Denver city skyline, and the experience can be whatever you want it to be. Spend the day relaxing with your toes in the water, lounging in the sun, or bubbling in the hot tub with access to a full bar only steps away. Reserve a cozy, breezy, shaded cabana complete with HDTV and various accouterments to outfit the perfect summer day hangout.
Cost: The price of booking a room (pool currently only available to hotel guests)
Federal Heights
One of the more popular entries on this list, Water World is the place to be this summer—and if you haven't been, you should probably change that. It's a quick, 20-minute drive north of Denver and has all the necessary features and attractions for having a blast and staying cool this summer. There's every level of splash-worthy entertainment here, whether you prefer the slower pace of tubing down a lazy river or the thrill of swirling into the bowels of the Centennial Basin water slide. But there are more than enough pools to go around, from wave pools perfect for boogie boarding to warming pools for a relaxing soak under the sun.
Cost: Tickets range from $15 for seniors to $50 for a family four-pack.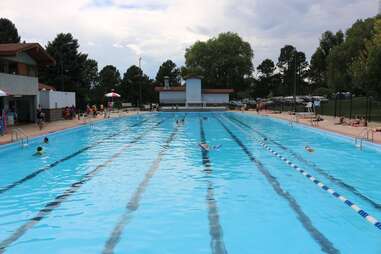 Denver Parks and Rec Pools
Multiple locations
Let's say you're not exactly in the market to take you, your kids, your friends, and your friends' kids to swim at a hotel rooftop pool. Totally understandable. In that case, choose from any of Denver Parks and Rec's many indoor or outdoor pools. Perks of any of these pools include convenience (meaning there's probably one pretty close to you), on-duty lifeguards, and affordable admission fees.
Cost: $1 – $3.50 for day passes; season passes available
Centennial, Littleton, Lone Tree
South Suburban Parks and Rec has a few of the best public, outdoor pools in the city: Holly, Harlow, Ben Franklin, and Cook Creek pools are serious summertime fun. Why? Well for starters, there's plenty of space at each one for the whole neighborhood to cool off and not feel crowded, and each pool features a fun, twisty water slide (sometimes more than one) to keep the kiddos entertained for hours.
Cost: Daily admission ranges from $4 – $24 (for the whole household) or, if you're savvy, you'll get a Splash Pass for unlimited admission to all four pools starting at $90.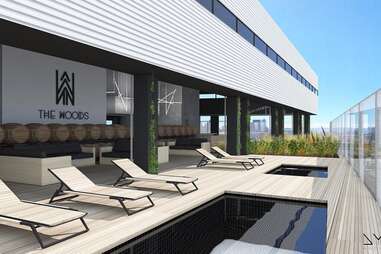 RiNo
What's better than a food hall, market, hotel, and restaurant? All of those things plus a rooftop pool. Enjoy heated plunge pools that offer stellar views of the city and a refreshing spot for hotel guests to cool off or go for a soak. Dine at The Woods pre- or post-evening swim and be sure to grab a New Belgium brew, too.
Cost: The price of booking a room (pool currently only available to hotel guests)
Union Station
Can you say pool party? That's a bit of an understatement for X Denver's rooftop pool. This might be the coolest spot (pun intended) for sun and fun in Denver, but there's one catch: if you don't live here or have a membership, you're going to need to find a friend who does. But despite the mild exclusivity, hanging out under the Denver sun while dancing to live music and taking advantage of the rooftop bar is pretty epic for a weekend pool excursion.
Cost: Membership for non-residents is $275 a month, but that includes a whole slew of other things besides the pool. But you can't put a price on friendship (specifically with someone who lives here).
Aurora
Aside from being one of the coolest places to stay, eat, and play in the greater Denver area, this place does water recreation right. Resort guests have full access to a heated and seasonally open outdoor pool as well as the crown jewel: the heated (and also seasonally open) lazy river. Splash around by the rocky grotto, take a trip or five down the water slide, and float, soak, and swim to your heart's content.
Cost: The price of booking a room (only available to resort guests)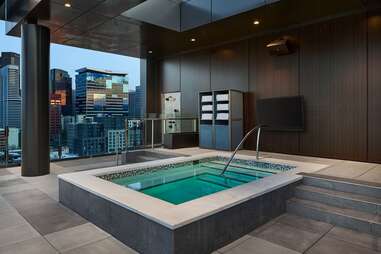 Ballpark
It's true that being situated above a food hall may be dangerous, but panoramic views of the Rockies and Denver plus an up-close-and-personal angle of Coors Field are well-worth booking a stay here. The Rally's plunge pool is located on the penthouse floor and is one of the coolest-looking rooftop pools in the area; that and its lavish jacuzzi are enough to give competitor pools a run for their money.
Cost: The price of booking a room (pool currently only available to hotel guests)
Auraria
A water park is always a good time. Elitch's water park is free with any day or season pass and has all the opportunities to splash and slide with the whole family. Enjoy the ease of the wave pool or the excitement of any of the thrill slides and turn a hot summer day into a refreshing adventure.
Cost: Single-day theme park ticket ($49.99)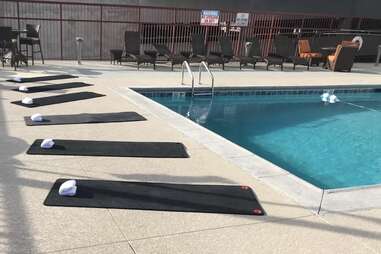 Central Business District
Also boasting incredible city skyline views is Sonesta's heated outdoor pool, and it's a great place to celebrate summer. In addition to the ample lounge seating and pristine water, guests can enjoy poolside yoga, "Dive-in" movies on a large inflatable screen, and the ability to order food and drinks from your sunny spot all season long.
Cost: The price of booking a room (pool currently only available to hotel guests)
Cherry Creek
The exclusive Clayton Members Club and Hotel already buzzes with its chic, modern rooms and amenities alongside epic food and drink options. But Clayton members have access to even more fun. Namely, the rooftop pool (and bar/restaurant). Dip your toes in while having brunch or happy hour cocktails and if you're not a member yourself, find someone who is—maybe, just maybe, you can tag along for a splash.
Cost: Clayton Club Membership
Erica Buehler is a Denver-based freelance writer. Follow her @e_buehler on Instagram and @e_buehler_ on Twitter for more updates on Denver food and other Mile High shenanigans.