Bathrooms are more than just a functional space, they can become an area of relaxation and as a room you use multiple times a day, it's essential to get the decor right. Bathroom wall art ideas have the potential to change the entire look and feel of a room, whether you want an electric aesthetic or a pared-back decor designed for switching off. 
But with often less space to work with and lots packed into the room, it can be hard to know how to navigate bathroom decor. From colour schemes to positioning, we've put together some key considerations when picking and hanging wall art in your bathroom. Plus some essential details on how to frame and protect your paintings or prints, as after all, it's bound to get hot and steamy. 
Bathroom wall art ideas
Creating a stylish home extends to every last corner, even your bathroom. It can be easy to forget about these rooms, but adding wall art is an easy bathroom decorating idea that will instantly update a space. 
'Choose art work to blend well with your colour palette in the bathroom,' advises James Ryan, CEO of Grove Gallery. 
'If your bathroom is small opt for one singular piece, and if the bathroom is veering on the larger side, a gallery wall is often a good choice. Choose bathroom art that you like, and perhaps if you're new to collecting art, opt for something cheaper which can be changed every few months.'
1. Frame with gold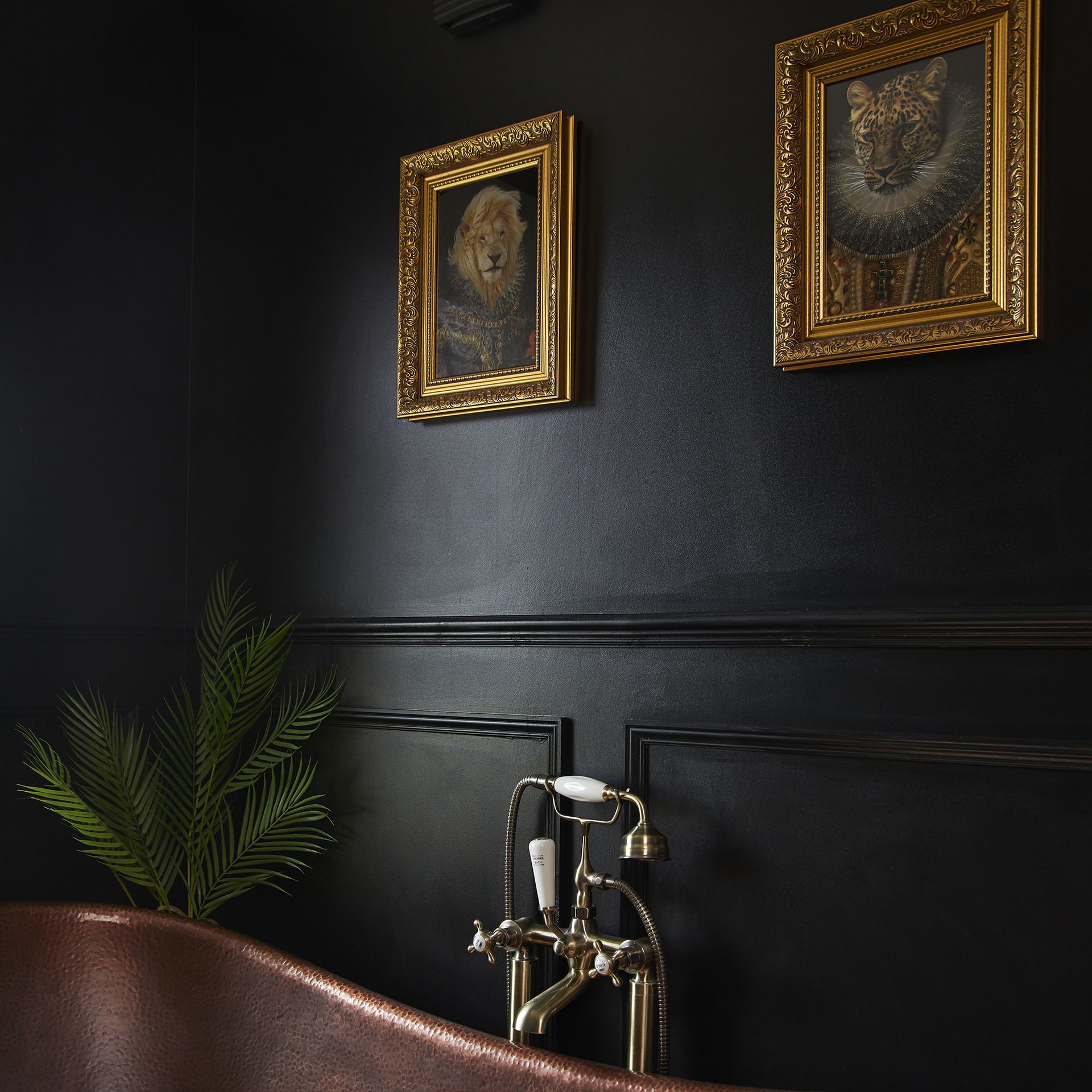 Framing art properly in a bathroom is essential. In a room with high humidity, you want to protect it as much as possible, which might mean investing more in how you present it. If you're going to have to frame your bathroom wall decor, you may as well opt for something eye-catching. 
Gilded gold frames will make a statement of any art, and stand out especially well against dark wall colours. They'll quickly take your bathroom from plain to palace-inspired without much work. You can also find them secondhand, making it an affordable bathroom update. 
'Metal frames made of aluminium which won't rust and will work well with fluctuating temperatures', notes James. So they'll also make a practical choice that won't need replacing. 
2. Pick a graphic print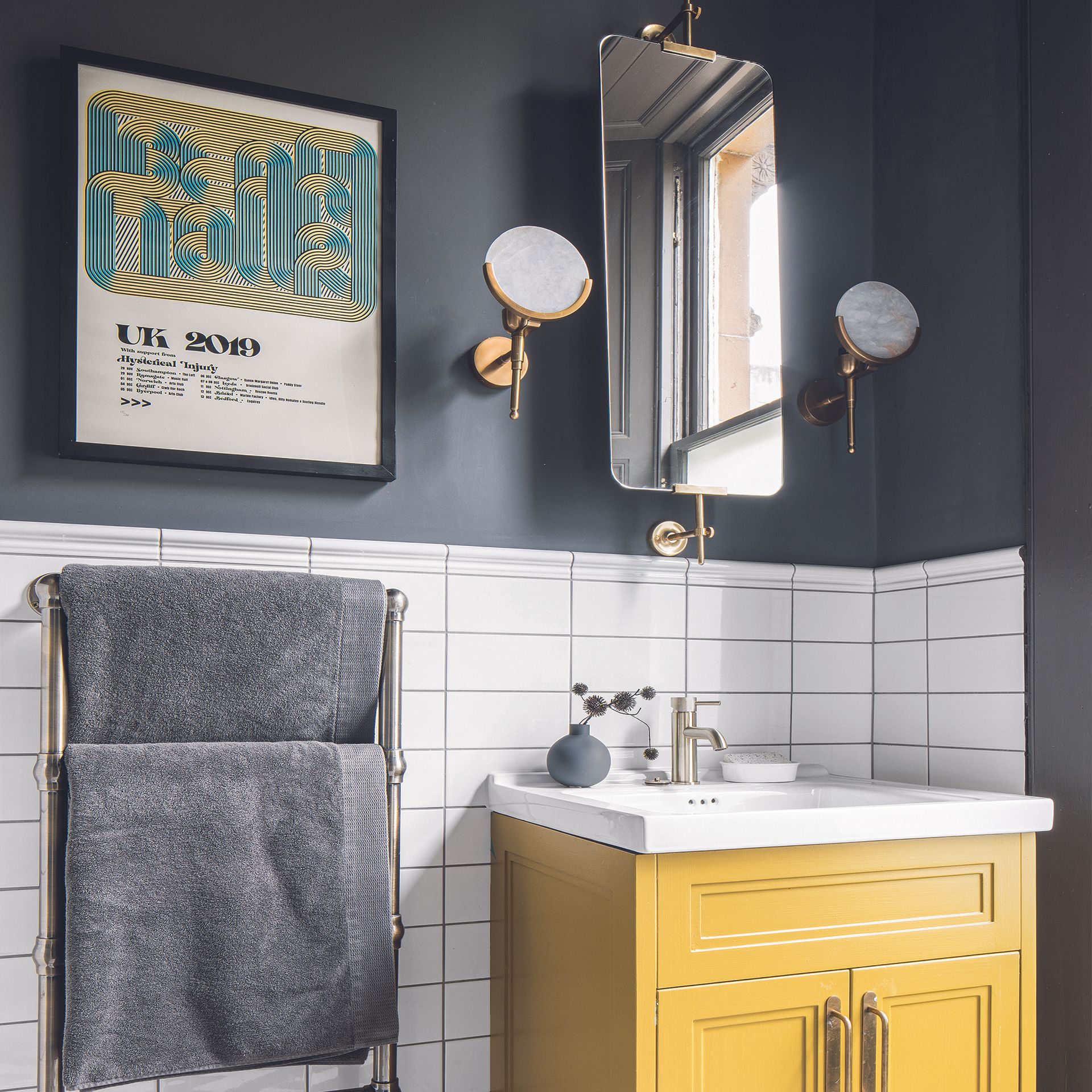 Bathrooms aren't always the first place you think about decorating, and as the room isn't at the forefront of your home, you might not want to invest too much money in it. Instead of searching for original art, consider a print of your favourite painting, or even a contemporary graphic print.  
These can be picked up affordably from sites such as Desenio or by using the appropriate home decor discount codes and you can easily match them to the decor of the room – great if you have a modern bathroom scheme. Prints are also a handy option if you're looking to create a gallery wall, as you can decide on the theme and layout before you click buy. We recommend going for a graphic print in a statement colour that ties into one element of your design so that it looks well-curated. 
3. Keep it in your sight line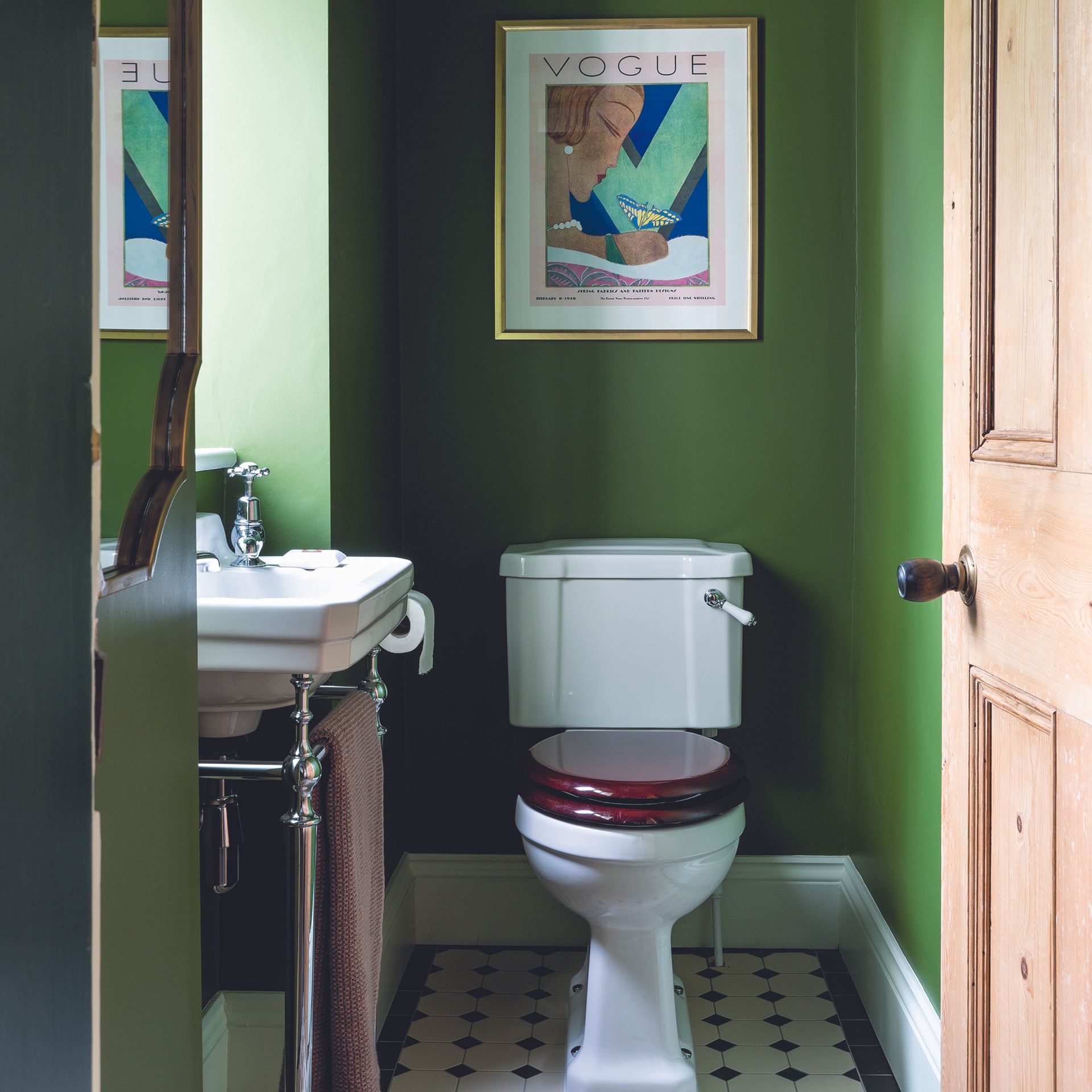 Amongst a toilet, sink, bath, and essential storage, there can be a lot going on in a bathroom plan. They're often usually small spaces too, which makes the available space for art limited. One area that is a failsafe spot to hang wall art is above the toilet. 
In poky cloakrooms, this means that the art is hanging centre stage and likely occupies the majority of the back wall, serving as the main focus. Art can brighten up a dull and functional area such as a toilet, so regardless if you're facing limited space or a larger bathroom, it's a good spot to position a piece. 
'Popular areas to hang art tend to include above the toilet, above a towel rack, black area of the wall, propped up on shelving, or next to a mirror or window,' echoes James. 'This creates an illusion of space especially if it's a singular piece.'  
4. Make it maxi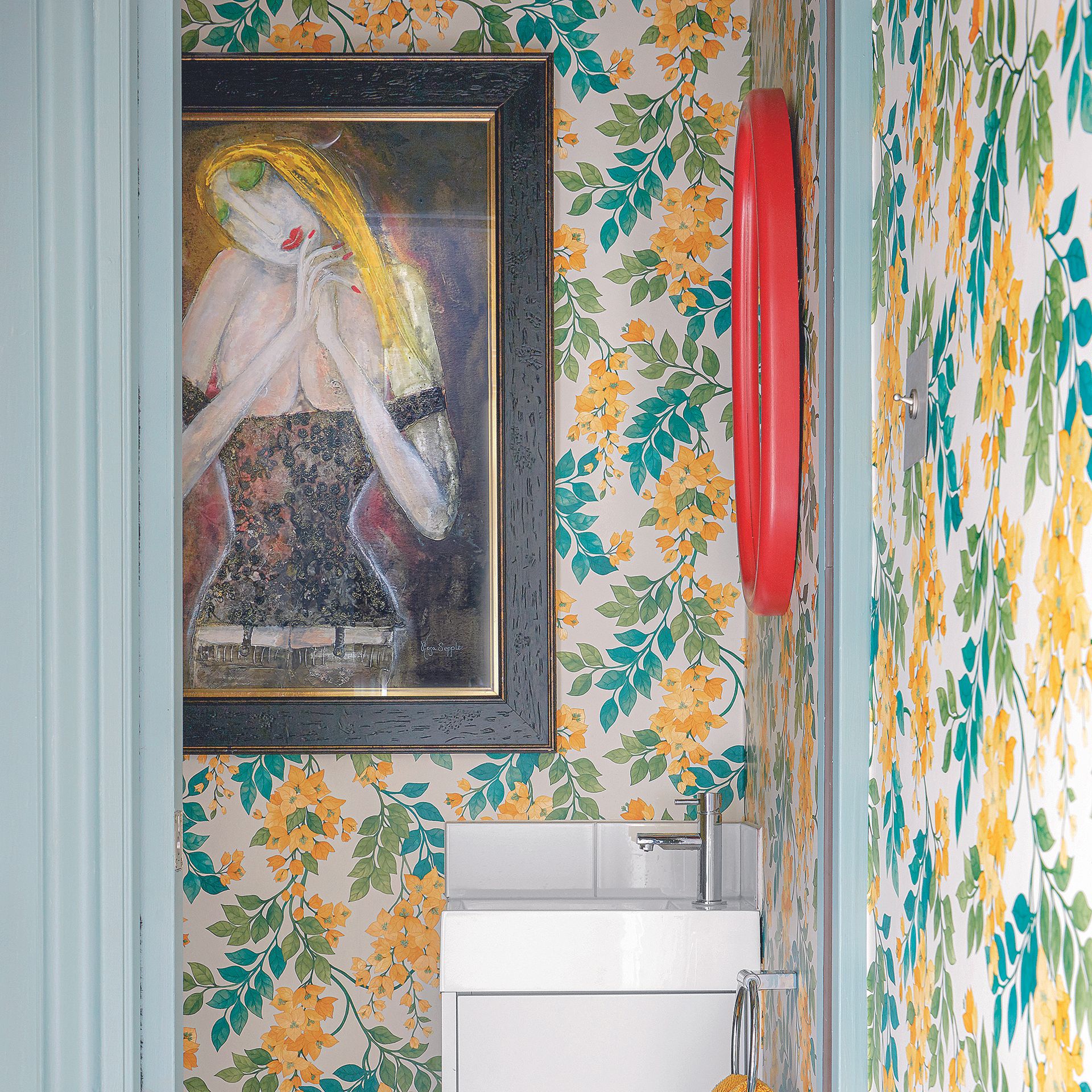 'If you're on a budget, why not incorporate one large print on a free wall in your bathroom', advises Anna Elkington at Melody Maison. 
'A large piece of artwork is an easy way to completely transform your space and it can be as minimal or bold as you like. If you're looking to bring some life to your bathroom why not add a pop of colour by choosing a colourful and eye-catching design.'
By opting for a large piece of art, you can easily distract from any unsightly sanitaryware and instead make a bathroom feel like a stylish extension of the rest of your home. 
5. Stick with a simple aesthetic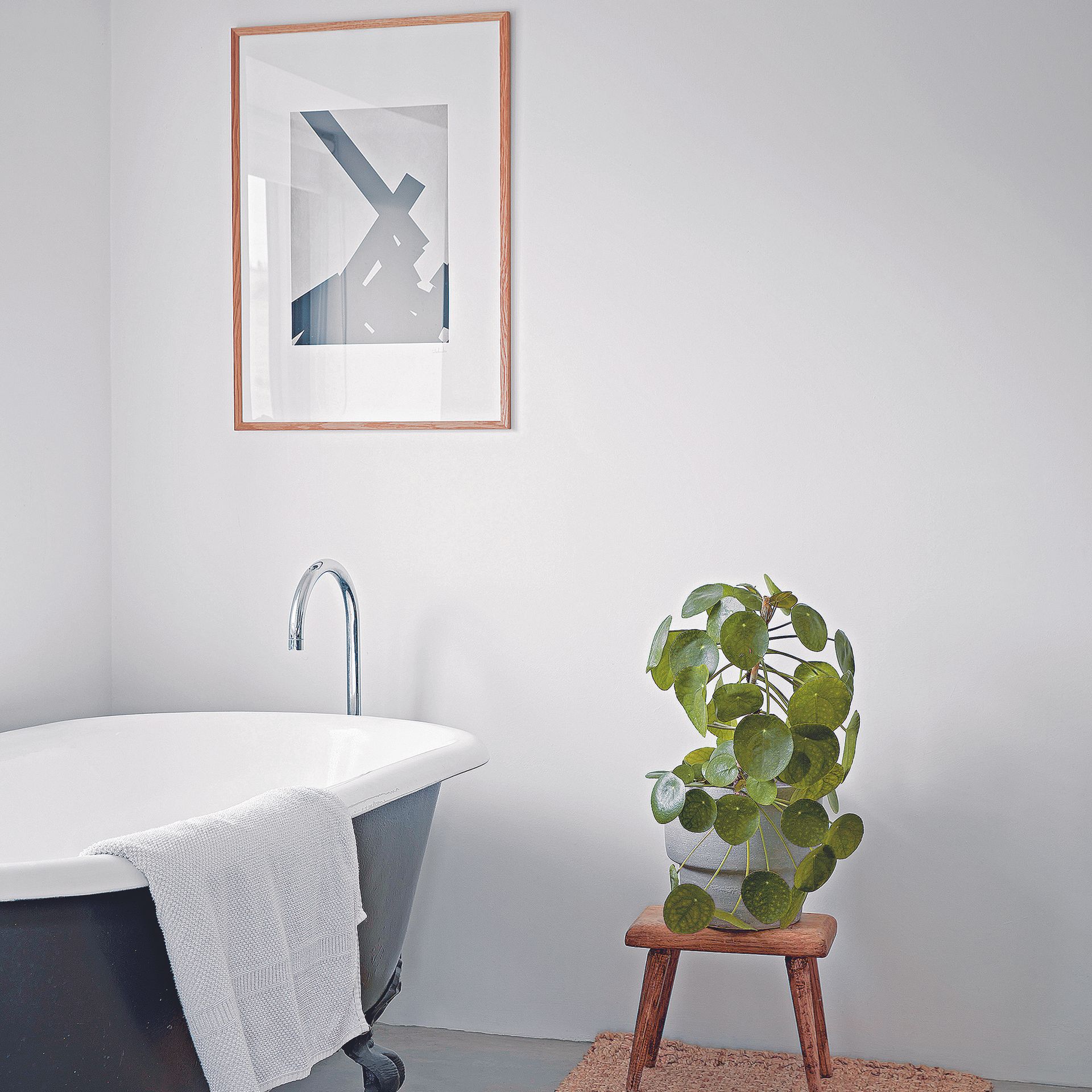 When it comes to the end of a long day, you might want a long, relaxing soak in your bathroom. So, you'll want the decor to embody the same sense of simplicity and restoration. This feeds into every design detail you choose, especially the art. If you want a bathroom trend that offers minimal fuss and is easy to zone out in, then opt for a minimalistic block print or pared-back colour scheme. 
'Your bathroom should be a place of calm and sanctuary, so incorporating the gentle abstract forms of contemporary art into your daily rituals is a match made in heaven' recommends Sally Coulden, artist and founder of Red Dog Glass Design. 
Where you should you put art in a bathroom?
 Where you choose to position art in a bathroom will largely depend on the space you have available, and whether it's your main bathroom or a downstairs cloakroom. 
'Where to put the art is another crucial factor to consider when hanging artwork in your bathroom,' says Kate Conrad, Interiors Expert at Madison & Mayfair.
'Avoid hanging pieces directly above the shower or bathtub where they're likely to be exposed to splashes of water and steam. Instead, choose a spot further away from the water source, such as above the toilet or sink.' 
As well as positioning your art in the best place to avoid any damage, you want it to be in your sightline. Above a toilet is the best spot to ensure art stays centre stage, but next to a vanity or sink area will also mean it makes an impact.
How to hang art in a bathroom
Hanging art in a bathroom is really no different to hanging it elsewhere in your home. If you want to avoid making any permanent holes in your bathroom walls, then command hooks are always a great idea as you can switch up your decor easily. 
However, there are a few considerations to take, depending on the surface you're drilling into.
'When hanging wall art in your bathroom make sure you follow the following steps to ensure your tiles are kept in tip-top shape. Firstly, as with all DIY make sure the wall you are drilling doesn't have any pipes or electrical wires behind it as damage to these can be extremely costly,' says Anna. 
'The biggest tip for drilling tiles is to place a piece of tape over the area you are drilling in order to make sure it doesn't slip. In addition, you will want to ensure your drill is on the drilling setting and not the hammer as this setting can break your tiles. Lastly, make sure to take your time to prevent any mistakes from being made.'
How to ensure you don't damage art in bathrooms
Hanging art on your walls is low risk and unlikely to cause any issues, but doing so in a bathroom requires more care. 
'Bathrooms are notorious for their high humidity levels and moisture content, meaning it is a challenging environment for hanging artwork,' says Kate. 
'When choosing artwork for your bathroom, it's essential to consider water-resistant materials. Opt for artwork made of materials resistant to moisture, such as metal or glass. These materials are less likely to warp, fade or suffer other damage from humidity.'
If you do opt for a canvas, place it in a bathroom that isn't used for showers or baths, and away from any splash zones.