A mantel really provides the perfect platform for a whole host of creative styling opportunities, so we've asked a collection of interior designers to share their advice on how best to style a mantelpiece.
A fireplace is often the main focal point in a room, and uplifting this beautiful architectural feature with stylish mantel decor is a brilliant way to enhance your fireplace ideas with even more character and style.
To help you design the perfect mantel display, these are the six styling tips that interior designers always follow.
6 rules to remember when styling a mantelpiece
From styling objects in uneven numbers, to using your mantel to beautifully showcase the changing of the seasons through inviting natural accents, these are the six rules to remember when styling a mantelpiece.
1. Create contrast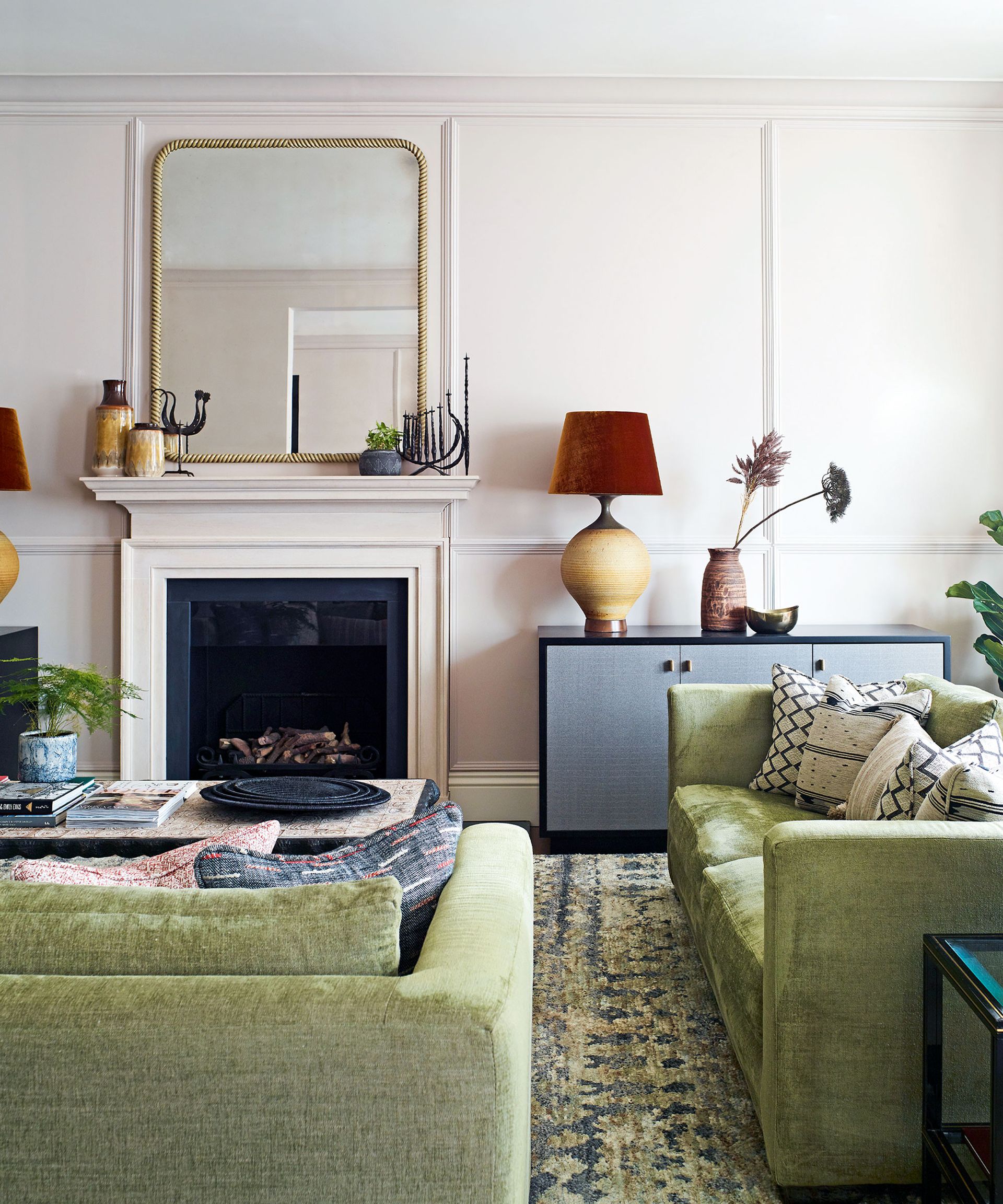 Interior designer, Jon de la Cruz says 'I adhere to some basic rules when styling a mantelpiece, and contrast is always key. Use something tall, something wide and something short. Mix shapes and textures, such as shiny and matte, rough and smooth, geometric and organic. And embrace a color scheme that is monochromatic or complimentary, helping to act as an accent to the room scheme.'
Embracing an eclectic mix of contrasting objects is a great way to bring eye-catching visual interest to your mantel, and can create a more collected and organic look. From decorating with vases, to trinkets, candles and more, an assortment of contrasting designs will always enhance your mantel with a unique character.
Interior designer John de la Cruz founded De la Cruz Interior Design (DLC-ID) in 2015, a distinguished residential and hospitality design firm based in San Francisco.
2. Style objects in uneven numbers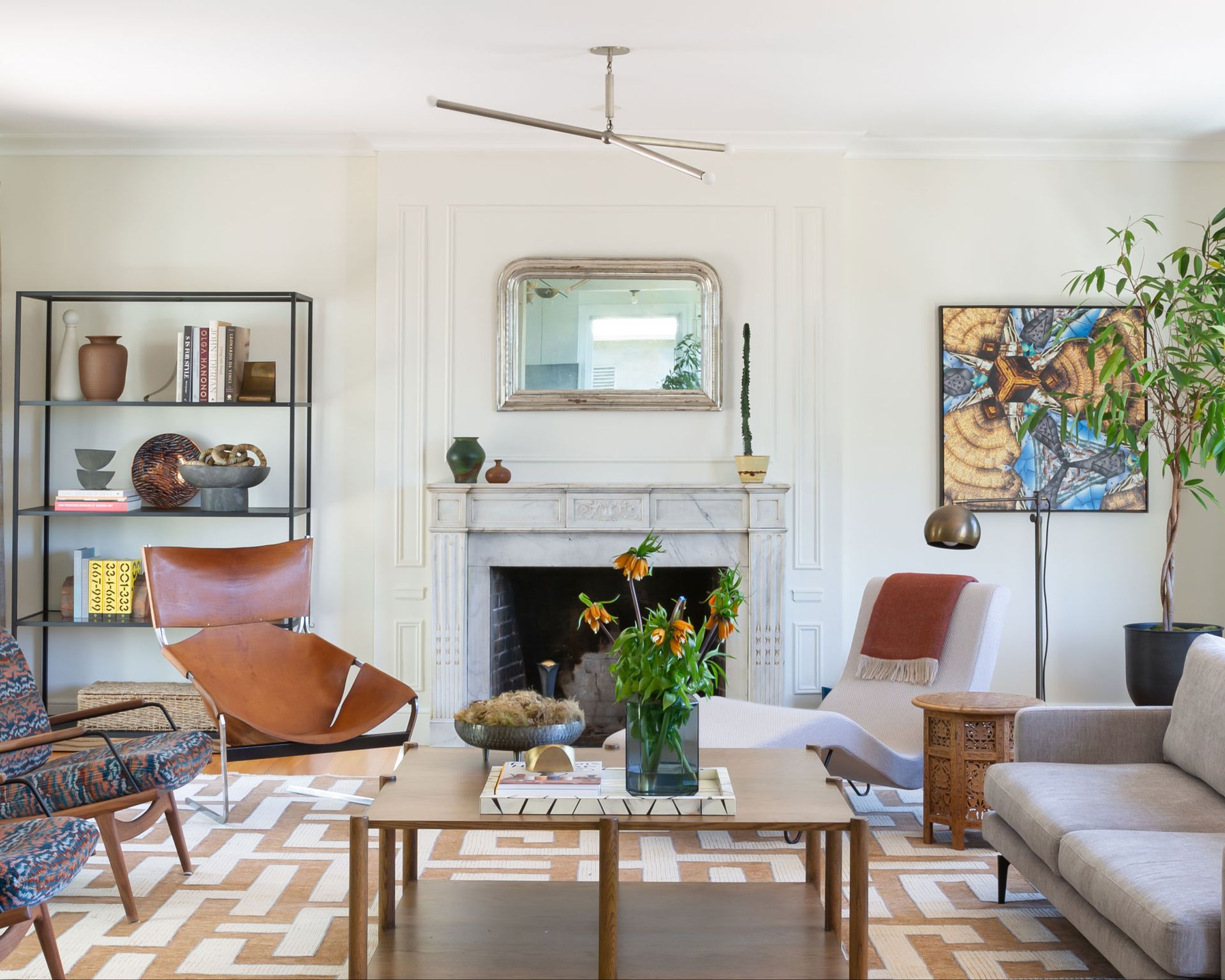 Many of you will be familiar with the rule of three decorating rule, which is a basic interior design rule often used by interior designers when styling objects together to create a more visually balanced and harmonious vignette. 
As interior designer, Chelsea Potthast of Potthast Design says, 'I recommend that you always follow the rule of three when styling a mantelpiece, objects such as as three candlesticks or three vases can sit perfectly on the mantel.'
'When it comes to decorating a mantle, I like to stick to uneven numbers. Whether you use three or five items, odd numbers will help the mantle appear less balanced and like it is designed more organically,' says designer Luis Carmona from VERDE Interior Design.
Luis Carmona is the owner and lead designer at VERDE Interior Design. With almost two decades of experience in the creative space (interior design, advertising, and marketing), Carmona gets to blend his many passions into one design studio, offering services to commercial and residential clients in both Houston and Dallas.
Interior designer Chelsea Potthast is the founder of Potthast Design. Chelsea began her design career in Los Angeles working with a wide variety of clients in both hospitality and residential design. She then returned to her hometown, St. Petersburg, in 2016, and opened her boutique interior design firm.
3. Or, style with symmetry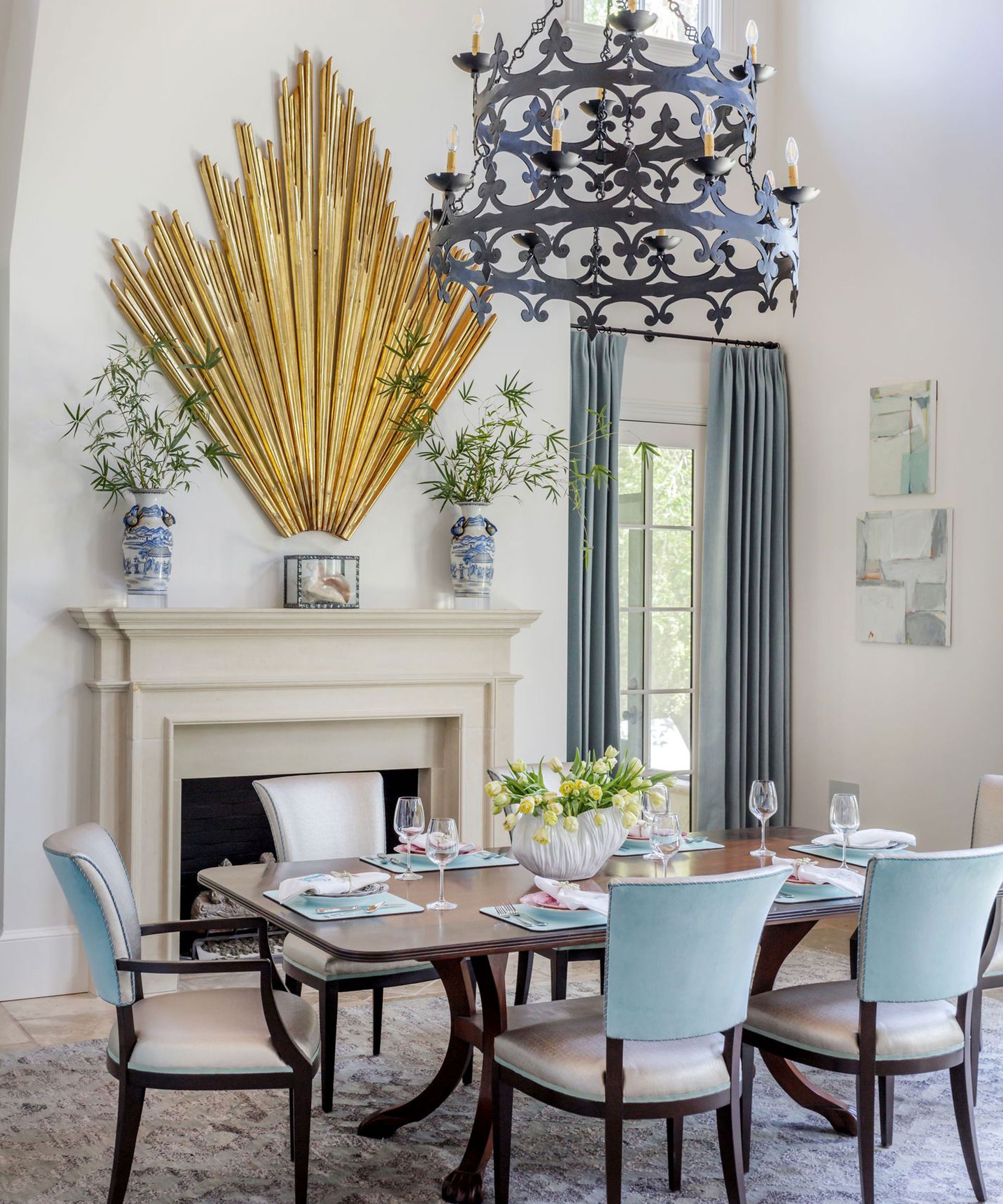 For a more neat and ordered look on your mantel, you can never go wrong with using symmetry in interior design.
Jamie Young, founder and president of Jamie Young Co. says, 'placing matching vases or candleholders on both ends of the mantel can create a calming, symmetrical sense of balance.' As shown in this beautiful dining room, designed by Gray Walker Interiors, the two tall vases, filled with green stems, perfectly complement the height of the large artwork that boldly sits above, with the decorative ornament in the middle of the mantel providing a note of balance and contrast.
Jamie Young Jeter is a California-based designer and one half of the design duo that makes up Jamie Young Co. Along with her husband, David Jeter, the two work together to use their love of art, architecture and design to bring design-driven pieces to the home.
4. Use your mantel as a frame for seasonal storytelling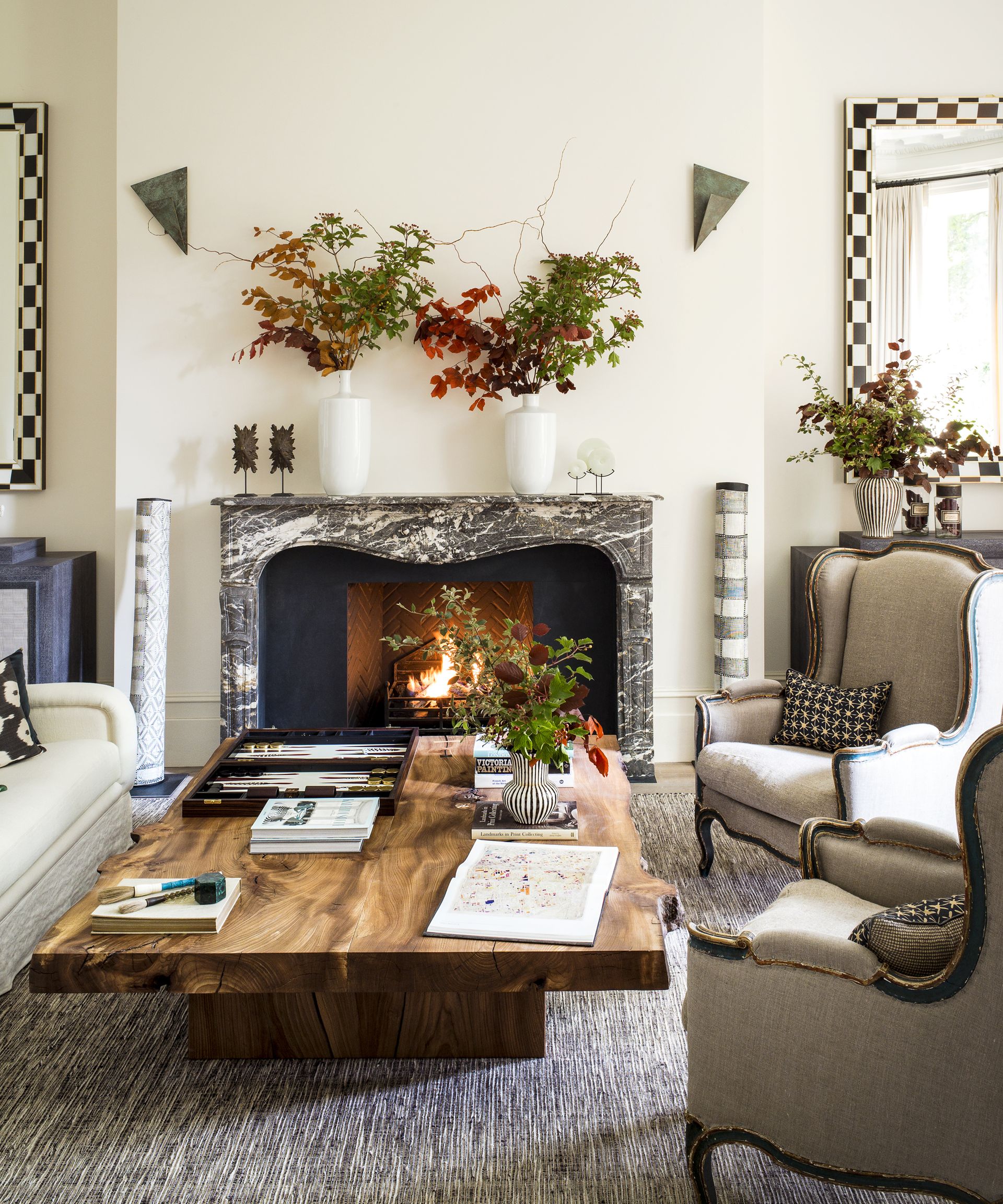 'Consider the mantel as a frame for seasonal storytelling,' says interior designer, Artem Kropovinsky. 'Rotate accessories that reflect the mood of the season, using autumnal leaves or spring blossoms to invite a sense of time into the room.' 
Interior designer Chelsea Potthast also agrees and says, 'change up your mantel decor based on the season or specific holidays. For fall mantel decor, incorporate seasonal elements like pumpkins and autumn leaves, and of course, feel free to go wild with garland, pine trimmings, or stocking hangers for Christmas mantel decor during the holiday season.'
From vases of fall flowers and foliage for fall mantel decor to summer flowers and garlands on a Christmas mantel, a mantel is the perfect place to celebrate the changing of the seasons.
Dayna Isom Johnson, Etsy's trend and design expert also adds, 'move over tablescaping, mantelscaping – AKA styling your mantel in a captivating way – is the new trend taking over fireplaces this winter. This trend allows shoppers to unleash their Christmas spirit and personal style in the heart of their home. Whether choosing to create a winter wonderland village using vintage putz houses, snow globes, and iridescent baubles, or a forest scene featuring mini wooden trees, garlands, and seasonal florals – the options are endless!'
Founder of NYC-based interior design firm, Arsight, Artem Kropovinsky has a decade of extensive global design experience, connecting a cohesive, collaborative team of passionate professionals, who work on interior projects in the U.S. and worldwide. 
Dayna Isom Johnson is Etsy's trend expert with over a decade of experience unearthing the latest and chicest styles. She is unwavering in her pursuit of new and unique finds and is passionate about helping shoppers find exceptional pieces that showcase their personal style.
5. Take the lead from your room's color palette and decor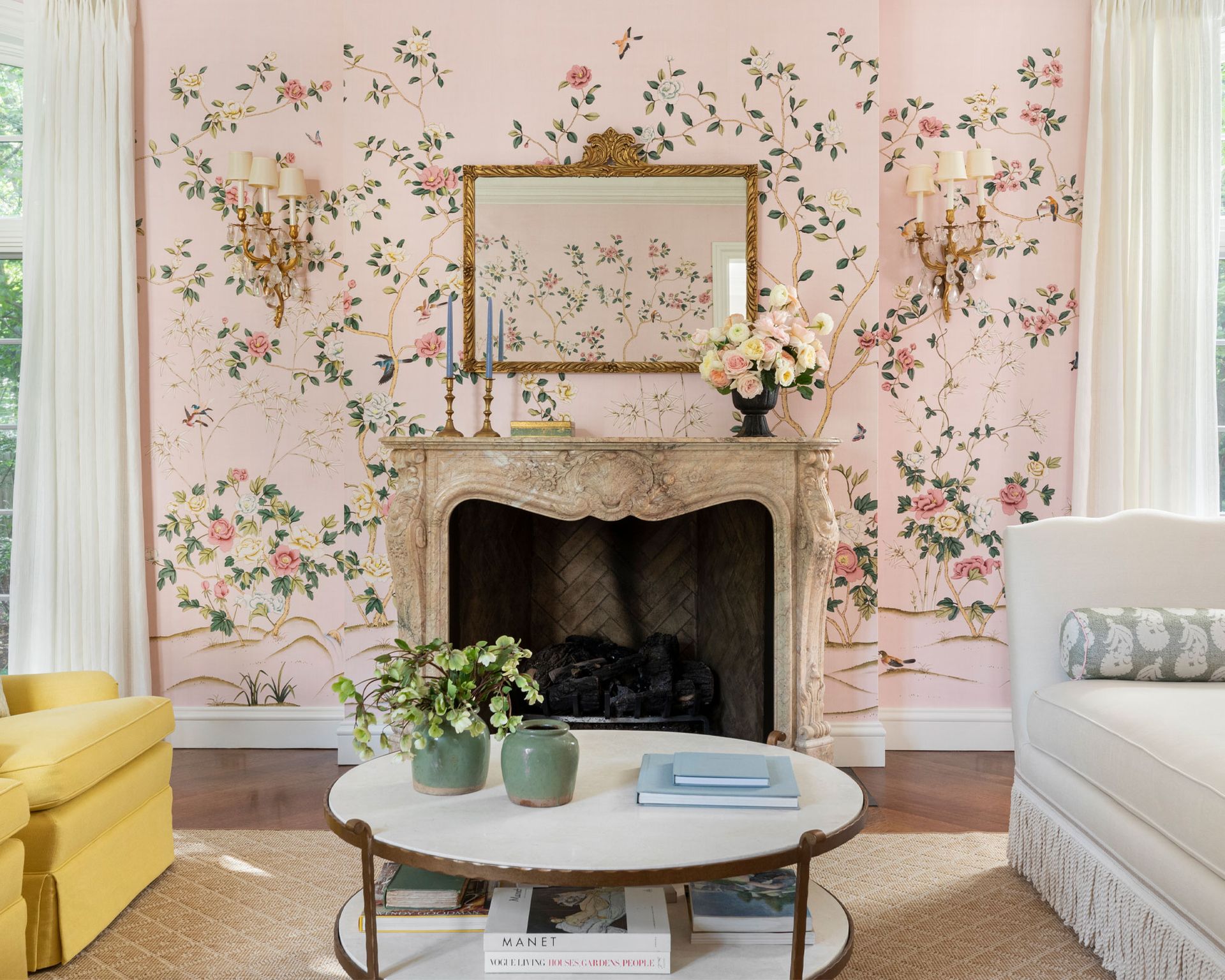 For a cohesive look that coordinates with your room color ideas, ensure your mantel decor complements the color palette and decor in the surrounding space.
Designer Artem Kropovinsky says, 'balance the mantelpiece within the room's color palette. Pick up subtle hues from the surrounding space in your mantel decor to create a cohesive feel. Use the mantel to reflect the room's architecture, too. For traditional spaces, elegant vases or antique books link to the home's history, whereas in modern settings, abstract art or minimalist design objects can underline a contemporary aesthetic.'
We love the elegant simplicity of the mantelpiece in this pink living room, with the pretty pink flowers perfectly complementing the living room wallpaper ideas; the blue candles also create an eye-catching color contrast.
6. Use objects of varying heights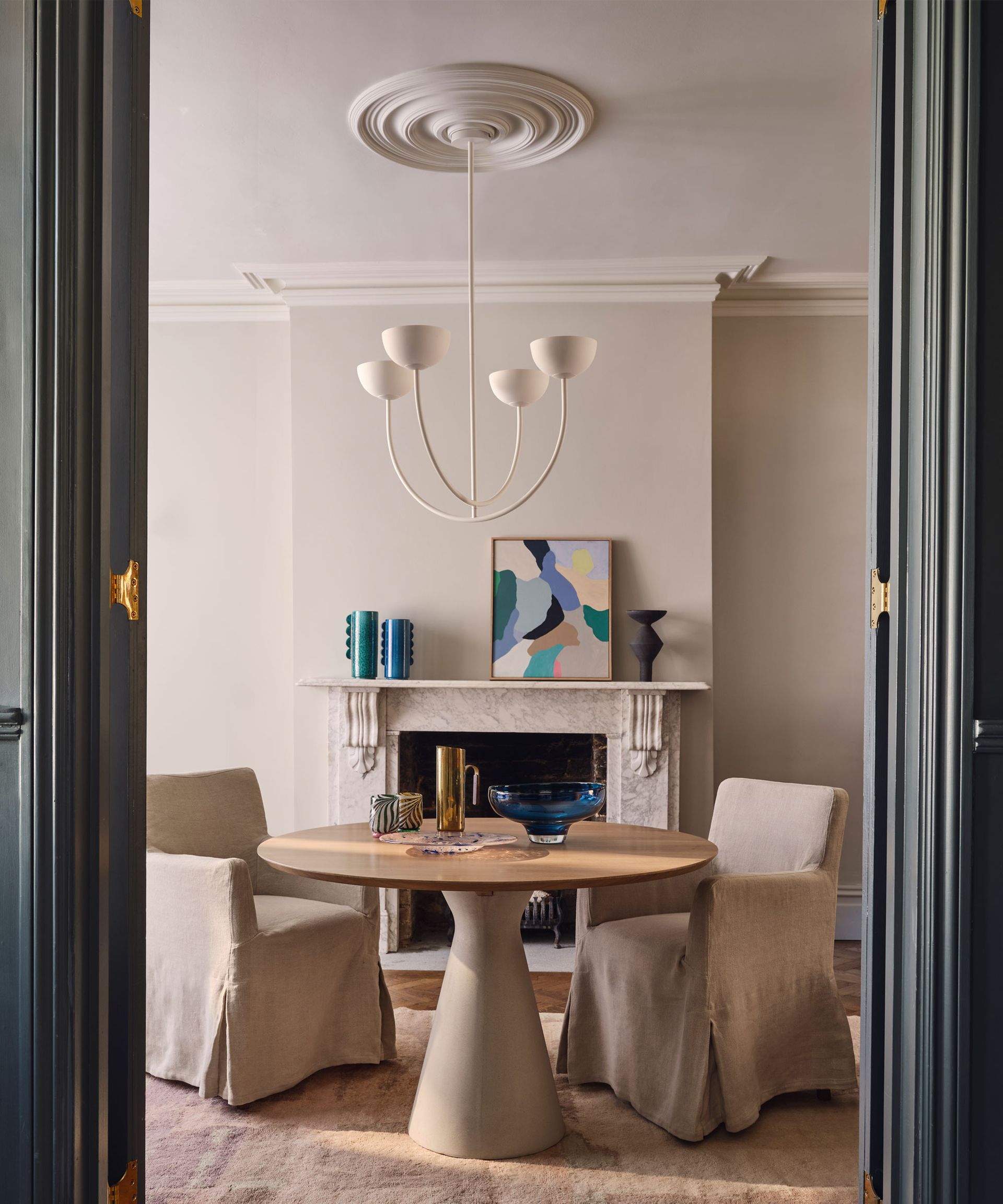 Similar to embracing contrast, styling with symmetry and decorating in threes, using scale in interior design and styling your mantel with objects in different heights and sizes will create a more proportioned and visually harmonious look.
'Layering accessories of varying heights is always more pleasing to the eye – start with a large piece in the back with smaller pieces in the front. However, be careful not to overwhelm a small mantel with too many items, as it will create too much of a cluttered look,' says designer, Jamie Young 
Shop mantel decor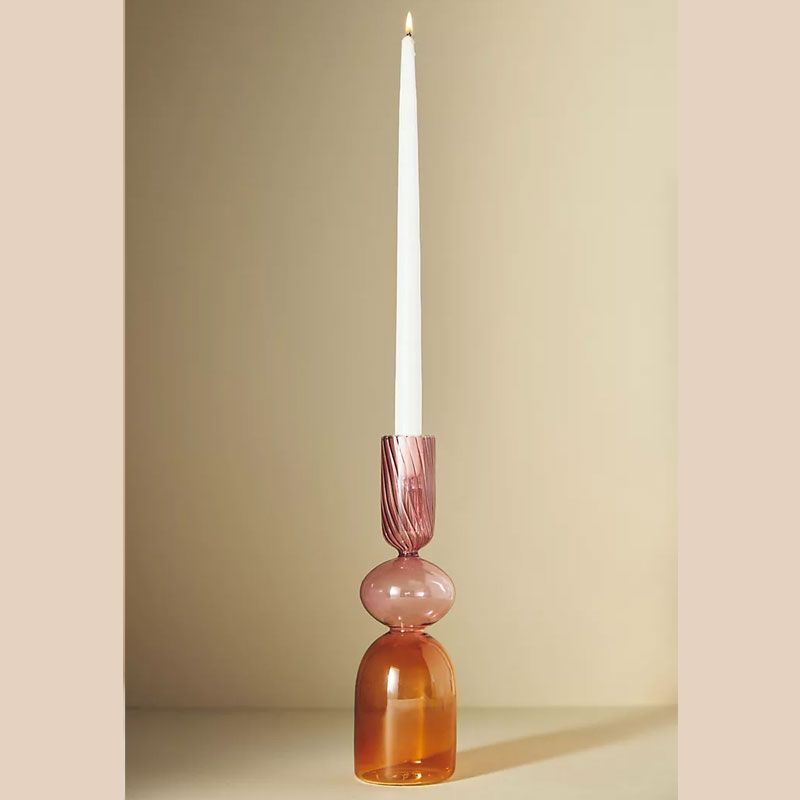 This colorful, sculptural design can sit beautifully as a decoration independently or be paired with a tall taper candle. Showcasing an artful glass form and translucent color, the design is ideal for placing on a mantel or Thanksgiving table. 
FAQs
What looks good above a fireplace?
Just like decorating a mantel, enhancing the wall space above a fireplace by decorating with mirrors and decorating with art will only enhance your fireplace to become more of an eye-catching feature in the space. 
Mirrors are ideal for placing above fireplaces, especially in smaller rooms, as they can help to make a room feel lighter and brighter, and as fireplaces are often the natural main focal point in a room, placing a piece of art above will also guarantee that artwork is always seen and appreciated.
---
Some of our favorite items to style a mantelpiece with include:
Candles
Vases of flowers 
Plants
Artwork 
Decorative ornaments 
Picture frames
Clocks
Mirrors